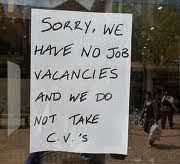 What to do if you can't find work after college? Here are some valuable tips from The Filipino Entrepreneur magazine.
Survey the climate of economic opportunity around you. This survey should tell what your immediate community needs by way of goods and services. Enlarge this survey later on to include neighboring communities, every neighboring barangays and towns to ensure you of a future area for expansion.
A community's needs may range from peace and order, to garbage disposal, to restaurants, to corner stores. But the budding entrepreneur should ask how he can turn these needs into economic opportunities for himself.
Since you have been to college, try to recall all the skills you have gained. Determine what you are particularly good at and which you find most comfortable to practice. Don't choose the skill you want to learn in the future. Remember that your skill now, something you have some competence in, is your marketable service. If you have a way with children, a child care center may be a thing. If you're good with numbers, you might want to tutor neighborhood children in math, for a fee of course.
If you find that your skills aren't enough or you might really like to do something for which you had no training in college, then all you have to do is look for organizations that offer free vocational and short-term courses like food preservation, tailoring and dressmaking, electricity, automotive, welding, refrigeration and air conditioning.
The next step is to raise some form of Capital. Capital is not necessarily money. It may be a credit line from a supplier. You may buy the goods today and promise to pay within 30 days. Your target is to sell those goods in less than thirty days so you can make a margin and still be able to pay. Capital may take the form of equipment. It could be a sewing machine you borrowed from a neighborhood or relative, or which you bought on credit. Capital is also most often, money.
If you cannot borrow money from relatives and friends, try government or non-governmental organization's funding institutions. Among well-known government funding institutions are the Technology Resource Center (TRC), PNB and DBP. These are agencies which assist small entrepreneurs in starting up their businesses by providing loans in small packages.
In starting your own business, a support group, a group that will share with you the risks of the business, may be necessary. A network of friends can lead you to sources of information on markets, credits, business, opportunities, technologies you need, and so on. Information is more than power and a commodity. Information can be turned into income.
Capital, skills, a well-identified market, and a network of contacts are necessary in creating your own business. However, entrepreneurship also requires planning if you want it to grow from self-employment to a career. Planning involves setting up a very specific target that you can measure. Planning also means that you must set realistic and achievable targets.
One of the less discussed aspects of working for yourself is the aspect of risk. Yet risk-taking is inseparable from entrepreneurship. Risk must be balanced by a good measure of self-confidence. A strong belief in yourself, will power, skill and a good plan, you don't have to go out and look for a job. You can make your own job.
Source: The Filipino Entrepreneur magazine
Do you like this Money Making Business Idea? then please consider subscribing to our RSS feed. You can also subscribe by email and have new articles sent directly to your inbox. (Once you entered your e-mail address, you need to login to your e-mail account and click the link to confirm your subscription).