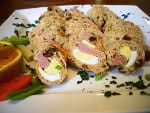 Embutido Recipe
Ingredients:
2 lbs ground pork
2 pcs vienna sausage or 6 pcs hotdogs, cut in half lengthwise
3 pcs hard boiled eggs, sliced
1/2 cup sweet pickle relish
1/2 cup tomato sauce
2 pcs raw eggs
2 cups cheddar cheese, grated
1 cup red bell pepper, minced
1 cup green bell pepper, minced
1 1/2 cup raisins
1 cup carrots, minced
1 cup onion, minced
salt and pepper
2 cups bread crumbs (made by placing 4 slices of tasty bread in a food processor. If not using any food processor, just tear the bread.)
Embutido Video Recipe
Cooking Procedures:
1. Place the ground pork in a large container
2. Add the bread crumbs then break the raw eggs and add it in. Mix well
3. Put-in the carrots, bell pepper (red and green), onion, pickle relish, and cheddar cheese. Mix thouroughly
4. Add the raisins, tomato sauce, salt, and pepper then mix well.
5. Place the meat mixture in an aluminum foil and flatten it. (see video for guidance)
6. Put in the sliced vienna sausage and sliced boiled eggs alternately on the middle of the flat meat mixture.
7. Roll the foil to form a cylinderlocking the sausage and egg in the middle if the meat mixture. Once done, lock the edges of the foil.
8. Place in a steamer and let cook for 1 hour.
9. Place inside the refrigerator until temperature turns cold
10. Slice and serve. Share and Enjoy!
Do you like this Money Making Business Idea? content"> then please consider subscribing to our RSS feed. You can also subscribe by email and have new articles sent directly to your inbox. (Once you entered your e-mail address, you need to login to your e-mail account and click the link to confirm your subscription).