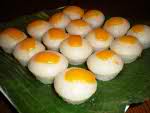 Buttered Puto (Steamed Rice Cake) Recipe. Making a homemade special puto (steamed rice cake) is easy, fun and can be a profitable business to start when you sell it to your neighbors, friends, or to schools, offices, restaurants and food shops.
Ingredients:
4 cups flour, sifted
2 cups sugar, sifted
2 1/2 tbsp baking powder
1 cup evaporated milk
2 1/2 cups water
1/2 cup butter, melted
1 piece egg, raw
small slices of cheese
4 cups water (for steaming)
Buttered Puto (Steamed Rice Cake) Video Recipe
Cooking Procedure:
1. In a mixing bowl, combine the dry ingredients starting from the flour, sugar,and baking powder then mix well.
2. Add the butter, evaporated milk, egg, water and pandan essence (dissolve the pandan essence in water) then mix all the ingredients thoroughly.
3. Pour the mixture in individual molds
4. If you are using non-quickmelt Filipino brand cheese, You may put the cheese on top of the mixture otherwise put the cheese on top after steaming (step 6)
5. Pour the water in the steamer.
6. Arrange the molds in the steamer then steam for about 20 minutes
7. If you are using quickmelt cheese,remove the cover of the steamer and top each puto with quickmelt cheese then continue steaming (with the cover on) for 2 to 5 minutes
8. Remove the puto from the mold and arrange in a serving plate
9. Serve either hot or cold.
Do you like this money making business idea? then please consider subscribing to our RSS feed. content">You can also subscribe by email and have new articles sent directly to your inbox. (Once you entered your e-mail address, you need to login to your e-mail account and click the link to confirm your subscription).