It's November and many people are still wary of going out; it's high time they look forward to something good this year. Luckily, 11.11 is just around the corner and shoppers don't even need to risk their lives during this online sale event.
Besides, among seven Southeast Asian countries, Filipinos and Malaysians are the most interested in the 11.11 sale based on last year's 11.11 Google searches. The Philippines accounted for 26% of 11.11 keyword searches in November 2019.
Keeping this in mind, Southeast Asia's leading e-commerce aggregator, iPrice Group, gathered the average and highest discounts per shopping category. This research also acts as a guide for shoppers to know which websites may give best deals per category.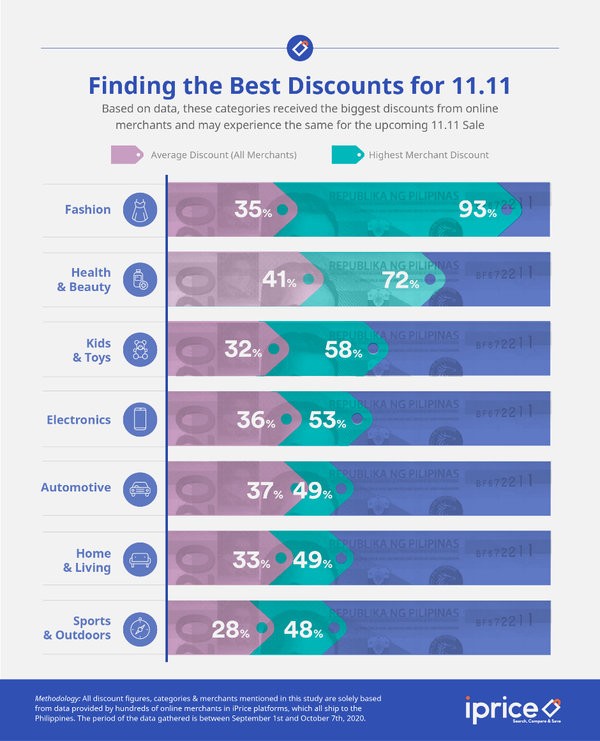 Electronics
According to iPrice's recent data, electronics e-commerce sites had the highest increase in traffic this year, which is most likely attributed to the imposed lockdown. Luckily, their favorite gadgets & electronic accessories will most likely have around a 36% discount across e-commerce sites that ship to the Philippines. Shoppers may even find discounts as high as 53% for these electronic items in one of the country's top e-commerce sites, Lazada.
Kids & Toys
Parents scramble to keep their kids entertained as they're all cooped up indoors together. The good news is they may be able to get an average discount of 32% for these products during the 11.11 sale. If they look hard enough, they may even get a 58% discount in a shop like TideBuy (though shipping rates may vary).
Sports & Outdoors
Filipinos have also been looking for sports & outdoor products this year. For instance, the interest in bicycles surged nearly three times more than last year's interest. Though the average discount for this category may be the lowest (28%), people might still find discounted sports & outdoor items for as high as 48% in Lazada.
Health & Beauty
Health & beauty products have the highest average discount among the other categories. Shoppers may expect to see about a 41% discount on their favorite beauty products. But if they shop in sites like Jomashop, they may possibly even snag a 72% discounted deal.
Home & Living
The world is going through a plant decoration fad. It makes sense since people might as well decorate their homes as they stay indoors to avoid catching the virus. Fortunately, home & living products are likely to have an average discount of 33%, while the highest discount from Lazada may reach about 49%.
Fashion
People may have less incentive to dress to impress these days, but that shouldn't stop shoppers from availing of the best discounts for fashion items, especially since the economy is slowly opening up. The average discount across sites for fashion items is 35%, but consumers may get a deal for as high as 93% in a shop like Fairy Season.
Automotive
In case consumers want to suit up their vehicles, they may find automotive items having an average discount of 37% across e-commerce platforms available in the Philippines. However, the highest discount you can get for this is 49%, which they may also find in Lazada.