COVID-19 has already taken a toll on human life massively. From private to public, every sector has witnessed an outrage of COVID-19. Business houses, office space in Gurgaon/Sohna Road, and startups too, were at the receiving end as they faced challenges both economically and financially.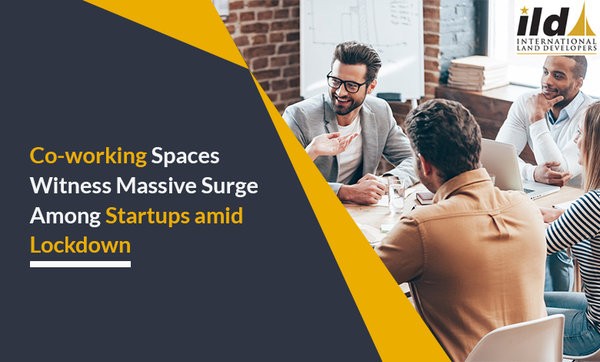 Things started to fall into places slowly and steadily after the lockdown got lifted. However, amid the torrid phase, business opted for a co-working culture that proved to be a massive move. Following the Covid-19 outbreak, the co-working industry is re-inventing its business model to adapt to a post-Covid -19 era. Co-working space has allowed entrepreneurs and startups to resume their work with full-flow. It is an arrangement wherein several workers from different companies share an office space, allowing convenience and cost savings via a common infrastructure and facilities. Many leading builders in the world provided co-working spaces for startups to maintain their business flow, and one such name is International Land Developers (ILD).
International Land Developers
ILD is among the leading names in Real Estate that has established many commercial shops in Gurgaon. They have vast experience with land aggregation and have completed many tantalizing projects since their inception in 2006. Some of the successful projects of International Land Developers include,
ILD Trade Center
Located in Gurugram Sector-47, ILD trade Center is a retail/office space, sizing between 130 to 1300 square feet. It is spread over 4.3 acres of land and has been conceptualized by one of the renowned architects, Mr. Mohit Gujral.
ILD Grand
ILD Grand is located in Gurugram Sector 37C. It is a society complex that offers 2/3 BHK apartments, sized between 1280-1820 sq ft. This promising apartment society is hosted near Hero Honda Chowk, which makes it easy for people to locate.
ILD Arete
ILD Arete is situated near Sohna Road in Greater Gurgaon. It is a residential society incorporating 2/3 BHKs sized between 1275 to 1998 sq ft. One of the highlights of this society is that it features renowned educational institutes like GD Goenka World University and KR Mangalam University.
ILD Greens
ILD Greens gives you the enthralling experience of something extraordinary. These high rise apartments are located in Gurgaon Sector 37C, offering 2/3 BHK flats.
ILD during COVID-19
As mentioned before in the comprehension, ILD has managed to provide co-working spaces during the lockdown. The havoc COVID-19 spree made it tough for the small business to survive. Co-working spaces helped startups by providing them plush interiors, projectors, office space, cubicles, furniture, high-speed internet, etc.
People amid the COVID-19 outbreak demanded clean and sanitized working space. And this is something elementary. – This led the real estate builders to completely transform their tactics and adopt something extravagant and out of their comfort zone. ILD was one of the real estates that transformed in the best possible manner to stay upfront even during challenging times. ILD's approach has always been towards the betterment of its clients and customers. – This is one of the major reasons why they are an ever-growing unit in the Real estate sector. Many shops in Gurgaon are built by ILD and also offices, shopping complex too. International Land Developers have been working enormously to sustain in the long run and provide massive advantages to companies of all-scale in the near future.
Time to wrap up: Bygones are bygones! We have witnessed a deteriorating 2020, and none of us want to get back in those horrid memories. The dynamics of office space in Gurgaon/Sohna Road are changing now. Schools, offices, colleges, etc. are all set to resume, and it looks like 2021 will be much better and promising. Whatever ILD has done amid the COVID-19 outrage, they have managed to establish themselves in the good books of clients and promise to hang-in there for long.
About International Land Developers
Established its roots in 2006 by Mr. Alimuddin Rafi Ahmed, International Land Builders has provided infrastructure of top-notch quality. ILD has completed an industrial township of more than 200 acres and managed to deliver more than 1 million sq ft. These numbers are expected to multiply soon in the coming years.