Manila, Philippines — FedEx Express (FedEx), a subsidiary of FedEx Corp. (NYSE: FDX) and the world's largest express transportation company, together with Junior Achievement (JA) Philippines, continue to empower Filipino youth to become well-rounded, globally-competitive, and problem-solving entrepreneurs through the 2019 FedEx/JA International Trade Challenge (ITC).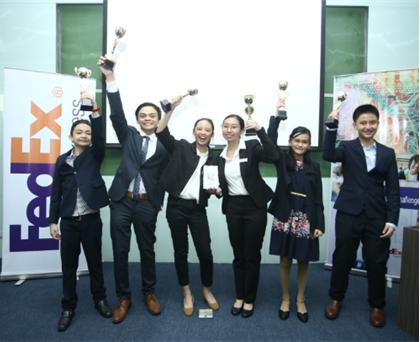 The annual FedEx/JA ITC program aims to instill an entrepreneurial mindset among high school students and introduce them to the fundamentals of global trade. Over 300 students from Metro Manila and neighboring provinces attended the Manila workshop which kicked off the program at the Asian Institute of Management on May 7.
FedEx Express employees, led by John Peterson, Philippines Managing Director, volunteered to mentor students about global trade, product distribution, promotion, and sales. They also helped cultivate traits to prepare the students for the Philippines ITC competition on June 24.
Ten teams from the ITC workshop were shortlisted and presented their market entry strategies in the local finals. During the activity, they presented marketing plans, unique value proposition, pricing strategies, and sales and distribution channels to a distinguished panel of judges.
Three teams of student entrepreneurs were chosen to compete against students from across Asia Pacific in the FedEx/JA ITC regional finals in Kuala Lumpur, Malaysia this August 18-22, 2019. For the Philippines, the representatives are Kelly Reese Martin and Julia Carelle Samson of Team Marson Cosmetics from OB Montessori – Angeles; Van Matthew De Jesus and Pocholo Catoto of Team Earth Savants from OB Montessori – Las Piñas; and Ethan Ortiz and Gabrielle Jagunap from OB Montessori – Las Piñas.
At the Asia Pacific finals, finalists will be randomly grouped into new teams consisting of participants from different markets such as Australia, Mainland China, Hong Kong, Japan, South Korea, Malaysia, Singapore, Thailand, and Vietnam, in order to promote cross-cultural collaboration. This environment is designed to encourage participants to share experiences from their home countries and discuss best practices.
Since 2009, FedEx and JA have trained over 5,000 Filipino students to think beyond geographical borders and explore global trade.
For more information about the FedEx/JA ITC, please visit http://japionline.org/home/