Search Engine Rating Pages (SERPs) now compete with Digital marketing Service Agencies. They are targeting organic scope which is the new world's currency. It has also opened the way for advertising companies to replace small and medium-sized enterprises with digital advertisers who have more tools to get the job done. In reality, beginning a new company needs time, commitment, and a proper plan for digital marketing. You're expected to fail if you fall short on any level. Hiring the finest digital marketing agency is the initial step toward developing a digital marketing strategy.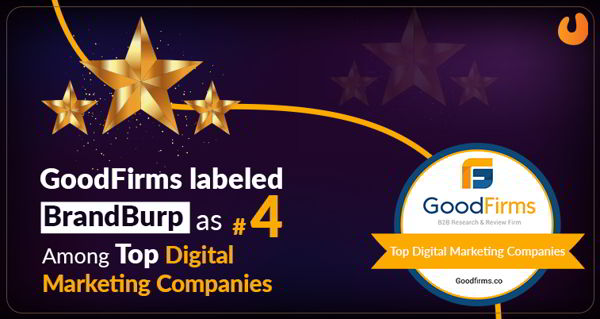 Today companies are spending their dollars extensively in digital media to increase brand recognition. As with many types of mainstream marketing, digital marketing gives enterprises a chance to expand and prosper in a highly competitive environment. Digital marketing, however, is a landscape that is constantly changing. The pattern was initially email marketing while today businesses rely primarily on social media marketing, PPC advertising, web marketing, SEO, and numerous other digital marketing channels.
The digital mediums you need to choose for your business depend on the sector in which your company falls. This makes it important for businesses to keep up with the new digital technology innovations, technologies, and strategies and achieve successful outcomes in their digital marketing activities. For this reason, businesses do have to work with the 'best' digital marketing firm that has onboard the best technical staff.
ABOUT
BrandBurp is a leading full-service digital marketing firm offering services to consumers across the globe. The company also offers end-to-end software creation solutions; ranging from product design to delivery of the software, and from data marketing to device analytics.
The BrandBurp team spends their time, resources, and bucks in various key elements of app marketing, like branding & communications, app store development, launch preparation, customer creation, advertising content and business acceptance. Campaign tactics developed by the BrandBurp team help to differentiate a customer product from the crowd.
BrandBurp's team is capable of developing digital marketing techniques that capture attention and drives outcomes. The main motive of the company is to provide the best marketing services and achieve the best results. From promoting your company to attracting more traffic to your website, BrandBurp's services cover almost every region. We are capable of delivering solutions that no other organization can find.
We have experience working with several well-known brands including Snatch, Careem, Lybrate, Harley Davidson, etc. The business receives some top honors in the area of digital marketing and is also remembered by big brands such as Goodfirms, Clutch, UpFirms, and others.
GOODFIRMS CERTIFIES BRANDBURP AS TOP DIGITAL MARKETING FIRM
Among various Digital Marketing Companies, BrandBurp gets recognition among top digital marketing agencies by Goodfirms. It's not easy for BrandBurp to get this recognition as the company's hard work and dedication in delivering quality marketing services are behind it. Thanks to its innovative communications strategy and service, BrandBurp is the # 1 digital marketing organization worldwide, delivering positive outcomes for corporate clients. BrandBurp promises quality marketing resources such that the business needs can be fulfilled effectively.
BrandBurp with its best in class digital marketing strategies have many specialists in the network including SEO specialists, app store optimizers, product managers, industry analysts, PPC experts, in-app ads experts, video managers, graphic designers, web designers, UI / UX designers, and more.
Our team of professionals uses innovative methodologies, state-of-the-art technology and effective communication campaigns to achieve the results for the client's project effectively. We work efficiently throughout the procedure and also maintain regular communication with our clients to avoid conflicts at the end of the project. With our marketing experts' continuous commitment to achieve top-notch outcomes through innovative marketing tools, we get Goodfirm's appreciation and, most importantly, win the confidence of business leaders.
INDUSTRIES WE SERVE:
We are aware of the value of developing an app marketing network, SMM, and SEO solutions to reach every corner of the world and deliver our digital agency services to different industries, including:
• Taxi
• Tour & Travel
• Food & Delivery
• Health & Fitness
• Real Estate
• Education
• News Magazine
• Gaming
• Automotive
• Telecom
APP & BRAND MARKETING & ADVERTISEMENT HUB:
• App & Brand Marketing & Advertising Bub Leveraging 2000 + Brands to Tactically Market Their Business and Increase Year after Year.
• Since 2015, the Avant-Garde App, Product, And Online Marketing Tools & Strategies with A Concrete Effect on The Brand Price have been regularly delivered.
• From 1 Jedi to 175 + Jedi Burpians, We Mapped Our Path In The Global World And Conducted A Ton of Development Hacking Tactics To Offer Full-Fledged & Personalized Marketing Solutions.
• For brands such as Verizon, Pearson, Laureate University, Blemil Plus, Harley Davidson, Xfinity, Careem App, Snatch App.
• Awarded #1 by Webby, Mima, The Drum, Itda, Cnn Ibla Awards.
FINAL WORDS:
A good digital marketing agency will never discontinue testing and reworking its strategy to boost your ROI and enhance the overall effectiveness. BrandBurp analyze your internet traffic, determine the better online channels to invest in, and ensure consistent alignment between your marketing efforts and outcomes.