Manila, Philippines – Swiss-Belhotel International, the global hospitality management chain, recently celebrated its 32nd anniversary in the Philippines with a series of activities.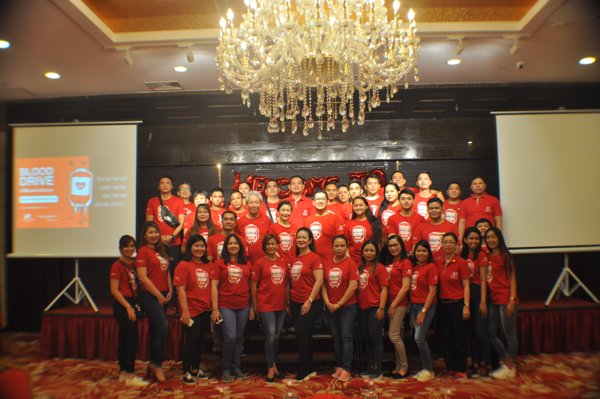 First off was a Corporate Social Responsibility initiative aimed to address one of the country's most pressing concerns. Swiss-Belhotel International's team members donated blood, with the aim of treating the rising number of dengue fever cases in the country. The company partnered with Philippine Blood Center in this activity.  Both Swiss-Belhotel Blulane and Valero Grand Suites employees participated, which generated a total of 29 bags. 
Aside from the bloodletting activities, a major Thank You party for its staff in the Philippines was also held to show its gratitude for their hard work and dedication. The group also presented special gifts to its esteemed hotel owners.
"The Philippines is one of Swiss-Belhotel International's most important markets and we are delighted to celebrate our 32nd anniversary by thanking our guests, staff and partners in this vibrant country. Our two hotels have created a strong and loyal customer base in Metro Manila, and we look forward to extending our footprint to even more attractive destinations across the Philippines in future," commented Gavin M. Faull, Chairman and President of Swiss-Belhotel International.
The Hong Kong-based hospitality company was founded on 25th September 1987 and signed its first ever property in China the same year. Since then, Swiss-Belhotel International has grown from strength to strength, building a world-class portfolio of 145 hotels and resorts either operating or in the pipeline, comprising more than 26,000 rooms, ranging from economy to luxury.
These include two exceptional hotels in the Philippines: the 271-key Valero Grand Suites by Swiss-Belhotel Makati, a popular upscale property nestled in a residential enclave of Makati City, and Swiss-Belhotel Blulane, an impressive 171-room hotel in Manila's vibrant Binondo district, the world's oldest Chinatown. The company is also a proud partner of Philippine Airlines and its frequent flyer program, Mabuhay Miles.
For more information on Valero Grand Suites by Swiss-Belhotel and Swiss-Belhotel Blulane, please visit www.swiss-belhotel.com.