Working at a startup may seem thrilling and, at the same time, terrifying. Choosing not to run behind the money factor is a big decision to take, but the perks offered at startups are worth it. Many people consider working at a startup for any one reason or another, but there are certain benefits that no corporate job can offer, but startups do. And for the aspiring entrepreneurs, many reasons are justifying that startups are the best place to start with.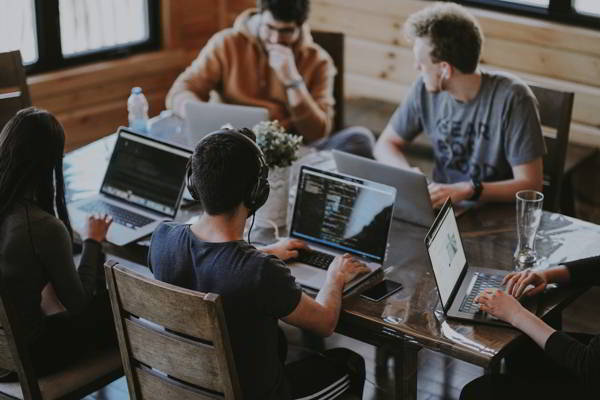 10 Benefits of Working at a Startup: How Startups Can Help You Grow
There is more than what meets the eye. Keeping the standard benefits of working at startups aside (i.e., flexible working hours, friendly work culture, midday games, engaging activities, and more), there are benefits solely helpful for entrepreneurs that help them helm their future career with the experience they earn.
1. Opportunity to Grow
There are no limits set for employees. They can work flexibly as well as learn many things at once by working on various elements together. This helms their career to its best as more responsibilities are given to each irrespective of their profile. e.g., an employee meant for writing content can suggest additional features too! This gives you a chance to explore various fields together and ensures your growth.
What's In for Aspiring Entrepreneurs?
There are no fixed working hours for entrepreneurs. If a situation demands, entrepreneurs have to take up many responsibilities on their shoulders to complete the task. Hence, the habit of multitasking is required to be developed, and working at a startup can automatically develop it in you as you work in many fields at once to get the work done.
2. Keep Learning
Learning is a never-ending activity. Startups give you the benefit of learning at every stage and the opportunity to ensure your growth as well. Working with a supportive team gives you the advantage of grasping what's best in everyone. Also, whenever any new task is assigned, the team togetherly decides to get it done in the best way possible and explores the relevant field to the deepest to bring the best results.
What's In for Aspiring Entrepreneurs?
Entrepreneurship is all about challenging yourself to find what's best in you. Without taking up challenging tasks that you have never done before, there is no other way of ensuring the growth of your business. Hence, the essential skill of an entrepreneur is the ability to learn. And by working with a startup, you get to experience what actual learning is and develop this skill for your future betterment.
3. Make the Most Out of Every Situation
What if you are given a limited set of resources to get a task done? Startups are majorly short on the financial side, and hence, the employees are present with limited resources at their service, unlike corporates.
But hey, taking up the challenges defines who is the brightest, right? And startups help you discover that. For example, if your uber clone app stops working, they give you a limited time to figure out what's wrong, and you get to maximize the doubt and problem-solving skills of yours under a limited time constraint.
What's In for Aspiring Entrepreneurs?
As stated earlier, the budgets assigned to startups are usually much lower than of corporates. And it is not possible to fit every single demand and requirement in this tiny budget. But if you have already worked with a startup before, you know the skill of maximizing what's given and make the best use of it. This skill comes in handy when the client assigns a very short deadline or any technical difficulties are pertaining.
4. Learn to Value Your Efforts
The only critic of yourself is you. And startups play a major role in boosting your self-confidence. As less number of employees are involved, the startup owners focus on maximizing their performances and create equal opportunities for everyone. Despite their busy schedules, they keep themselves free to appreciate the efforts each employee put in to complete work at hand and engage them to increase efficiency.
What's In for Aspiring Entrepreneurs?
As an aspiring entrepreneur, you also have set your ideas and business goals to complete. But without learning to value your efforts, all your hard work might go straight to waste. As the measured efforts and encouraged work productivity brings the best results, you have to keep yourself engaged without worrying much about the outputs. And by putting the best efforts forward, great results can be achieved. And startups can teach you that.
5. Sense of Responsibility
As the structure of a startup mostly places all employees at the same level, the responsibilities of completing a task get divided equally. Hence, the employees are encouraged to take the responsibilities of the work they'd done, whether they succeed or fail. Startups give you a chance to celebrate your failures while high profile corporations might not appreciate it. And startups teach you to become responsible for your actions.
What's In for Aspiring Entrepreneurs?
Entrepreneurs are the future leaders. And a leader must have a sense of responsibility as every action of them determines the future of their venture. As working at a startup helps develop the sense of taking responsibility for the work a person has done, entrepreneurs can ensure they put their best efforts forward and earn the success they deserve.
6. Perform Variety of Roles
In the fast-paced world of today, it has become compulsory to multitask your way out. And working at a startup allows you to develop this skill quickly. As startups often hire very few people out of all to minimize their expenses, they give you an opportunity to work outside your comfort zone. Hence, you learn how to maximize your efforts and develop the best skills to make your every effort count.
What's In for Aspiring Entrepreneurs?
If a lone wolf can win the battle, why would it need a pack? Similarly, an entrepreneur doesn't always have to end up winding things alone. Having performed various roles and taken up many responsibilities before, an entrepreneur can understand the skill set of their employees even when they don't know it themselves. Assigning tasks according to their skills, maximizes productivity, and leads a business to success.
7. Be Flexible
Flexibility is the biggest asset of any startup. Even when well-established companies can not manage with time constraints and employee working hours, startups excel at providing the benefit of flexibility to their employees.
Not only their working hours, but their work duties are also flexible. As an employee can learn many more things than just the responsibilities and role he is assigned, flexibility helps them increase work productivity and benefits by maximizing their performance capabilities.
What's In for Aspiring Entrepreneurs?
Entrepreneurship is not easy. An entrepreneur has to work harder than their employees to keep their business alive in the market. And as a leading entrepreneur states, to become successful in the competitive market, an entrepreneur has to make "substantial sacrifices." And if you have already experienced what flexibility is, you can efficiently work for more hours than a 9 to 5 per week insists you to.
8. Learn from the Experiences of Others
Joining a startup is not always about the paycheck. Without even looking at the number of zero's mentioned on their paycheck, many people focus on the skills a startup can teach. As your startup owner is an entrepreneur himself, you can easily learn many things from him/her. This makes up for the lesser zero's on your paycheck and guarantees you a better future with a satisfactory income because of your developed skills.
What's In for Aspiring Entrepreneurs?
Where else to learn than from the entrepreneurs themselves? Not all startups are great at the beginning, but their entrepreneurs are. They possess enough skills and experience in dealing with various tasks and responsibilities that you might have to do in the near future.
Initially, working at a startup can teach you many skills an ideal entrepreneur should possess to save your time and earn you an added advantage from the start.
9. Culture
Friendly workplace culture is one of the most popular benefits of working at a startup. However, a friendly work environment unlocks many other perks. Friendly work culture, or name it as a positive work environment, plays a significant role in increasing the work productivity of employees. As more experienced personnel join you to get your tasks completed, you can also learn a lot from their work experiences and shape your bright future.
What's In for Aspiring Entrepreneurs?
Entrepreneurs can learn many things from the startups they are currently working for. The foremost thing to learn is the work culture and hierarchy. Without harming the productivity of work, it is crucial to keep your hierarchy arranged for the best results.
Also, as the positive work environment directly links to productivity, you can shoot up the productivity by taking inspiration from the startup you used to work for. It makes it a lot easier to manage a friendly work culture and manage business operations efficiently.
10. Work Closely with Like-Minded People
Entrepreneurs teach many things, even from their working styles. Working with a great mind is an achievement in itself, and as your startup has its seed in the mind of the owner, you get to work with them and sharpen your skills.
Working with an innovative mind can offer many benefits to you than just skills. Quick decision-making skills, leadership and employee management, time management, the right attitude for success, and more are icing on the cake when you start working for a startup.
What's In for Aspiring Entrepreneurs?
Everything. You are meeting the ideal you, and with the right vision to grasp every excellent skill from the entrepreneur you are working with, you can ensure success within a short span of time. You meet an innovative mind that can inspire you to manage and shape your startup idea according to business requirements.
Moreover, if the startup achieves success in the market when you are an employee, you can also learn how to manage and expand business operations by working closely with the entrepreneur you should idealize.
Conclusion
Working at a startup is never about the paycheck you receive; all that matters is the skills you earn. And for aspiring entrepreneurs, it becomes essential to actually focus on learning the best skills their startups can teach them and generate the best results. By developing the sense of affecting your target audience in the best way possible, achieving success in the future becomes easier.
Author Bio

Deep is an aspiring entrepreneur and blogger having led 75+ startups on the right path with their information-admiring content. He crafts content on topics including on-demand services like uber, finances, technology trends and many more.