Salesforce and Microsoft Dynamics 365 are both CRM solutions, but you might have reason to pursue their integration. You might want to use a Salesforce Microsoft Dynamics 365 combination if your organization is entering data duplicates with two unintegrated systems, forcing your users to seek information in many places and reducing efficiency.
You might also have the need to renovate your sales process with the integration of contacts and companies between the two systems. Moreover, you might need the two systems to communicate entries and updates to payment history, pricing, inventory, and product information.
But integration comes with pain points. There are many versions of Microsoft Dynamics that exist, and because of that, there are many different standards for integration with Salesforce. Companies like Rapidi, an integration expert, offer legacy system integration, but you may want to understand the basics before you hire.
Consider the following comparison of Microsoft Dynamics 365 and Salesforce to reveal how these systems stack up and see why integration may be the best fit for you.
Understanding Microsoft Dynamics 365
On the face of it, Microsoft Dynamics 365 can help you run your entire business as both an Enterprise Resource Planning (ERP) software and a CRM. While you may not use this system exclusively, especially if you already use Salesforce, it does come with significant overlap with most CRM solutions.
For example, you can manage a complete customer journey through marketing support. You also help sales perform their best while cutting costs where you spot inefficiencies in the use of resources. In short, you gain complete control of your business processes to assist sales precision, repeat service standards, and financial resources.
Comparing Salesforce
Salesforce is a tried-and-true system for increasing profitability. It focuses on your core service, sales, and support functions to help you satisfy customers and turn them into advocates. It can even help your marketing teams to target customers and segment contacts so that you can do a better job cultivating your brand and attracting new customers.
With Salesforce, you can also manage a customer journey, like Microsoft Dynamics, but you don't get the ERP functionality that can help you keep an eye on finances and resources. Basically, Salesforce is a very good solution to the need for a capable and robust CRM for scaling your business. It just doesn't allow you complete control like Microsoft Dynamics 365.
How Microsoft Dynamics 365 Salesforce Integration Works
When you integrate your largest, most valuable systems, you can access any of your data in Salesforce from any Dynamics system. Integration tools that automatically pre-configure a solution through templates can connect the two systems to eliminate the experience of lost efficiency and productivity.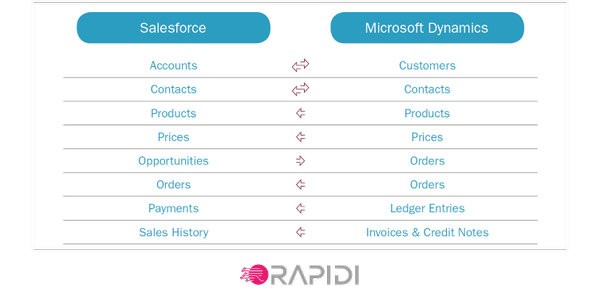 To take RapidiOnline as an example, there is a three-fold approach to innovative software integration: simplicity, design, and on-boarding and use. In addition, the best solutions are cloud-based and come right out of the box with templates for adaptable integration.
For example, if you use a quote-to-cash process, you can have a business process that exists in many variations. Once a quote is created in Salesforce, the RapidiOnline integration automatically creates it in Microsoft Dynamics 365. The integration supports the entire quote-to-cash process, allowing the two systems to coordinate the processing of sales orders as well, pushing them down the line toward a won opportunity.
In essence, integration works best through pre-configured templates and processes that accurately synchronize data with security in the cloud. This way, the process of data integration is seamless and easy.
Choosing an Integration Partner for Salesforce and Microsoft Dynamics 365
If you want to increase the efficiency and profitability of your business, you will seek Salesforce Microsoft Dynamics 365 integration. In doing so, you will discover the need for custom integration and software optimization that only the most experienced hands can offer.
However, you can gain Salesforce and Microsoft Dynamics 365 integration through a template, easing the strain on businesses who seek to advance their technological ecosystem. With a tool like RapidiOnline, you can integrate Salesforce and Microsoft Dynamics through minimal configuration.
Some teams understand the intricacies and sensitivities of integration more acutely than others. In fact, Rapidi set the standard for these integrations back in 1996 with their technology that still pioneers today after years of development and refinement. Solutions like this are nearly as simple as "plug-and-play."
Unlike many other experts in the field, Rapidi offers an integration solution that is completely housed in the cloud with robust security. As a cloud solution, it's fast, flexible, and cost-effective for your business. However, it's ultimately your choice if you want a time- and money-saving solution through the integration templates such a company offers.
Data integration doesn't have to confound. By removing complexity, it can be simple and stress-free through pre-configured tools. Learn more about Rapidi.