Implementing a CRM system is not easy, especially for small businesses. It brings about considerable changes on all levels and involves the entire organization.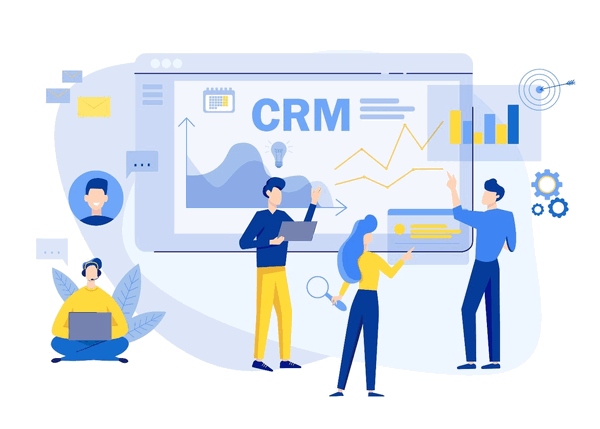 According to Meta Group, around 55% to 75% of CRM implementation projects fail initially. However, there is no need to worry as this post takes a close look at the top 5 things that you need to know before the implementation. Thus, you can expect successful implementation.
Since the benefits of CRM are significant, it is worth using. The following statistics about CRM will motivate you to proceed.
What Is CRM?
The term CRM stands for customer relationship. It is a term used for referring to a database, system, or practice. It is commonly associated with the software used for managing customer relationships.
Businesses rely on CRM to track interactions with existing customers and prospects. It is a valuable tool that helps unite customer service, marketing, and sales. Therefore, you can expect to benefit from a complete view of customer identity, activity, and history.
The main purpose of CRM management software is to help companies improve their relationship with customers. It allows for a connection to be established and nourished.
Remaining connected with customers on an individual level allows the business to strengthen relationships and boost loyalty.
What Small Businesses Need To Know Before Implementing A CRM System?
There are certain things that every small business needs to know before running a CRM system. They will help ensure that the implementation goes smoothly. Since SMEs have limited funds, it is important to maximize value. Here is what you need to know.
1. Determine the CRM Deployment: On-Premise Vs. Cloud
One of the most important things that small businesses need to consider before running a CRM system is determining the CRM deployment.
There are two options which include on-premise and cloud. Both solutions come with pros and cons. Hence, you need to think things through.
A cloud solution or SaaS (Software-as-a-Service) does not require technical expertise or any experience. All you would need to do is log into your cloud-based CRM using an internet browser. The information would exist on the server of your vendor.
An internet connection is necessary for accessing data with a cloud solution. On the other hand, an on-premise solution is a software that is hosted physically at the business premises. This means that you would benefit from direct access to the server.
A great thing about an on-premise solution is that you would not need to pay any recurrent subscription charges. But, an in-house IT team would be required. You would also need to purchase the necessary software and hardware, which would add to the cost.
2. Know Which Features and Functionality Are Required
As every business is unique, you need to determine which features and functionality would be required. You have to think about your customer base, processes, and growth dynamics to understand what you truly need to look for.
Choosing inflexible, basic, or standard functions is unwise. Your only option is to go with a scalable CRM solution. As your company continues to grow, so would your CRM needs. Hence, go for a CRM solution that is easy to upgrade for more sophisticated features.
Another thing that you should know is that the software might come with a lot of functions. There is no reason for you to pay for functions that you do not need. Ask yourself what your company needs and focus on a solution that caters to those needs.
3. Ensure the System Integrates with Other Applications
Another thing that you have to consider is the capability of the system to integrate with other applications. It is easily one of the most important factors. The main purpose of the CRM system is to streamline your business operations.
Find a system that integrates with other applications that you are likely to be using. The software must seamlessly integrate with the accounting software, HR software, and other software that you are likely to be using.
When it comes to integration, you need to ensure that the system allows for easy migration of existing contact data.
For instance, if you are looking for a CRM for Real Estate, it should be able to import data from various sources such as listing sites, social media, and your email client.
4. Request a Demo
Before you set things up, you need to request a demo from the service provider. It will help you get an idea about how to use the system and make the most of it. A test drive is necessary to evaluate the performance of the software.
A personalized demonstration is offered by many online solutions. The salesperson should walk you through everything so that you can start on the right foot. Make sure to ask the right questions to learn more about the tool.
A trial version will allow you to evaluate which solution to choose. Compare the strengths and weaknesses of the different systems that you try out before making a final decision.
5. Select an Industry-Specific Vendor
Finally, you should go for an industry-specific vendor for the best outcome. The industry you operate in might be very specific. Hence, you would need to find a relevant CRM vendor. Check out different vendors in your field to determine which vendor offers the best solution.
Third-party review sites such as FeaturedCustomers.com and Capterra.com will allow you to browse through customer testimonials, scores, and references. It is also a good idea to consider a vendor that has local partners.
Successfully Run a CRM for Your Small Business
Every small business needs a CRM system to remain competitive. Now that you know about the top things to know about before running a CRM system for small businesses, you can get started.
From determining the CRM deployment to selecting an industry-specific vendor, the mentioned factors will allow you to ensure successful implementation of the CRM system. You can bookmark our post for future reference.
Author Bio:
Shaheryar provides ghostwriting and copywriting services. His educational background in the technical field and business studies helps him in tackling topics ranging from career and business productivity to web development and digital marketing. He occasionally writes articles for Real Estate CRM.
I look forward to hearing from you.