Gift boxes are wonderful packaging accessories for retailers especially those selling specialty items. It is a good idea to give your customers a complimentary box where to wrap the items purchases. It is a wonderful trick to make your store more appealing to customers since it saves money and time during gift packaging. Some rigid gift boxes are bulky and eat up much space while others might be flimsy and not easy to assemble. The solution is to use rigid 2-piece boxes that are easy to assemble and have a high-end look. You have to buy the folding bases and lids separately but these are easy to store.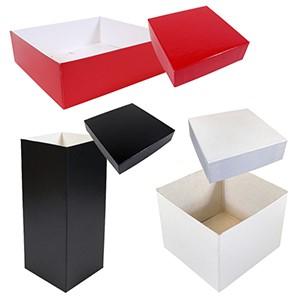 2-piece gift boxes
These are not light regular gift boxes. The versatile 2-piece boxes make a wonderful transformative packaging solution for practical gift boxes for any business. You can get these boxes in various sizes and depths with corresponding lids. Luckily, the lids fit any box regardless of depth to allow mixing and matching colors. This allows customizing gift boxes to meet your customer needs. The 2-piece boxes and lids come at a reasonable price from wholesale suppliers to allow getting creative with your retail packaging.
How to use 2-piece gift boxes
Special holiday decoration
You can tie the 2-piece gift boxes with ribbon to make decorative boxes for a holiday. The boxes can be filled with shredded tissue paper for cushioning the contents. You can customize the boxes with a special bow or a custom printed label. These boxes can be used with or without the lid to meet your particular application. This allows using the boxes in various industries including gift shop, retail shop, food service, or specialty store.
During the holiday season, a gift box with lid in colors like red gloss and gold are accented using tissue paper and ribbon. This makes a wonderful presentation of good on occasions like Valentine's Day and Christmas. These boxes come in various sizes from small to large to hold a variety of items including candles, clothing, accessories, jewelry, and specialty items.
Rigid support
The 2-piece gift boxes come with a holding base and lid sold separately. The holding base supports the item while the lid covers the base to protect the contents from damage and contamination. The lid also offers discretion for items before delivery to the recipient. This gives the recipient anticipation to see the contents after noticing the nice looking boxes. The rigid boxes come in various sizes and depths to hold various types of items. You can always purchase 2-piece gift boxes for all your store packaging needs without worry about the nature or size of the item to be packaged.
Immense customization
Creating brand recognition and awareness is an essential aspect of managing a business. This is through customized packaging solutions. Fortunately, you can customize the 2-piece boxes to meet your stylistic requirements, thematic needs, design ideas, and color choices. The boxes come in colors including gold, white, black, and red that you can mix and match. This will create luxury packaging to make your items stand out from regular packaging solutions. With this, your brand will get the maximum visibility you are looking for.
Various textures
Apart from meeting the safety needs of the contents, 2-piece boxes come in various textures to match your design and style requirements. You can use boxes in a particular coating or uncoated litho paper to meet your needs. This allows using the right boxes to meet your design specifications. A velvety texture will give your gift boxes a high-end appeal to impress the gift recipients during unwrapping.
Various accessories
To meet your design requirements, you can use various accessories on the 2-piece boxes. These accessories will enhance the overall design and style of your packaging. The best thing is to create the look the customer is looking forward to before presenting their gift. You can use magnetic closures, clasps, or various types of handles to give the boxes the desired appearance.
Mix and match colors
To give the 2-piece boxes a personalized touch, mixing and matching colors is a great idea. This requires using the base and lid with different colors. Apart from matching color choices, the mix and match add creativity to the boxes. This makes the gift more appealing to give the recipient and wonderful unboxing experience. The mix and match of colors also make the boxes suitable for corporate functions where you have to bring out the company's corporate colors.
Bottom line
Using 2-piece gift boxes is versatile and ready to use packaging solution to make your store stand out while saving storage space. These boxes come in classic colors including gold, white, red, and black to make these boxes appropriate for use for the holiday and all year-round. Fortunately, you can source these boxes and lids from a reputable online supplier at a wholesale price.
About Ashly William:

Ashly William is a freelance writer, with years of experience, creating content for varied online portals. Her content is published on many national and international publications. She has expertise in writing about Business services and Education.