WOFEX (World Food Expo) is where buyers and sellers gather every first week of August. The most number of exhibitors, the most number of trade visitors, the most number of sales generated – these are the true measures of a successful exhibition. And with this success, no wonder WOFEX is called "The ultimate Food Show Experience!"
A wide array of products and services are on display by major F&B suppliers, first-time exhibitors and new industry players. Foreign exhibitors from around the world continue to make WOFEX a truly international exhibition. Not to be outdone are the best of Filipino fare-showcasing some of the country's best home-grown products.
World Food Expo
Venue: World Trade Center, Metro Manila
Country: Manila, Philippines
Start Date: 03-AUG-11
End Date: 06-AUG-11
Organizer:
Premier Events Plus Group, Inc.
39-C E. Abada Street, Loyola Heights, QC, Philippines
Tel:+(63)-(2)-9297993/9297963/4364209/4269603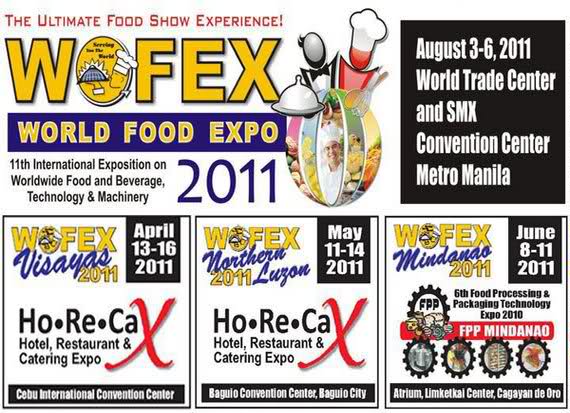 Industry Focus
Beverages, Canned Food, Edible Fats & Oils, Food Ingredients, Food Packaging, Food Processing Machinery, Frozen Foods, Health & Functional Foods, Milk & Dairy Products, Snack Foods
Do you like this Money Making Business Idea? content"> then please consider subscribing to our RSS feed. You can also subscribe by email and have new articles sent directly to your inbox. (Once you entered your e-mail address, you need to login to your e-mail account and click the link to confirm your subscription).