When it comes to gardening, there is going to be a lot of waste depending on what you are doing. While some of it is going to be organic, there are other bits that are going to have to be thrown out. In those situations, what do you do? While you can throw it into your garbage, it generally is not the most advisable place for something like that. So what can you do? Fortunately, there are a ton of different options and choices for you depending on what you are looking for. Here are some ways to easily get rid of your garden waste.
Hire a Service
There are junk removal services that also specialize in collecting garden waste and disposing of it. What are the advantages of hiring a service? Well, the first and biggest advantage is that you don't have to wait for collection day in your home. If you have a ton of waste that has to be removed, calling them up and having them come right away is the best way to take care of it all. Most companies are extremely flexible as well and can accommodate you and your needs.
Let's say you are planning on doing a major gardening project on the weekend and want everything to be disposed of as soon as possible. The people at https://mobileskips.com.au/waste-type/green-waste mention that you can contact a waste removal service and let them know that you need them there on the weekend to collect everything. They will work with you when it comes to scheduling and finding a date.
Keep in mind with these services, however, is that they sometimes charge you for the amount of debris and garden waste that they are hauling off and they will not be able to give you an estimate until they are actually there. Other than that, they will work with you and provide you with a fair price.
The other great thing about these services is that they are going to ensure that all of your waste is disposed of in the proper manner. While they are going to be collecting your garden waste, there might be some pieces of garbage in there as well from the soils that you bought and from some of the packaging. Not only will they take that with them, but they will also sort it out to ensure that everything is being disposed of in the proper manner.
This does not mean you should stop caring about the environment however and throwing things away however you feel, but it does give you peace of mind knowing that they are looking out for the environment. Hiring a service to come to collect your garden waste is one of the best ways to ensure that everything is picked up and disposed of properly.
Rent a Dumpster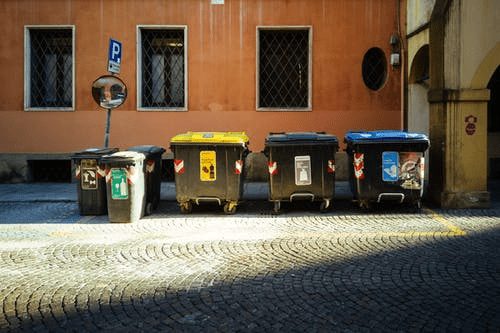 If you want to go about things yourself but have plenty of waste to dispose of, you might want to instead rent a dumpster that can be put into your driveway or yard. Renting a dumpster is extremely easy and you can rent it for the duration of your project, ensuring that you are getting the best bang for your buck. In most cases, you shouldn't have a problem with running out of room in the dumpster, but if you do, most companies can come by and quickly collect it and empty it out for you. This will ensure that you always have a place to dispose of your waste.
Another benefit to dumpster rentals is that you can choose the size of them. If you are expecting a lot of waste, you can opt-in for a larger dumpster. You don't even need to be at your home or on-site when the dumpster service arrives. They will simply come in and leave the dumpster there as per your instructions. This makes it an extremely convenient way to dispose of garden waste.
Be mindful however that in some areas large tree stumps are not allowed to be put into dumpsters. Contact your service to find out if it is allowed if you are renting a dumpster. The last thing you want is to have to fish everything out because you are told they cannot accept them.
Burn Your Waste
Another thing you can look to do with garden waste is simply to throw it into a fire and burn it. As it is organic material that you are burning, it is going to have minimal effects on the environment and shouldn't be releasing too much smoke into the air either. It is an extremely easy and cost-efficient way to get rid of all of that waste in your yard.
If you opt for this method, please be aware of the fire and burning laws in your area. You don't want to have a fire in your backyard going to find out that firefighters are on their way to investigate. Fires can also easily get out of hand if you aren't monitoring them so try to keep them in a fire pit so everything can be localized. Have water and sand nearby in case something happens also. Always prepare for the worst, especially if you are going to be working with fire.
Wait for Your Local Service
The final way to easily remove your garden waste is to just wait for your government to come by and pick it up. In most cases, your garden waste will have to be packaged in the appropriate manner, otherwise, it will be left on the side of the road. This might be annoying, especially if collection day is far away, but at least it is a service that you don't have to pay anything extra for.
These are all ways that you can easily go about removing the waste in your garden. If you do have plenty of organics, you can always look to compost them as well as they are going to help the soil. At the end of the day, find a disposal method that works for you and spend the time to clean everything up. How do you plan on removing all the waste in your garden?