In 2021, there's nothing unusual about a remotely working team. Last year, many businesses were forced to take their operations to the online environment and instead of physical offices, use virtual means of collaboration. But the utilization of remote work will not end with the pandemic. Telecommuting is the future and taking advantage of it can save you considerable expenses, besides having a slew of other benefits. However, it's not all fun and games.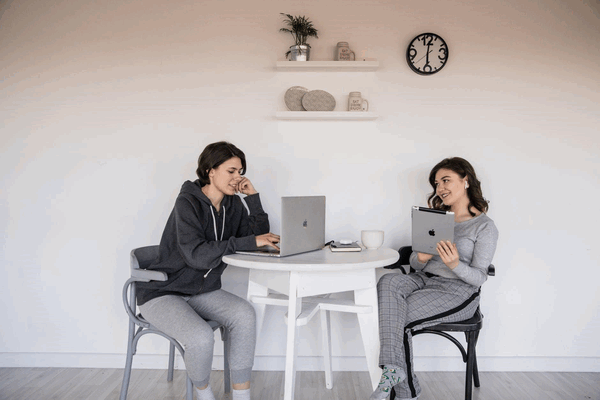 There are many pitfalls a remote working team can experience. From difficulty in communication to a loss of sense of community, all remote teams run into difficulties at some point. However, when your employees aren't thriving, they cannot give you their 100%, which will ultimately affect the productivity and profitability of your business. To prevent them from feeling isolated and burnt out, you have to make an extra effort to boost their team spirit. Here are a few ways to do so.
Improve communication
Communication is often one of the major issues that come with remote work. An inefficient communication system will not only ruin your productivity and pose the risk of miscommunication but it can also wreak havoc on team spirit, so improving communication should be a priority. Your best bet is investing in solutions that allow for constantly staying in touch. However, don't rely purely on written means of communication since that has the highest potential for improper transmission of information. Make sure you also have a video meeting etiquette so that calls are organized and everyone can get a word in.
Casual hangouts
When the switch was made to remote working, one thing that many new telecommuters were not a fan of was video meetings. The reason for this is that many companies were not approaching this in the right way due to a lack of experience. Now that experience is behind us, we have the potential to make video meetings both productive and an overall positive experience for employees. An important thing to keep in mind is that sticking strictly to formal video meetings will not work in your favor. Instead, you should implement casual hangouts too so that your employees are reminded that they are not alone. For instance, a great way to keep connected with everyone and encourage starting the day on a positive note is by implementing check-ins at the start of each day. Everyone can chat about their achievements the previous day, their goals for the present day, or any other even non-work-related topic while having their morning coffee. It's a good way to nurture a more casual relationship between employees which will help them communicate with each other without constraints in their work.
Getting personal
Without seeing their coworkers in person every day and having casual chats with them in the break room, employees will gradually feel less connected to them. You want them to have good relationships so that they can work well together. For this, you should encourage them to share something personal with the team from time to time. You can organize a show-and-tell where everyone can talk about whatever they want. Another prompt that can help your employees get to know each other better is having everyone introduce their workspace. Of course, they don't have to show everyone around their whole house, but a brief look at their desk and home office will speak volumes about them and it can spark later conversation between employees.
Organize competitions and challenges
Most people have at least some level of competitiveness, so organizing friendly competitions among your teams can not only help boost team spirit but can also drive your employees and maximize their productivity in a fun way. If the competitions themselves concern your company goals, you can add a dose of interest to otherwise mundane tasks. Besides holding competitions from time to time, you can also have ongoing challenges running in the background that will motivate your employees to reach a certain goal. You can be very purposeful when it comes to this topic. For instance, you can encourage your employees to have a healthy lifestyle by setting up fitness challenges. Organize your employees into small teams and see who can stick to the prescribed routine.
Team-building games
Team-building activities have long been the favorites of employers who want their teams to take their cooperation skills to the next level. While you can't take your team out at the moment, you will be delighted to hear that in this day and age, virtual team-building activities abound. You can choose from a wide variety of online games that will allow your employees to get to know each other better and work on their problem-solving skills in teams. From ice-breaker activities that can help employees who don't know each other well get more comfortable to virtual scavenger hunts that will involve a lot of laughs, there is a lot to choose from. Escape rooms are also a popular team-building activity, and today, you can enjoy virtual escape rooms as well. You can browse hundreds of ideas on the internet or even outsource team building if you deem it necessary.
Celebrate virtually
Just because in-person events are still greatly restricted in many parts of the world, it does not mean that we should skip celebrating entirely. Company events play an important role in building your brand as well as your company culture, and they can boost your employees' sense of belonging, too. Virtual events are a great substitute for in-person ones, but they have benefits that will make them stay beyond the pandemic as well. Besides important occasions such as product launches and conferences, don't forget about smaller events either – while they might not be for the public to see, they will mean a lot for your employees. Milestones and birthdays are all important events, so make sure you acknowledge them despite the physical distance. Throw a virtual party with games to boost team morale.
Remote working brought along a whole new array of challenges for employers. While telecommuting certainly has its advantages, don't expect that everything will go perfectly from the get-go. Ensure that your remote employees truly feel like a part of a team and you'll have one less thing to worry about.