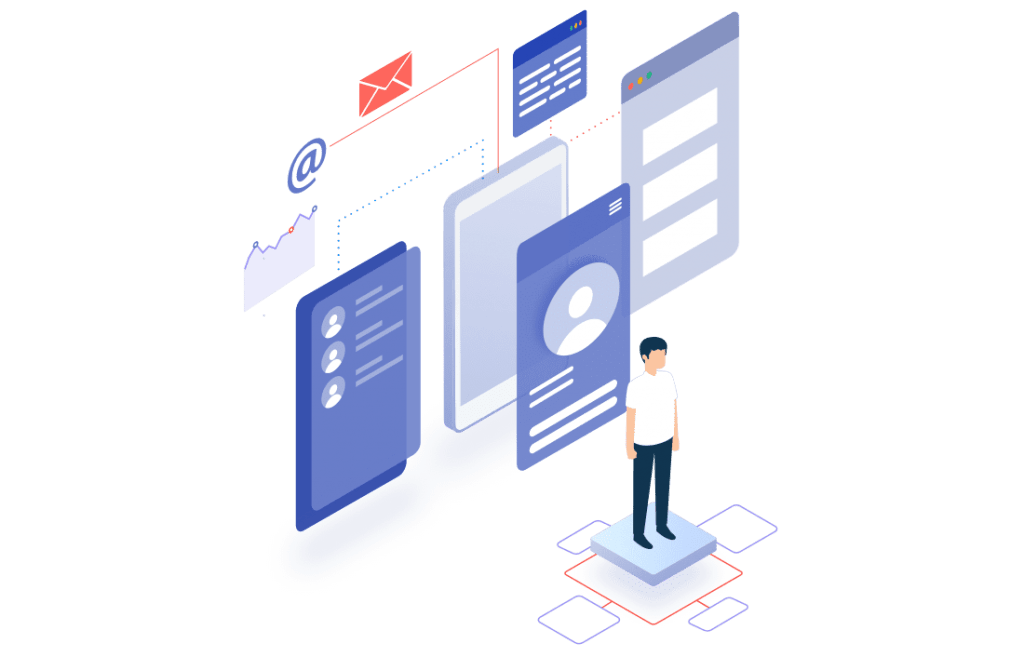 Hiring a dedicated remote developer for mobile app development projects is a critical decision for a company. It's not easy to find skilled and experienced developers who have the ability to work successfully toward your aim.
The concept of hiring remote developers is not new. According to a software outsourcing stat, 73 percent of all teams will include remote workers by 2028.
In this guide, we'll take a closer look at the advantages and reasons for hiring professional remote app developers to assist you in making an informed selection. But first, you need to be aware of the aspects to consider when hiring app developers.
Let's begin!
Factors To Consider When Hiring An App Developer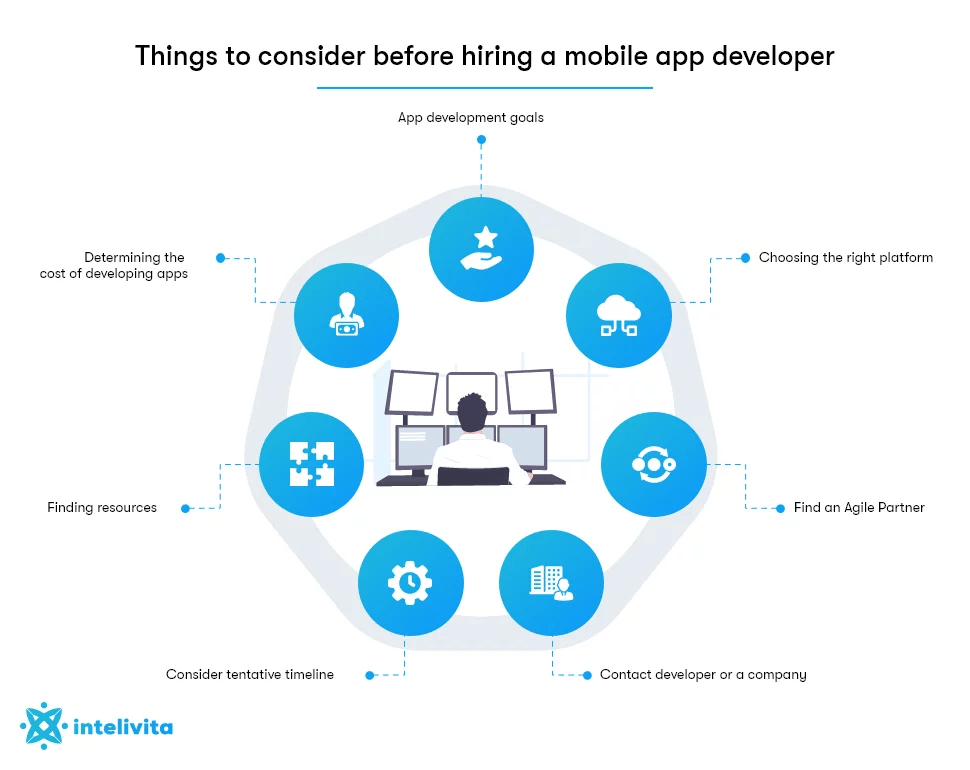 Choosing the appropriate app developer may be a daunting task for you. So, if you want to achieve positive results, you need to think about a few factors before hiring an app developer.
Many specialist firms offer cutting-edge app development services. Finding the appropriate developer can be difficult if you are not a techie or unfamiliar with technological aspects.
However, keeping a few criteria in mind and looking for them will help you locate your company's best mobile app developer. Let's have a look at some of the most critical factors.
If you have specific project requirements and only need someone to write code for you, you can hire a freelance developer. However, additional technical guidance or expertise is required in most cases, which is where professional remote developers or teams can be pretty beneficial.
Project size and duration
If you have a big project that is to be developed, you can hire a remote developer as hiring a dedicated developer is recommended in case of mid to large scale or ongoing app development projects .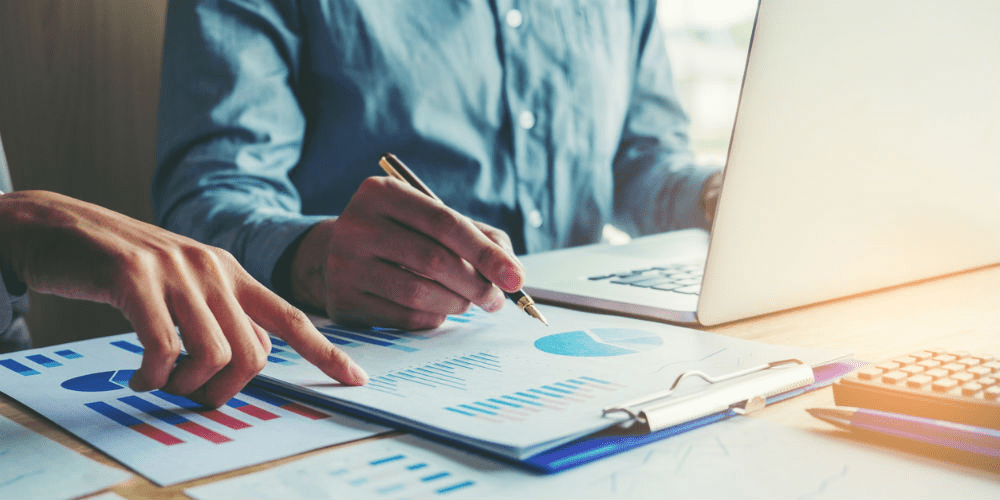 The pricing component differs for different firms depending on the complexity of the projects and the services given. Create a flexible budget for your project and hire an app developer to stick to it.
The developer must keep the client informed about the development process by maintaining transparency.
Effective communication between the business owner and the app developers is one of the critical variables influencing the project's success.
The app developers should speak, have a thorough understanding of the client's requirements, and be able to deliver superior results.
Top 8 Benefits of Hiring Remote Developers for App Development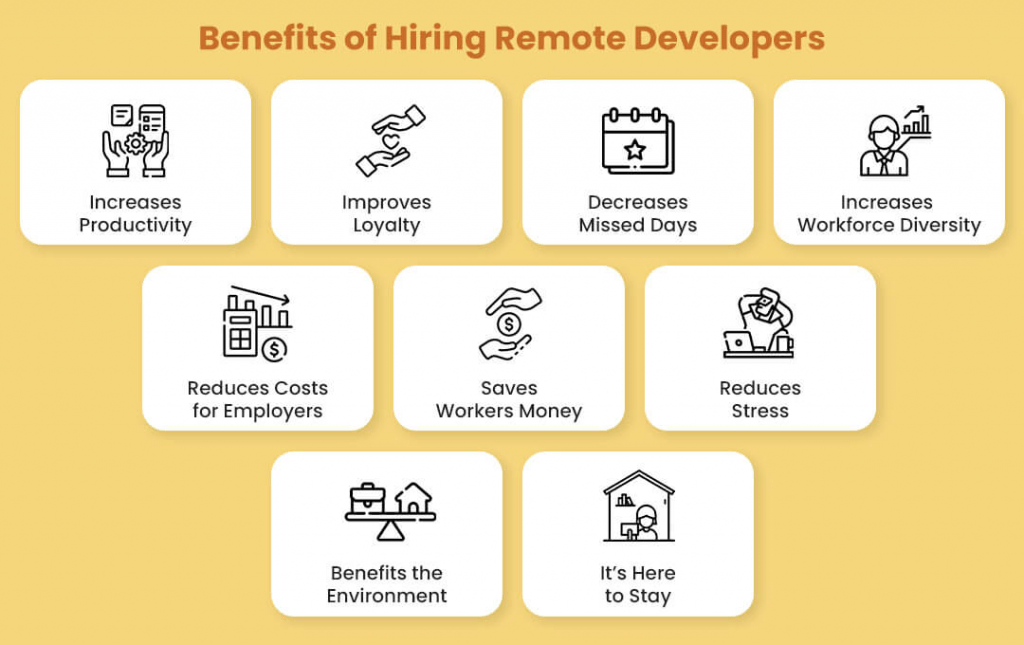 Hiring remote app developers has its own set of perks and benefits. Let's take an in-depth look at them:
#1 Access to Global Talent

You may now hire app developers from all around the world, thanks to technological advancements. Granted, you have the resources and skills to discover the perfect developer.
To get the ball rolling sooner, larger firms seek to outsource development tasks to application development companies.
Unfortunately, not every company can afford a high-level development firm. One option is to conduct some research and find an off-shore application development firm, but this comes with its own set of concerns.
If properly executed, the benefits of remote development teams outweigh the expenses. Companies seeking to hire remote app developers should be willing to accept more flexible work arrangements.
In the end, the quality of the result is only as excellent as the effort put forward by the developers. You may save money, attract loyal employees, and reap the rewards of finding outstanding talent by hiring remote developers.
#2 Expertise
You will save millions of dollars if you hire a skilled technical team to work on your project. Before choosing a developer, it's critical to think about their experience.
Hiring dedicated developers from a reputable app development company ensures that you have a technically skilled team building a high-quality product for you, as they have years of expertise in developing software products.
You get a vast pool of expertise with one team head with exceptional managerial qualities and knows how to use their own experience and skills because they are all different skilled.
Having an in-house team appears to be a good idea until you realize the limitations, one of which is that you limit their exposure. On the other hand, dedicated remote developers have a track record of working with businesses of various sizes and industries.
This broadens their understanding of the potential of app development while also honing their problem-solving abilities.
#3 Higher Levels of Engagement
Dedicated remote developers can boost productivity by up to 43%. If you're hiring remote developers, you'll have a better work-life balance and more focus.
According to Stanford University research, remote workers are:
13.5% more productive than their office-based colleagues over two years.
They are 9 percent more engaged at work.
It's 50% less probable that they will quit.
Remote developers are apparently more connected and engaged than their in-office counterparts with today's communication options. Remote developers are not bound by time constraints or a 9-5 work schedule while working.
Developers can be more productive if they work according to their schedule; it doesn't matter if they work at 3 a.m. or 7 p.m., as long as they finish the task as per the timeline. As a result, remote developers have the potential to be more productive than in-house workers.
#4 Round the Clock App Development
Your developer can work on mobile app development at any hour of the day or night, as long as the task is completed on time.
It doesn't matter what time zone they're in as long as you get your work done on time. It is a great benefit to developers because they can work whenever they want and show up when the project manager needs to bridge communication between the developer and the client.
Furthermore, in the pandemic era, the methods for developing an app have improved. When the entire globe has become acclimated to hiring remote app developers and productivity is promising, returning to the physical workplace structure appears unnecessary.
#5 Higher-Quality Work
Employee productivity increases by 43 percent when dedicated remote teams are hired. Working remotely allows people to maintain a better work-life balance, keeping them motivated, happy, and focused.
Employees who are working remotely produce higher-quality work and are less stressed by 78 percent.
#6 A Higher Return on Investment
Because of the Covid-19 pandemic, businesses are investing in modern communication and technology and collaboration tools such as Office 365, Microsoft Teams, and others.
All decisions, such as online messaging, online meetings, and online document sharing, will be made via remote work.
Companies who invest in modern communication and technology will get a higher return on investment, especially during a coronavirus outbreak.
#7 Save Money While Having a Lot of Options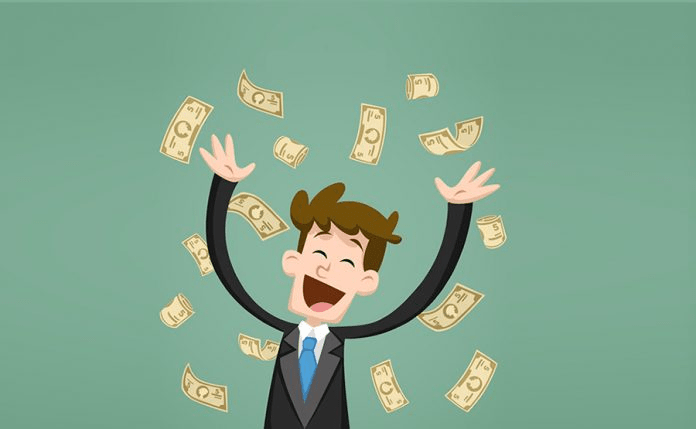 Reduced expenses are the first and perhaps most crucial benefit of hiring a remote developer. When it comes to saving money on talent, there are various factors to consider.
When you go remote, you go worldwide, which opens up a huge talent pool while also allowing you to delegate the development process to individuals and organizations across the globe.
According to research, hiring experienced remote developers has always proven to be cost-effective for businesses. This is because dedicated team members are highly talented and polished at what they do; therefore, they don't need to be trained or supervised at any point.
#8 Rapid Crisis Management Strategies and Abilities
You don't have to think about it because you have dedicated app developers back you up during a short-term emergency or a little workflow breakdown! They have all of the skills necessary to navigate a crisis without losing sight of the main objective.
In almost all circumstances, the project is completed within the same deadline. It is extended by a few days depending on the severity of the situation, but not more.
Final Thoughts
The reasons listed above are a handful of the many reasons to hire remote developers in 2021. To create a high-quality app, you'll need to discover a skilled mobile app developer with a track record of success and excellent communication skills who can deliver exactly what you need.
If you're looking to hire remote app developers, contact the top mobile app development company in India for small to large-scale mobile app development projects.
They will assist you in delivering fast outcomes at a reasonable cost. So, what are you waiting for? Contact them to get a jump start on your app development.
Good Luck!