Are you a business person with a retail store that needs clothing racks? If yes, then you need to get in touch with a reputed online vendor who can provide you racks in different colors and styles. Such racks are made of high quality materials and act as sturdy units to showcase apparel in backrooms, warehouses and retail stores.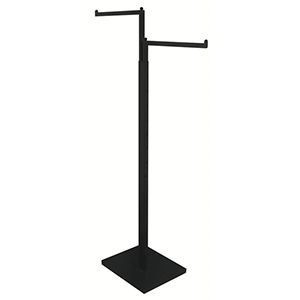 Different types of clothing racks can be used at stores. For example, 4-way racks and round garment racks are highly suitable to display a large number of clothes. 4-way and 2-way garment racks are commonly available in the following forms:
Rolling racks
Round racks
Countertop hat displays
Are you planning to relocate or move the clothing? Ensure that you do so with the help of rolling garment racks that come with caster wheels, so that if regular movements are made easy.
Always choose racks made of high quality material
While looking for clothing racks, you as a retailer need to ensure that the racks are made of high quality materials. The racks must be able to take on a huge amount of weight, since any number of clothes may be piled on from time to time.
The purpose of all clothing racks, irrespective of the type of design, is the same- hanging clothes. However, you do need to consider a number of parameters apart from size, quality of construction, and overall design. Amount of storage space and type of available space can give rise to several multi-functional options
Floor display hat racks– These are most convenient to hang hats of different sizes and types. The hats can be made to hang with elegance and ultimate style here. A large number of these racks are multi-tier, allowing the display items to be staggered throughout its height.
4 arm garment racks- These heavy duty chromium clothing rack can be used to display any type of clothes. All arms of this rack can be adjusted, so that you can fit clothing in the best possible way. This is also a great buy if you are looking for something that can fit into a compact space. Each piece of clothing can also be viewed in a unique way with this rack. You can buy these in straight arm and slant arm styles in different sizes.
Rolling racks– Almost every type of retailer makes use of the rolling rack, irrespective of the store's environment. Several clothes can be shifted to a different location using these racks. Such racks are ideal for those setting up trade shows or pop up stores. No tools are required for its assembly. These can be purchased in different dimensions, as well as with changes in the base material.
Round racks– These are ideal for efficiency, since they are able to take all angles into account. Four legs spread outwards in order to provide maximum support to the rim at the top. You can separate clothing items from each other with the help of color coded markers.
Single rail racks– These comprise of sturdy metal frames which can hold weights up to different limits. A solid metal shelf is also present at the bottom, which works well to store storage containers or shoes. Stoppers are available on either side of the rod to prevent clothes from falling off.
Double rail racks– These strong racks are meant to hold heavy clothes, and those too in large numbers. Coats can be hung on these racks easily.
Wood t-shirt display- This is highly suitable for displaying a large number of folded t-shirts, which are available in various designs and sizes
Apart from showrooms themselves, 4 arm and rolling racks are also suitable for hanging garments in laundry rooms. Here, the purpose is not to showcase to a customer but utilitarian instead.
How to obtain replacement parts
While you look to choose an online vendor for these racks, it would be helpful to put in a query about availability of replacement parts. Most of these racks will be used for heavy duty storage in stores and warehouses, and may not always be handled with the greatest care. The reputed vendors will give you an option to either replace parts or add to existing racks.
Garment racks are predominantly available in chrome color. This is also the color preferred by most vendors due to its finish and quality of material. Some companies also offer racks in satin nickel and black. Other tan apparel, garment racks are also suitable for displaying homemade items, merchandise purses, and just about any item that can be made to hang. These racks are highly suitable for thrift stores, boutiques, hat stores, consignment stores, and just about any apparel store. To make the most of these racks, you must ensure that you get the lowest prices and fast shipping on them.