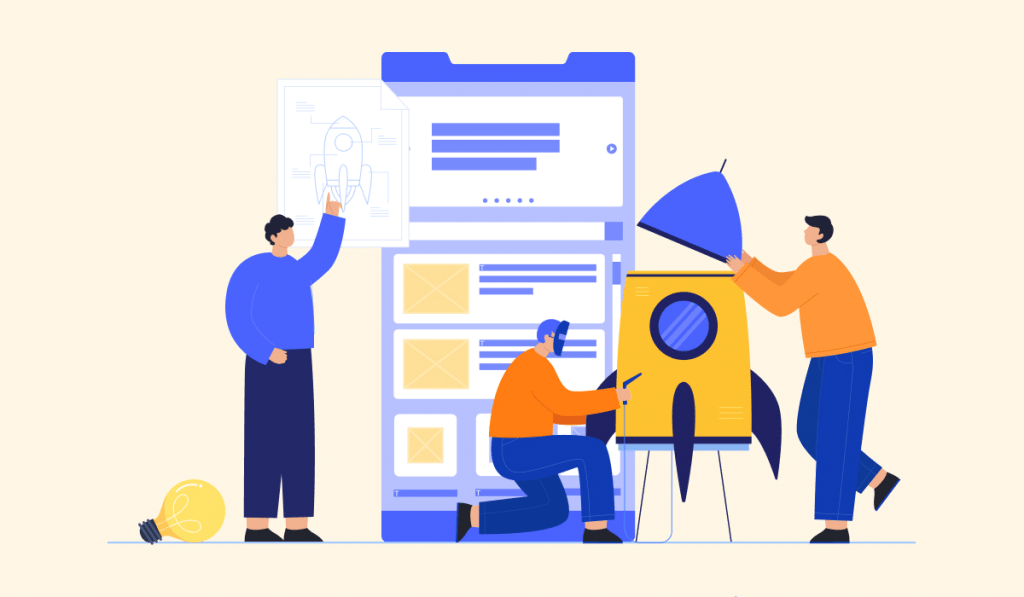 Since the number of mobile users has increased over the decade, it's imperative to have mobile apps for your business growth. If you still don't have the smartphone app for your small-scale business, you miss the opportunity to be in the race to become a well known brand.
Did you know? According to a report, there are 3.5 billion smartphone users globally, and the number will increase up to 3.8 billion by the end of 2021.
What did you figure out from the above stat? You must correctly guess that you can take your business to most smartphone users across the globe.
In the modern world full of technical stuff, if you still run your business through conventional means, you limit your business to a few consumers. You have infinite customers in this digital world who let your business grow exceptionally well.
There are smartphone apps for food deliveries, restaurants, on-demand taxis, booking tickets, etc. The mobile apps offer several benefits, and that's why businesses and enterprises are adopting them to grow continuously.
Let's focus on the benefits in detail offered by mobile application development.
Enhance Customer Engagement
To quicken up the sale of your products, you need to engage more and more customers. Mobile applications ensure customer engagement with the products and services offered by you.
If you offer the products required by customers, your business growth will increase manifolds. Mobile apps help consumers order the products anytime, whether in the office, home, restaurant, or anywhere.
In such a way, there are chances that customers will attract more and more to the products offered by you as they don't need to move stores for the products.
You can implement a Q and A platform where a customer can give feedback about the product and ask the query if he has any. Syncing the app with social media platforms like Twitter, Facebook, and instagram will fuel the business growth.
Increase Brand Awareness
Having a mobile app for the business enhances brand value amongst consumers. If you possess a small business and still don't have an app, you can hire android app developers to get the app.
Android has the largest share over the smartphone market and is expected to reach upto 87% by 2023. You can enter the world of full opportunities by getting a mobile application for your business.
As per a recent mobile development stat, people usually spend about 3 hours and 15 minutes over the phone every day. You can quickly get the attention of smartphone users by introducing the mobile application and get noticed by them.
A mobile app with eye-catching imagery, intent app icons, short videos, and compelling information has a greater chance of attracting users. Each time they open the phone, they will see your business name on the screen, increasing your brand awareness.
Act as a Direct Marketing Tool
Each business requires promotions to enhance the customer base. Mobile apps work as direct marketing tools that send product information, prices, and specifications through smartphones. So, you do not need to spend vast amounts on newspaper ads and other promotion models.
Mobile apps make marketing more accessible than other mediums by sending push-up notifications. Once you create separate folders of the product price, features, and discount in the app, the consumer can easily search for them while sitting in the office or home.
Thus, with the help of mobile applications, you can remind customers of the products, services, and new arrivals offered by your brand.
Improves Operational Efficiency
One of the most significant advantages of the mobile application is that it improves operational efficiency. Once you integrate the app for your business, the level of operational efficiency will simultaneously lift as it cuts staffing costs and reduces the workload.
Several manual tasks will turn into automated ones and assist in operating the business efficiently. You are the owner of a small enterprise, so you shouldn't engage more staff to run the business. Moreover, In the digital world, technology has made the task easier.
You can hire iOS app developers to get the mobile application that will reduce operational costs as well.
As we know, communication plays a vital role in operating the business and establishing a good relationship with customers. The mobile app effectively progresses the communication between you and the customer. You can understand his requirements, interests, and feedback about the products.
Building the On-demand Marketplace
Mobile application helps your business to grow exponentially by delivering on-demand services and products. For instance, On-demand taxi services like Uber and Ola are well-recognized brands worldwide today. They offer an on-demand taxi booking service which the consumer can avail of at any time.
Mobile apps facilitate the way for small businesses to be part of an on-demand marketplace with the caliber to lead the business to a new height. If your company has a good online presence, then creating and expanding an on-demand marketplace is a lot easier.
Generates Additional Income
You will be happy to know that mobile applications generate extra income by offering multiple facilities to the consumers. You can offer them no-ad facilities, upgrading to the premium version and in-app purchases.
Customers will also feel good by availing of these benefits as they will not have to waste time seeing ads. They will get deliveries on a priority basis.
You can generate revenue through downloads offering paid or free versions. For example, if a customer downloads a free or paid version of the app, you will have the extra income in both cases.
If you include commercial ads in your application, you will also be paid. Hence, you can add extra money to your pockets.
Increase Visibility to Clients All Times
Mobile apps assist you in increasing your brand visibility all the time. According to a report, people spend more than two hours on mobile phones every day. This is the time you can send push-up notifications on consumer mobile phones.
You can check consumer activities through the app and accordingly provide customized services to them. You just need to set your plan to put your brand name and logo in front of people's eyes while scrolling through the applications.
Hence, you can increase the visibility of your brand through the app and increase your customer base.
Better Customer Experience and Services
You can enhance the customer experience by implementing the mobile application for your business. If you offer good products and satisfactory services, the consumers will come again and again on the platform and buy the products.
Mobile apps offer several features through which you can encourage customers to engage in communication. The method will establish loyalty among them, and you will have more chances to quicken up your sale of the products.
Wrapping Up!
We are now towards the end of the blog, and now I am sure that you must have decided to get the mobile application after going through the benefits provided by the Mobile application.
If you want to know more about the mobile application development features and get the app according to your requirements. In that case, you can get in touch with one of the best mobile development companies in India.
You will drive your business to a new height and give stiff competition to your competitors in no time.