Introduction
If you are a Start-Up, SMB, or growing business in any stream, you need a consistent and growing client base. New businesses are flashing and appearing daily, and your business has strong competition with your peers and other businesses from your industry. It is rather a fierce competition and all those who work better, adopt modern digital tools and technologies in their ecosystem, tend to stand out of the crowd and shine. You need to think of strategies that can enhance your target customer experience and get the business outcomes eventually. Then, what stops you from creating your unique, mobile apps specific to your business type and goals?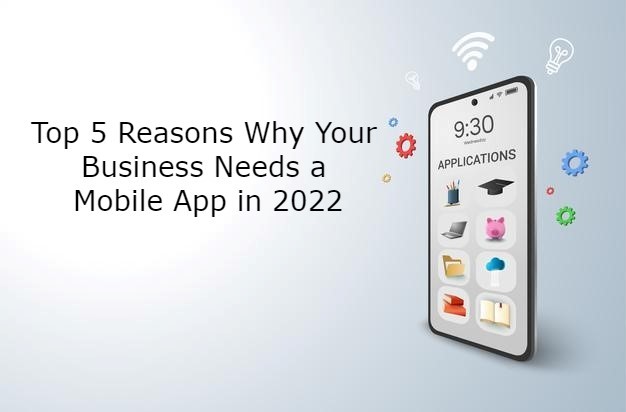 Well, mobile phone is ubiquitous and people live with them, conduct businesses creating unique mobile apps, and reach out to the target audience. Don't you use your mobile phone so often and continuously in a stretch for varied reasons? How many times do you switch between apps? Take your example only. You tend to spend more time on those mobile applications/mobile apps that look so attractive and give you a fulfilling experience. You get a plethora of choices and help in the search you put there! As per one report, three years back,2019, mobile apps and devices accounted for 72% of the total internet traffic! Imagine the number now! Especially in current lockdowns and COVID-19 led crisis.No doubt, multiple reasons justify why your business needs a mobile app in 2022. Look at the statistics below: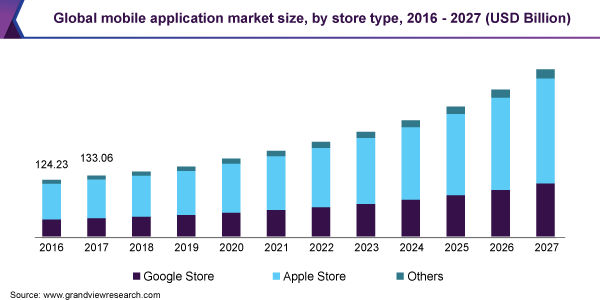 Why You Need Mobile App
If you are a startup or SMB and want to grow, flourish in the digital world today, you need to develop a strong vision while requiring an adequate digital technology base.Adopting the latest digital tools and technologies is the need of the hour to remain competitive in the market.
Digital technology-enabled mobile applications/mobile apps are helping start-ups, businesses across industries, instantly connect them to customers irrespective of the time zones and geographical boundaries, in seconds.
Your business needs a customized approach to function, run, and have a competitive edge over peers in the smartphone era is not an easy task. Your business needs to create a brand presence in your target market; you need to reach out to target users, potential leads/customers, and then acquire new clients. This way, you can meet your specific business goals, and this is how mobile application platforms/mobile apps are greatly helping businesses to grow in 2022 and beyond.
So, if you are a B2B type or B2C type of business, you need a robust mobile application/mobile app for your business that can fetch you good returns. Businesses are greatly leveraging the power of mobile app technology/platforms whether they are a marketplace in an e-commerce platform, or aggregator, or exist in the form of on-demand apps. There are plenty of choices that are inundating the app market/business world, Viz. Appstore, Google Play Store, iOS, Android, Cross Platforms, hybrid models, etc. Notable examples of businesses that are leveraging mobile app technology are Uber, Ola, Swiggy, Paytm, Google pay, and so many other examples you can take a leaf from! All these examples of mobile app businesses have adopted respective business models while utilizing the potentials of a mobile application/mobile app for boosting business returns and maximizing profits!
Top 5 Reasons
1. To Create Brand Awareness
To create a strong presence in your target market, a strong foothold in the market, you need to take the first step first!
Irrespective of being a b2b or b2c business, you can leverage the power of mobile apps in multiple ways. One way how your mobile app/application can help your brand/business is to reach your target customers directly and instantly. The perfectly designed and created mobile app helps to raise the bar of brand awareness, increases the brand value as well. Therefore, creating a brand presence in the target market is the first step that your mobile app helps you to take, and succeed further. This step enables you to qualify for the next steps. Just look at this – all the US adults do spend approximately 3 hours on their respective mobile phones/smartphones every day/daily. So, this speaks volumes about why your business needs a good mobile app in 2022. You need to capitalize on this massive opportunity and use mobile apps appropriately.
2. Retaining Customers
The mobile app for your business serves as a direct connection or the interface between your clients and you (your business). The mobile app becomes a direct connection leading to direct interaction with clients/customers. It provides instant service to customers thereby creating a good customer experience. If your customers are happy and satisfied with your unparalleled services/products, it will lead to creating a customer loyalty base in the long run. Thus, your mobile app becomes a channel to provide excellent customer service through multiple offers, product/service discounts, coupons, QR codes, etc. Personalization of your products/services help you to create a place in customers' hearts thereby promoting your brand attaining specified business goals.
3.  To Generate  Sales
So, you know now that your mobile app can be the reason to bring smiles to your customers' faces. It can have a massive impact on their lives provided your mobile app for your business has a good UI/UX design and features. A mobile app with robust features and characteristics works as a catalyst force towards business outcomes. The digital platforms, e-marketplaces, e-commerce stores, online retail, phygital model, healthcare apps, telemedicine apps, and on-demand grocery apps, there are so many kinds of mobile apps that are generating massive sales and revenues for businesses at the global platter. So, it is high time you go and start developing your unique mobile app for your business and consult a credible mobile app development companyfor your idea creation and execution. You can expect ample opportunities for creating sales via your specific mobile applications. Your mobile app is not a mere website-based platform that has so many restrictions in terms of usage and conditions applied. Hence, mobile apps are increasingly becoming a favorite choice amongst app users throughout the globe. The underlying motto of a mobile app is to find/locate customers right in the places they are available and then convert leads into customers thereby generating sales for the company concerned.
4. Lower Investment
When you start your business and create your specific mobile app, you are empowering your business in reality. Whether you are a startup, or an entrepreneur starting a new venture, your exclusive mobile app can become your greatest means of empowerment that can get you high returns at a relatively low cost /low capital investment. Thus, your business doesn't need to shell big bucks to get returns. Planned, minimum costs and capital investment can allow you to efficiently start and conduct the overall business functions and operations. Your mobile app based business model can equally take care of your front end & back end smoothly and effectively. You don't have to stress about extra/ additional resources, manpower, physical space, or in-office location because you are available in the digital form and business transactions are all being conducted online very seamlessly.
5. Great Marketing Tool
If you are a start-up business, or just any business looking for the best returns, you need to harness your marketing goals. But, once you think of specific mobile app development for your business, you can relax. Your particularmobile app works for your marketing needs, too. It can act as a perfect marketing tool promoting your business in the target markets and creating an adequate brand impression. Today, digital marketing is becoming very popular. Your mobile app development company can guide you with all your digital marketing needs, tools and techniques and help you reach your business goals. Digitalk marketing tools can easily integrate with social platforms, social channels, and multiple business sites across the digital space.
Conclusion
As a business owner or an entrepreuner, or as a start-up, SMB, or enterprise, you must have realized that digital is the major driving force behind technological enhancement across business spheres in the world. Varied digital tools and technologies such as AI-ML, blockchain, AR/VR, Robotics, etc. are facilitating unique, robust mobile app development company for varied businesses across industries. All that you can expect are increased customer retention, customer engagement, increased sales, repeated sales, monetization, boosting ROIs, and much more through your mobile app specific to your business. These reasons justify well why you need a mobile app for your business in 2022!
Do you want to know which type of mobile app is best suitable for your business and fetch you the maximum ROI? Contact Us.