A hand held impulse seal is very useful for not requiring warm up before use. This sealer runs an electric current through Nichrome heating elements to send heat in pulses on lowering the jaw. Material is held between two heating elements for heat and pressure to form a seal. Using an impulse sealer is so easy making it ideal for tasks requiring flexible use and quick access. This impulse sealer is appropriate for use with materials that require lower temperature including polypropylene and polyethylene.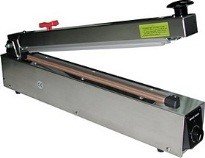 Using a hand held Impulse Sealer
This sealer hermetically seals the bags to ensure that your products are airtight, tamper-proof, hygienically enclosed, and water-resistant. The impulse sealer is ideal for food applications in the kitchen for tasks like sealing cookies, sweets, and other food items for safe storage. This sealer makes a package that limits oxidation of scented products like soaps and candles. Other applications where to use handheld impulse sealers include in café shops, snack booths, supermarkets, candy stores, pharmacies, and small factories.
These items remain clean and ready for use by the consumer. Using this sealer is an excellent solution to enhance customer experience and satisfaction by offering a secure package for items. This increases the chances of positive reviews and brand loyalty. You can use this sealer for items including:
Polyflex
Foil
Bubble packs
Padded mailers
Coated bags
Operation of the hand held impulse sealer
To use a hand held bag sealer requires feeding a pouch through the right or second hand side. The motor will pull the pouch automatically. The bag moves depending on how you configured the sealer to apply pressure and heat for sealing the pouch. Since this sealer is human-operated, you decide on how long the pouch should stay within the heater bars.
Moving the pouch out shortly might create a seal not good enough to hold the contents. A poor seal might leave gaps that might compromise the sterility of the contents. The sealing bar for a hand held impulse sealer is lowered manually. This sealer can seal about 6 to 20 packages every minute and these sealers come in various sizes from 4 inches to 40 inches to meet your packaging needs.
Why use an impulse sealer
These sealers are so easy to use since they don't need time for warming up. Hand held sealers are safe. They don't have components that stay hot during your operation. This saves electricity since it is used only when making the seal to make the process highly economical. However, you have to leave an appropriate time for cooling and sealing for effectiveness. The sealer uses one or two heating Nichrome elements located between resilient synthetic rubber and release surface film. Heating the elements and generation of current flow produces heat for a particular time at a specific temperature to seal the bag.
On stopping the current, the bag is held in the sealer jaws to allow fusion. Water might be required to speed up the material cooling process. Getting an adequate seal requires appropriate time, temperature, and pressure. Testing might be required to determine the seal strength and sealability to hold the package after withstanding pressure. The ideal seal should maintain barrier sterility and integrity.
Features for the perfect impulse sealer
The ideal impulse sealer requires no warm-up to allow immediate use to make tasks faster. Choose a portable sealer with a compact size with an anti-rust aluminum case. To enhance efficiency, the sealer should work on various thicknesses with an adjustable time for accurate control during the sealing process. The sealer should have a durable and robust handle that resists electricity and heat for enhanced safety.
Considerations when choosing a hand impulse sealer
Energy efficiency
Heat sealers are powered by electricity. With the rising cost of energy, ensure to invest in the most energy-efficient sealer . The ideal sealer should minimize energy consumption while working efficiently including handling thick poly bags. Every sealer comes with a power rating in watts showing its energy consumption. Sealers turn on automatically when pressed and switch off on releasing the handle to lower energy consumption.
Weight
Impulse sealers come in different designs and sizes making them have different weights. Avoid investing in a heavy unit to maximize productivity. Lightweight units are easy to move from one area to another. This allows taking it wherever you are working from. Light sealers are more practical but should have a firm base for stability.
Safety
Using an impulse sealer requires minding about your safety and that of others. A heavy and bulky sealer is more likely to cause injuries when it falls compared to a lightweight unit. The sealer's heating element should not be easy to touch. Additionally, the sealer handle should have a good surface and easy to operate. Pick an impulse sealer with ON/OFF indicator light.
Conclusion
Hand held heat sealers are very helpful when handling packaging for your needs. Hope you have realized what this sealer can do and how to get the most from your investment.