Love for your own home and making it look alluring is a dream of everyone. Nowadays, home renovations and rebuilding are the new trend. Renovation is utterly important as it not only makes your home look better but also increases the value in monetary terms. All these talks seem so smoothing in mind, but here's the tricky part of your project's funding. Whether small or big, there are some adjustments and arrangements that need to be done for financing.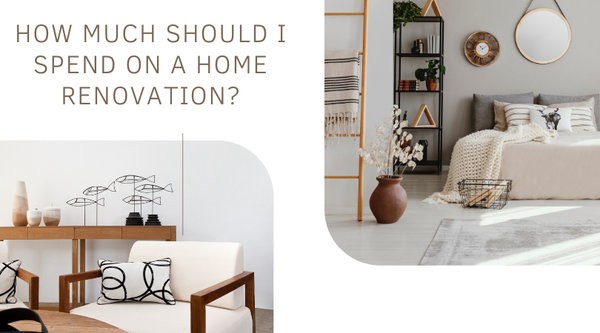 There is no specific budget or an amount that you should spend compulsorily for your home decor. The budget depends upon the need and situation of your home. To decide how much you can/should spend on renovations, you should first know the points below:
Let's be real
There are situations where you find all your relatives, neighbors, or friends renovating their homes. And suddenly, you too feel like renovating your space. But ask yourself first, do you really need it? If yes, then go ahead, and if no, then why to spend just because everyone else is doing so.
If you have made a firm decision to renovate your home, then you must also come up with a fixed budget. You can't decide to renovate your home with a budget that you can't pay off. When you have a realistic budget, it becomes easier for you to channelize the process of investing in the renovations.
Spend on what's important
If you are planning for renovations, you must have hired an agency or individual to take charge of the work. It is important that you make your idea clear about the things you want to renovate. So, aim at the areas that need to be fixed and then consult your specialist or interior designer. Aim for the comfort and value of the renovations that you will go through. So, it is not worth spending much on unnecessary changes.
You must see through the renovations in a way that gives you the highest resale value with low-cost renovations. This will only be possible if you channelize your interest and areas to renovate. There are certain changes you can make to enhance the look of your home. Repaint your home, replace your garage doors, replace the lighting fixtures, and you can even add up some wallpapers. These few changes can completely change the look of your home.
How much to invest?
Once you have a budget and know the changes, it is the right time to decide how to invest in particular areas. For example, if you have a list of 6 changes like repainting home, replacing light fixtures and doors, having a swimming pool, makeover of an aesthetic backyard, wallpapers, and furniture. So now, you can create tasks and assign the manager/architect to quote for each section. Once you know the rough quotation, you can estimate your budget for each of the designed makeovers.
To avoid unnecessary expenses, you have to be realistic and invest in sections as per the need. It is advisable not to spend much than the cost of the house itself. Whether you will have small or big renovations, you must feel comfortable and make sure you choose what's needed and what your taste is (not what the world wants).
How Much Should I Spend on a Home Renovation?
There is no particular amount fixed that one has to pay. There are no such rules or regulations too. So, if you want to spend a particular amount on home renovations, you should decide as per your need and house requirements. The purpose of renovating your home is the main key to understand the need for change. I hope this article would have helped you to come over the dilemma of spending on a renovation and helping your decor your home.