A clean kitchen is everyone's dream. The kitchen is where you spend most of your day preparing meals. Keeping the kitchen clean always requires regular decluttering and organization. Additionally, you also need a wonderful sink in good shape. The sink is used for cleaning the dishes, utensils, and for other cleaning tasks including fruits, vegetables, napkins, and mopping worktops. Here is a guide to choosing the ideal stainless steel sink.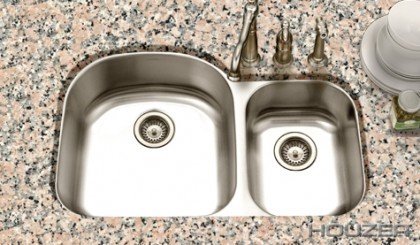 Single bowl sink
Stainless steel kitchen sinks are available in single and double bowls. A double bowl sink is ideal for a large kitchen with enough space. Smaller kitchens need a single bowl stainless steel sink to avoid the space crisis. These sinks are available in a range of dimensions to ensure that you choose one to match your space. Additionally, it allows selecting a sink to withstand your regular workload. You can get an undermount single bowl sink in shapes including round, square, oval, and rectangle. Choose one with good depth for optimized space usage for your cleaning requirements.
Corner kitchen sink
The best ways to optimize your kitchen space is to invest in a corner stainless steel sink. Installing the corner sink will significantly reduce the effort to access cleaning tools and liquids. This eliminates the hustle of accessing the corner cabinet. A corner sink is also very efficient at space utilization in a small kitchen. This sink makes it better to stack cleansed items to the corner cabinet. You can wash dishes while stacking them on the left platform with the right platform for keeping washed vegetables and fruits.
Undermount sinks
Stainless steel sinks come in various options. A good idea is to buy undermount sinks for their low and sleek appeal. These stainless steel sinks are fitted and pressed at the bottom of your counter. Apart from stainless steel, undermount kitchen sinks come in various materials including natural stone, acrylic, cast iron, bronze, copper, and fireclay. However, stainless steel options are a great choice for any kitchen space.
30-inch under-mount kitchen sinks for the kitchen are better than other options for their ease of use, durability, and maintenance. Stainless steel sinks look cleaner, consistent, and are easy on the pocket. Although dried water and mineral spots might show when not wiped dry on a stainless steel sink, it is a better option to concrete and natural stone sinks. Kitchen sinks made from stainless steel are less prone to breakage and cracks.
Drop-in sink
When looking forward to giving your kitchen a new look, drop-in stainless steel sink is an easy and convenient solution. You can experiment with this sink that comes in exact dimensions as the countertop hole. Installing a drop-in stainless steel kitchen sink requires using sink clips to keep it secure onto the countertop. Luckily, the sink might come with the attachment clips.
You can use a professional to install the drop-in sink or do it yourself. It is so easy to find a step-by-step installation manual to install a drop-in sink in your kitchen without professional assistance. This comfort offers confidence to go forward and purchase a drop-in sink. Installing a drop-in sink is a great idea when on a low budget.
Double bowl sink
For those with a large kitchen, a double bowl stainless steel sink is a great option. This offers more cleaning and cooking convenience in the kitchen. A double bowl kitchen space is handy when you have a big family. This sink offers enough space to handle the regular cleaning of dishes and utensils to keep the kitchen organized and clean.
A double bowl stainless steel sink is very convenient and allows seamless multitasking. You can use one bowl to dump used utensils and dishes. The second bowl remains available for filling water, cleaning, or stacking washed utensils until they dry. The rule of thumb is to take measurements of your countertop when in the market for a double bowl kitchen sink. This ensures selecting a sink that will fit your available space.
Importance of stainless steel gauge
It is very important to mind about the gauge of a stainless steel gauge. This is the steel thickness used to make that particular sink. The range usually goes from 15 to 22. A lower range means less steel thickness for the sink. A sink with 18 steel gauge is durable enough and long-lasting to withstand regular use. However, the various sink gauges come at different prices. Therefore, mind about your budget when selecting a sink with the ideal gauge for a great buy.
Conclusion
A stainless steel sink in the kitchen is a smart buy. However, selecting the ideal stainless steel kitchen sink requires understanding the various options available. Manufacturers offer various stainless sink designs, sizes, gauges, and shapes. Always do your homework to ensure that you purchase a stainless steel sink that will match the space available in your kitchen and your budget.