In today's life, everyone wants everything which suits their lifestyle whether it is our designer clothes or interiors. We all make sure that every part of our house looks extraordinary but the most important portion of our house is the kitchen. Most of the ladies spend their time in the kitchen cooking food for their families hence it is our responsibility to make a kitchen with the most comfortable equipment to help them in their kitchen chores.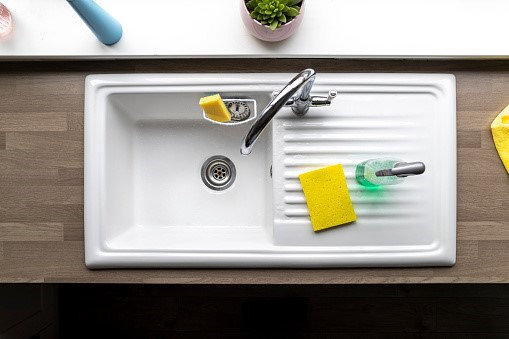 For instance, for cooking, we provide them an induction stove, mixture juicer, different types of utensils, non-stick pans, etc but we often ignore the fact that after cooking, she needs to wash utensils, which is a very tiring part as well as a time-consuming task.
Taking these elements in mind, now there are various types of kitchen sinks available in the market which can make our life easier besides giving our kitchen a new and modern look. We can purchase kitchen sinks from the market but before purchasing sinks we need to know some important aspects of kitchen sinks for example size, color, style, and material, etc. Generally, people choose the latest porcelain sinks because they look good along and fit perfectly in every type of kitchen.
Size of sinks
It is important to know which size of the kitchen sink will fit your kitchen faultlessly. If the kitchen is small and there are a few members in the family, we can choose a single bowl kitchen sink of average size. On the other hand, if the kitchen is large and the family is big, we can choose the double bowl kitchen sink. A double bowl sink will be a good option for a joint family as two people can wash utensils at the same time.
Style of sinks
The style of the sink is also an essential part of the kitchen. In markets, several styles and colors of kitchen sinks are available which is perfectly suitable for your kitchens. You can purchase those sinks according to your wants and interiors of the kitchen. You can choose a color that goes well with your kitchen interiors. There are different shapes available in the market too. For instance, circular sinks, square-shaped sinks, rectangular sinks, etc.
Materials of kitchen sinks
Before you go to purchase a kitchen sink, the most important aspect is which material is the sink made of. It should have long-lasting durability. There are many basic and popular sinks which you can use to renovate your kitchen.
Many house owners choose the stainless-steel sink because it is affordable, provides long-lasting durability, and does not need much care. Stainless steel sinks are easily available in markets, and you can purchase them without any second opinion. It can easily match with any type of kitchen interiors. However, if you want something which will give your kitchen a unique look and, countertop granite sinks are perfect for you. Granite sinks are durable, heat resistant, stain-resistant, and scratch-resistant. However, there are some disadvantages to a granite sink; it might be costly depending on the stone quality. It is very heavy and imposes installation costs and support systems.
If you want something that would give your kitchen a traditional look, then copper sinks will be the perfect match for your kitchen. They are made with a heavier thickness of copper, because of which, they are noise and stain-resistant. The best quality of the copper sinks is that they are antibacterial which makes the kitchens hygienic and good for health. They too require installation cost but they are easy to maintain and give our kitchen a traditional glance.
If you want to give your kitchen a seamless and identical look then a Quartz sink is a good option for it. The color matches your countertop. They are the most durable sinks with stain resistance, bacteria resistance, and odor resistance, etc. Enameled cast iron sinks are also available in the markets. It is made of the cookware material which we normally use in our daily life with the porcelain enamel coating on it which gives a smooth and glossy texture. They are also heat and scratch resistant but due to heavyweight; they need extra installation cost and support system. You can always go for the latest porcelain sinks if you want to give your kitchen a blend of a modern look with a traditional touch.
Features of kitchen sinks
As we know, there are different types of kitchen sinks available with distinguished characteristics which can make our life easy and save our precious time. Now, sinks have deep bowls that can easily fit our large pots and pans. They have an effective faucet supplying hot and cold water. Some sinks having straight sides providing more space to place dishes. Kitchen sinks are also available with the strainer so that you don't have to put your hands in dirty water so that your hands remain clean and hygienic. Hope the above information will help you to choose your ideal kitchen sink.