There's an art behind the idea of offering a gift. A lot of people feel that giving is more rewarding than receiving. This usually applies when your gift comes from the bottom of your heart. There are all sort gifts we can make to the people that matter the most in our life. Some have an emotional touch and are conveniently-priced; others are extravagant, unique and truly impressive. In the lines below we'll focus on 10 of the world's most expensive tycoon treats that will knock your socks off. Let's check them out.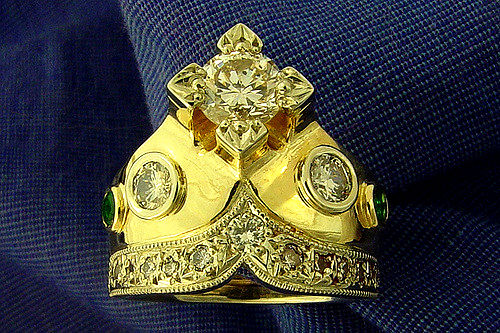 Diamonds 
Diamonds come in all shapes, sizes, and colors. We love them because they're alluring, unique, and long-lasting. But they're also extremely expensive. In 1849, Queen Victoria received a giant diamond of 185 carats from an official of the Sikh Empire. Prince Albert had the diamond polished and turned into a brilliant 105.6 carat diamond, which was embedded in the queen's crowd. The value is immeasurable; a Hope Diamond of 45.42 carats is estimated at $250 million, meaning that the queen's diamond could be worth over $500 million.
Pearls
A New York banker of the early 20th century traded his $1 million dollar mansion in exchange for a pearl necklace from the famous brand Cartier. The mansion is now worth $20 million, making the trade one of the most expensive, but unfortunately, in history. Upon the death of the banker, the necklace was sold for just $150,000. Regardless, pearls make exclusive gifts. The rarest types are unique gift ideas that a loved one will surely appreciate.
Paintings
Paintings make divine gift ideas, especially when they're donated for a good cause. Leonard Lauder, a billionaire in the cosmetics industry, gifted his entire collection of Cubist masterpieces to the Metropolitan Museum of Art. The painting collection included original works by Georges Braque and Pablo Picasso, worth $1.1 billion, the largest and most expensive donation of art in history.
Art pieces
Art pieces are supreme gift ideas, especially when you offer them from the art to the person you love the most: your wife. Dasha Zhukova, the wife of Roman Abramovich, the Russian oligarch, received masterpieces worth millions of dollars over the years, including Giacometti sculpture worth $14 million, 40 paintings by Ilya Kabakov worth between 30 and $60 million/piece, and several other works by Lucian Freud and Francis Bacon worth $86 million.
Taj Mahal gift 
In today's money, The stunning Taj Mahal is worth nearly $900 million. Shah Jahan, the Mughal ruler, spent 22 years to finish the opulent construction and offer it to his favorite wife. The construction involved the participation of over 20,000 artisans, and the architects hired were often switched to make sure nobody would ever be able to mimic or copy the design.
Super yacht 
Former Bollywood actress Tina received a gift worth $80 million from her husband Anil Ambani, an famous Indian billionaire: a superyacht. The 34-metre vessel costs double than an average yacht, meaning that on the inside it is probably extremely luxurious.
Incredible gift basket to President Obama
Former US president Barack Obama received the most amazing gift basket from King Abdullah totalling an astounding $300,000. The gift basket included gold jewelry, rare gems, diamonds, and a lot more. And they say it's the intention that counts!
Victoria's Secret Precious Gem Bra
Looking for the perfect gift for someone special? You could check out Victoria's Secret super expensive Fantasy Bra. Made of 18-karat gold (both white and yellow), and more than 3,400 other precious gems, the beautiful bra will be a gift idea she's never forget especially when the price is $2.5 million.
Expensive Sunglasses by D&G
This pair of exclusive sunglasses from D&G could make the perfect business gift. It's true that not many corporates could afford almost $400,000 worth of luxury corporate gifts, but if you're trying to close a deal like no other, this idea might work perfectly.
High-heel Sandals
Women love shoes! There's no doubt about that. But what if your wife already has every pair on the market? All you have to do is buy her this exclusive pair of sandals made by Christopher Michael Shellis. They're made of over 2,200 diamonds, totalling 30 carats. The price: only $200,000.