As the world grapples with the deadly COVID-19 pandemic, people around the world are forced to stay indoors and maintain social distance to reduce the spread of coronavirus. Everything, from the way we live to the way we work and interact with things, has changed. There may be something with temporary impact while others will have long term impact. With all other changes, the pandemic has a massive impact on the streaming world.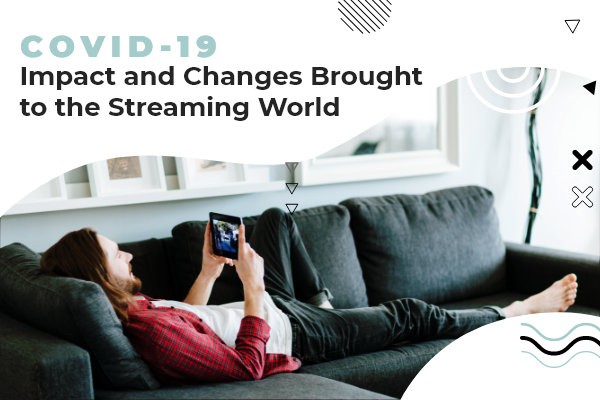 Although almost all sectors are the hardest hit, the online video streaming market witnessed a significant increase. Binge-watching seems to be the new normal today as millions of people around the world go online for entertainment. Data online suggest that internet consumption has surged upto 70% while streaming jumped by at least 12% worldwide and people started spending more time watching contents online.
Let's decode what changes COVID-19 has brought to the streaming world and whether it is going to have a temporary or permanent effect on VOD trends.
A pre-pandemic report by Researchdive estimates that the OTT market was valued at $110.1 billion in 2018, while it is expected to reach $438.5 billion by 2026 with a 19.1% CAGR. However, owing to COVID-19, the market is expected to receive substantial growth, leaving all growth predictions behind. You must be exploring what has led to a sudden increase in media consumption traits.
Let's explore.
People Spend More Time at Home
As lockdown was implemented worldwide by authorities to curb the situation and stop the coronavirus spread, people stayed indoors to follow the rules. That led them to spend more time watching TV, surfing the internet and more. According to Statista, the time spent on streaming TV grew by 40% between March 13 to 14 in 2020.
The lockdown period has given a push to the OTT services over broadcasting cables and satellite television networks. While staying home, people like to watch breakthrough entertainment stuff that OTT platforms successfully delivered. You can see video gaming has increased significantly, and many entertainment channels, such as NBC's Peacock and HBO Max, launched services on OTT platforms. Recent data by Research and Markets suggests that the Media Streaming Market will grow at CAGR 23.2% from 2021 to 2026.
Binge-Watching Ruling the Roost
The increasing trends towards online streaming over conventional TV platforms suggest that people like to cut cable cords. The average viewing hours have increased three-fold. People like to watch ad-free contents, and OTT has fulfilled their desire. Binge-watching is a new trend today.
Easy to access online contents gave rise to OTT platforms. People can watch breakthrough contents on Netflix, Amazon Prime Video, Hulu, Disney+ and others. The rise of fast internet connections and smartphones is the top reason for people's interest in OTT platforms.
Is the Surge in Online Video Streaming Trends Temporary?
Many experts have predicted that once the situation normalizes, online video streaming services will witness minor changes in the way people watch videos and utilize streaming services. However, it is also predicted that online streaming services will continue to dominate the entertainment sector. Everything like watching the news, playing video games, and all other entertainment means will get normal but watching VOD contents traits will continue to rule the entertainment arena.
Business Opportunities
"Adversity opens up new opportunities"
The saying perfectly fits into this context. No doubt, the world is going through a grim situation fighting with invisible enemies, but it has opened new opportunities into many sectors, the entertainment industry is one of them. As the interest in VOD contents continues to grow, startups and entrepreneurs are exploring the potential of launching their own platforms to get the benefits of the trends. The rapid adoption of smartphone and cloud-based services led to high penetration of streaming services compared to most other entertainment means. Hence, of course, the adversity opens up new opportunities.
Is It Right Time to Start Your Own OTT Platform?
Pandemic apart, there are plenty of reasons you should consider starting your own OTT platform to get the advantage to media consumption trends. Let's explore some of the top reasons to understand if it is the right time to start streaming services.
COVID-19 Sparks Shifts in Media Consumption Trends
We have already discussed this throughout this article, but the change COVID brought to the streaming world will continue to dominate forever. The second most important reason is 'work from home (WFH) is going to be a new way of doing jobs as many companies have allowed their employees to work from home permanently. In a survey conducted by online Pew Research Centre, around 71% of employees worldwide are working from home amid pandemic chaos. From them, 50% are willing to continue working from home.
So, when parents work from home, they might have time to take care of their kids, and they look for alternative ways to stay focused on their job. Netflix, Disney and all other OTT platforms are taking the initiative to launch family and kids friendly shows and movies to help parents maintain their productivity while working from home.
VOD will be Long-Lasting Trends
Many experts believe that even if the pandemic is over and situations get normal, the surge in OTT contents trend will continue to boom. People, mostly in urban regions, will like to watch contents without disruption and the OTT platform is the only means to serve their purposes. Besides, almost all OTT platforms are coming up with new and exclusive shows. For example, House of Cards, released by Netflix and Hulu's The Handmaid's Tale, will continue to entice the users.
5G Network will Continue Steadfast the Trends
When it comes to VOD contents, faster and reliable internet speed will play a significant role. 5G internet in 2021 is set to give a substantial boost to the initiative by bringing stability and giving added content viewing experience to the users as 5G is said to be 100 times faster than the on-going 4G technology. A survey finds that around 29% of subscribers would pay a premium 5G offered a better experience.
Final Thoughts
If we take a look at the current OTT trends, it is at its mature stage. Meanwhile, new technologies are being introduced to provide immersive experiences. For example, the CMAF format has all the potential to shake things further. However, there are challenges to the OTT streaming services. For example, you can expect a further shift in the way media is distributed across OTT platforms. You need to stay focused on that and keep the trends in mind. The better way to initiate is to take inspiration from other successful OTT platforms. For example, you can dig out Hulu business mode or explore how Netflix works and how Amazon Prime Video makes money.
With this, we wish you all the very best for your new initiative. We also love to hear back from you. Let us know your thoughts.
Author bio: Chris is the Writer and Journalist. He loves to deep dive into the ins and outs of the technologies. His aim is to share the knowledge by writing on the technicals about Business, eCommerce, Startup, Enterprise IoT, AR, VR, and other Smart Technologies. To describe him in one word, he is a writer focused on Tomorrow's World.