In the past few years, the Smartphone and mobile app ecosystem have opened up the floodgates for tech innovation and have led to many startups come into being. The incredible opportunity for the new economy startups was never seen at this rate in the history of humankind.
From major corporations to small businesses, from schools to universities, and from government agencies to non-profits, all embrace mobile-first designs and need innovative solutions to deliver.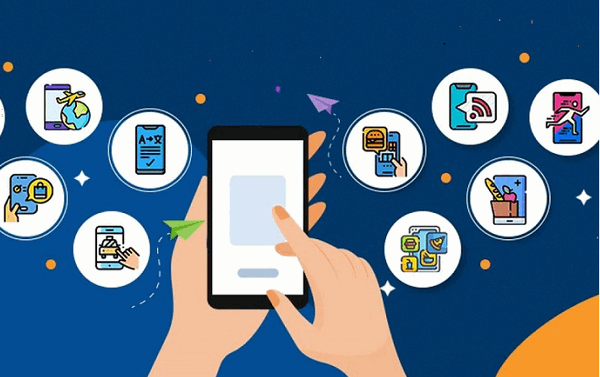 People have also become used to carrying out all major activities of their day, writing emails, attending conferences, ordering food, contacting customer support, and making payments, all through their apps and smartphones.
On the one hand, mobile apps have made it possible for many businesses to create a new market niche, become significant, increase their market share, expand their reach more customers than ever.
On the other hand, mobile apps have also changed the dynamics between customers and businesses entirely – how they interact, order their favorite products or services, consume them, and pay for them.
Customers can now engage in a conversation with your business anytime of the day and for any matter at hand. Mobile app development companies have completely changed the way customers interact with their favorite brands and companies through their mobile apps.
Market Stats Point to Growing Use of Apps
The tech startup world is buzzing with activity, innovation, and ideas to bring customers what was never thought possible.
The year 2020 saw phenomenal growth in the downloads and app revenues from apps in all categories, gaming, entertainment, education, business, and others. The trend is continuing with more tailwinds favoring the growth of mobile apps.
Consider the following statistics:
According to the Global Startup Ecosystem Report 2020 from Startup Genome:

In the year 2020, the global startup economy created more than USD 3 trillion in economic value.
Out of the largest ten companies in the world, seven are in the technology space.
In 2013 there were only four startup ecosystems globally; in 2020, there were 84 startup ecosystems that have produced many billion-dollar startups.
Almost 70% of the American startups begin operations at the homes of the founders.

The Mobile App download and revenue data from Sensor Tower Store Intelligence Data also shows some promising trends:

In 2020, the Global Consumer Spending for payments made in Mobile Apps made a record of crossing USD 111 billion.
The in-app payments in 2020 were up by more than 30% from 2019.
For Apple's App Store, consumer spending reached USD 72.3 billion, up by 30.3% compared to 2019.
For Google's Play Store, consumer spending reached USD 38.6 billion, up by 30% from 2019.
Many apps made records in their first-time installs in 2020. The collective figure for first-time installs from App Store and Play Store collectively reached over 143 billion downloads.
First-time installs were up 23.7% compared to nearly 115 billion in 2019.
So, let's ponder how your mobile app could help you fuel your business's growth.
1. Reach Customers Everywhere
To tap customers globally, you must reach out to them to help them with their problems and offer innovative solutions. These problems could relate to their businesses, daily commutation, making secure payments, entertainment, education, or anything under the sun.
By taking advantage of the mobile app revolution, it has become possible for anyone sitting anywhere to offer niche solutions for the unique needs of a global audience.
Technology startups like Uber, Netflix, Instagram, WhatsApp, and many more have made it to the big league of businesses with innovative and cutting-edge technology applications in creating a global brand.
You can offer them a window of opportunity to order exotic products, consume entertainment like never before, provide a great shopping experience, and do much more.
Many businesses are running successfully without any tangible physical presence and offering their services digitally via their mobile apps. The customers come across and interact with brands online on their smartphones with mobile apps delivering an out-of-the-world experience.
With your mobile app, you can stay connected with your customers on a 24×7 basis and can offer solutions anywhere and at any time.
2. Become a Brand and Boost Traffic
Digital presence only meant having a website till some years ago for many businesses and enterprises.
But today, a mobile app is the first and foremost medium that comes to mind when you wish to create a digital brand for your business and boost traffic.
With a strong brand, you can paint a good picture in the minds of your customers by helping them regularly with their life.
You can create a brand and boost brand recall and recognition with your mobile app. If a customer comes across your brand on some other medium, like web or physical stores, they would be convinced of the sale level of quality as they get via the app.
With more downloads, you will also grab the attention of the business and investment community.
With the increased attention, you will be able to attract better talent, finance at better terms, and in the end, would deliver a better experience to your app users. This would further boost your brand image.
If you could make users use your app regularly, then with more active users, you can also attract advertisers who would like to associate with you to reach your large customer base. This opens up another avenue for revenues.
Furthermore, your mobile app can boost the traffic to your website by redirecting users to it for tasks that can be done only through it. Digital marketers swear by the substantial positive impact mobile presence can have on your website traffic.
3. Human-first Brand
In the maze of technology, entrepreneurs sometimes may lose sight of the ultimate goal of making a mobile app – to offer excellence and unmatched experience to their users.
With an added customer service channel through your mobile app, you can engage with them when they face difficulties using the system instead of making them wait for business hours.
You can offer multiple ways to empower your app users and make your brand more humane by:
Making online appointments and schedules for delivery, etc.
Offering a robust ticketing system to register and address their problems.
Provide detailed and categorized FAQs to let them understand and resolve their issues on their own.
Make videos available on how to use the app or how to troubleshoot the issues.
Offering online live chat with human and AI agents to help them with any problems.
Send out notifications and alerts for discounts and deals, important service messages, and deadlines.
Conducting customer feedback surveys on different aspects of your app, its services, user interface and experience, and overall customer satisfaction.
Offer them exclusive deals with your partner brands to make a win-win-win combo for all.
Mobile apps can make customer service simpler, efficient, and humane, thereby helping your customers better.
4. Deliver Unmatched Experience
Websites are limited by many constraints – browser capabilities, OS security restrictions, internet speed, and user-friendliness.
Mobile apps are more accessible, and users of all age groups can use them far more quickly than a website. They also tend to be more interactive than a website.
The instant and direct relationship you can build with your users with a mobile app are impossible with a website or any other medium. This helps in earning their loyalty and keeping them with you for a long time.
Animations, superb UI/UX features, filters, search facility, and logical navigation can make customers comfortable and enjoy the whole process.
The app users can be the first to experience innovations in user experience, themes, navigation, and features earlier than users of the website. 5. Gather Insights into User Behavior
When a user downloads and uses your app to solve a problem, order something, or seek information, you gather valuable data about them.
With sufficient usage, you can gather enough data about the user and create a virtual persona. This information can be used by you to deliver services and experiences in a better manner.
You can use the data to personalize services, customer care, offers, deals, and even user experience for them. When you can personalize, you make them feel unique, respected and desired.
If your app shows in-app advertisements, this data can also be used to personalize ads to help your customers access the products and services they may be interested in.
Wrapping Up
The competitive market space is challenging for any new business, especially for a startup. A small business can compete with established ones only if it can develop something unique that they are not offering.
Mobile apps offer a new lease of life for small businesses, especially tech startups, to disrupt the market with their innovation, technology, and a better understanding of consumer needs.
A mobile app development company by their mobile app can serve many purposes for your startup at the same time – it can be the vehicle to carry your brand to the world, it can boost traffic to your website, it can deliver unmatched services to your users, and it can make you a leader in no time.