"Cloud Computing – The need of the hour for almost all IT companies in 2021"
Many companies are increasing their spending on cloud-based services rather than local or in-house resources. The world's economy, global supply chains and remote workforces fostered by cloud computing during the coronavirus pandemic, will continue to be an essential target for organizations looking for increased scalability, business continuity and cost efficiency.
IT networking groups found the strain and limits of their remote access VPN(virtual Private Network). Even after overcoming or addressing those breaking points, they face issues in their bandwidth constraints, lack of network segmentation, and weakness in endpoint security solutions. IT groups are planning for a more converged and integrated cloud-based approach to remote device, workforce and distributed security technology.
What could be the best techniques?
1) Cloud computing with AI can be a Great Combo
Organizations need a strong artificial intelligence (AI) engineering strategy to ensure their AI projects work efficiently. The role of AI can play a big role in enhancing the cloud computing services and data security. AI projects often are not successful because of maintainability, scalability and governance issues. AI developers are working on latest technologies, and using break-fix techniques so that their AI can fill the requirements of the project. Strong AI engineering strategy will help the performance, scalability, interpretability and reliability.
Future evolution of IT depends on AI. Once AI learns to manage cloud services, break-fix techniques and data security with deep learning and machine learning techniques, AI will make cloud data more secure and manageable. While the Cloud services are going to be around, developments in server less computing models and the creation of distributed service layers around the cloud are powering new IT technologies.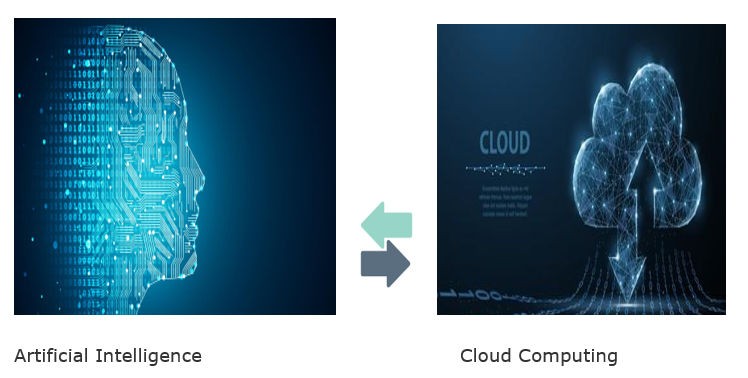 Also, Cloud Service Providers are adapting advanced techniques to manage cloud computing services and with exciting new technologies are making it easier to instantly generate process and analyze data for better business performance.
Cloud service providers offer high-end security to their customers as they understand how critical it is for the success of their business. Moreover, the risk of physical theft (stealing hardware) or damage is minimized in this case because all the necessary files and applications remain stored digitally. Once AI manages the files on cloud, we'll have AI coupled with managed IT service providers for monitoring the data on cloud.
2) Multiple companies data on a Single cloud.
Since Cloud Computing is evolving with change in technology, we will see multiple companies' data on a single cloud. Companies will collaborate with a mutual agreement as operational cost savings will be enhanced. The cloud eliminates the need to keep up and manage physical infrastructure. Moving to the cloud can also engender performance improvements that result in workflow efficiencies that drive revenue and profitability.
Cloud Computing has essentially evolved from various computing technologies like grid computing, utility computing, parallel computing, and virtualization. The most recent development of cloud computing has evolved from the Web2.0 technology which caters to web applications that facilitate information sharing, interoperability & user-centered design etc.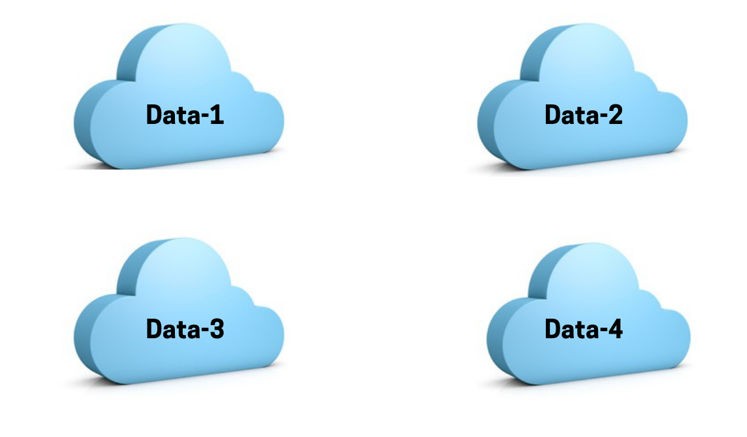 So, if we take an example of 4 companies who have their data together on a single cloud: Data1, Data2, Data3, Data4.
Advantages are:
The operational cost savings will be increased.
2) 4 different companies can focus together on enhancement of cloud platform and data security.
3) Data can be monitored by the 4 different AI's or single AI and by multiple cloud service providers or single cloud service providers on mutual agreement. The data will be monitored by many different entities at same time and will be highly secure.
Apart from these benefits, there are many other benefits which companies will get when they can work together to keep their data safe.
Cloud computing has arguably been the biggest tech innovation of the past two decades. Cloud platforms have enabled disparate teams to collaborate on projects; have enabled both consumers and businesses alike to pare down their hardware; and have characterized an evolving culture of work-from-anywhere.