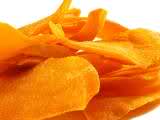 Cebu is well- known for its delicious, tasty dried mango which is one of the favorite "pasalubong" (present) fruit snack of Filipinos here and abroad. Philippines has the sweetest mangoes and are without a doubt, the best tasting dried mangoes in the world! These dried mangoes have a sweet, non-acidic flavor, lush, sweet, tasty, rich in vitamins, and a healthy alternative to sugary snack. Dried mangoes can be eaten as is, as snack and dessert or used as ingredients for ice cream mixes and toppings.
Dried Mango Recipe 1
Ingredients:
– 10 kgs firm ripe mangoes
– 1800 g refined sugar
– 4 L water
– 10 g sodium metabisulfite (preservative)
Materials:
– Stainless steel peeler
– Stainless steel knife
– Cheesecloth
– Chopping board
– Thermometer
– Colander or strainer
– Cabinet dryer
– Polyethylene bags
Procedures:
1. Wash mangoes thoroughly. Peel using stainless steel peeler.
2. Slice diagonally about 5/16 of an inch thick.
3. Prepare syrup by mixing sugar, water and sodium metabisulfite.
4. Heat the syrup then add the mango slices. Heat until 90oC
5. Soak mangoes in syrup for 6 hours overnight.
6. Drain the mangoes from the syrup.
7. Spread on trays and dry at 45-55oC for at least 18 hours.
8. Sweat in cheesecloth overnight.
9. Pack in polyethylene bags and seal.

Dried Mango Recipe 2
Ingredients:
– Rare ripe (carabao var.)
– Refined sugar
– Confectioner's sugar
– Sodium meta bisulfite or sodium erythorbate (food grade)
UTENSILS/SUPPLIES
– Stainless-steel knife
– Mechanical drier
– wire trays lined with sinamay or bamboo trays
– cheesecloth
– stove
PACKAGING MATERIAL
OPP or PE plastic bags of 0.003 mm thickness
PROCEDURE
1. Wash mangoes to remove surface dirt.
2. Peel mangoes using stainless steel peeler; slice along its lateral axis from both sides of the middle seed section, and cut the cheeks into pieces with a thickness of approximately 1.5cm.
3. Add white sugar (30% by weight) to mango slices. The sugar is allowed to melt in the mangoes. (Another method of syruping is by quick process in which 25% of sugar and 75% of water is prepared into syrup by boiling then cool and add to the mango slices.)
4. Heat the mangoes until the slices become translucent. Cool.
5. Add 0.1% of sodium _meta_bisulfite or sodium erythorbate (1 g for every kilogram of mango slices). Mix thoroughly.
6. Soak mangoes in syrup for at least 18-20 hours. Drain. Rinse slices with running water.
7. Lay slices on trays lined with cheesecloth. Dry in a cabinet drier at 60-65 deg. centigrade for 10-14 hours. Drying may be done in a solar drier as long as drying area is clean and free from dust and flies.
8. Remove from trays and loosely pack dried mangoes in ordinary plastic bags and store at ambient condition for 18-24 hours.
9. Roll in confectioner's sugar and remove excess coating through straining.
10. Pack and seal in OPP or PE plastic bags of 0.003″ thickness.
11. Store in dry and cool place.
This is a great snack and makes a good business that you can sell to your neighbors, friends or to offices, parks and snack house.
Sources: 1pcarrd.dost.gov.ph. Sept 2009. Bureau of Plant Industry (BPI) – National Mango Research and Development Center (NMRDC) San Miguel, Jordan, Guimaras – 2Industrial Technology Development Institute
DOST Compound, Gen. Santos Ave., Bicutan, Taguig Metro Manila, Philippines 1631
Photo: nutsonline
Do you like this Money making business ideas? then please consider subscribing to our RSS feed and have new business ideas sent directly to your inbox. (Once you entered your e-mail address, you need to login to your e-mail account and click the link to confirm your subscription).