Almond Fudge Brownies are another finger lickin' good classic dessert made mainly with cocoa or chocolate, butter, sugar, and flour. We added almond to provide extra flavor and texture.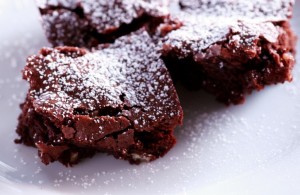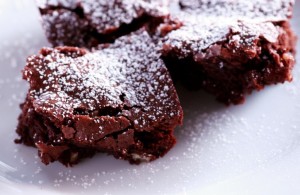 The following is any almond lover's prime recipe for fudge brownies.
Ingredients
¾ cup (1.2 dl) butter or margarine
1 cup (2.4 dl) white sugar
1 ½ tbsp oil
⅓ cup milk
2 eggs
6 tbsp cocoa powder
¾ cup (1.8 dl) flour, sifted
½ tsp almond extract or ½ cup chopped almonds
1 tsp vanilla extract
Procedure
Preheat oven to 350°F/175°C
Cream butter and sugar
Add oil and milk
Blend in eggs, one at a time
Add cocoa and flour
Add vanilla and almond extract (or almonds)
Spread into greased 10.5″ x 7″ pan
Bake for 28-30 minutes
Allow to cool
Notes, tips, and variations
Be cautious of overcooking, brownies may be dry if overcooked.
Retrieved from "http://en.wikibooks.org/w/index.php?title=Cookbook:Almond_Fudge_Brownies&oldid=2679807"