Spaghetti alla carbonara (literally: charcoal burners' spaghetti in Italian) is an Italian pasta dish based on eggs, pecorino romano, guanciale and black pepper. It was created in the middle of the 20th century.[1]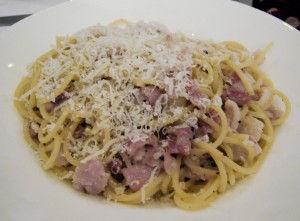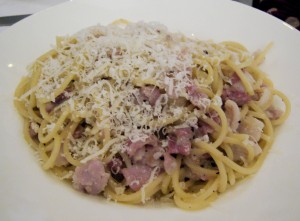 Recipes vary, though all agree that pecorino romano, eggs, cured fatty pork and black pepper are basic. The pork is fried in fat (olive oil or lard). Then, a mixture of eggs, cheese and olive oil is combined with the hot pasta, thereby cooking the eggs. All of the ingredients are then mixed together.[1][2][3] Guanciale is the most traditional bacon for this recipe, but pancetta is a popular substitute.[4][5] In the US, it is often made with American bacon.
Cream is not common in Italian recipes, but is used in the United States[6][7], France, the United Kingdom[8], Australia[9] and Russia (especially in Moscow). Italian Chef Luigi Carnacina used cream in his recipe[10] Other Anglo/Franco variations on carbonara may include peas, broccoli or other vegetables added for colour.[7] Yet another American version includes mushrooms. Many of these preparations have more sauce than the Italian versions.[11]
In all versions of the recipe, raw eggs are added to the sauce and cook with the heat of the pasta.
Origin and history
Like most recipes, the origins of the dish are obscure but there are many legends. As 'carbonara' literally means 'coal miner's wife', some believe that the dish was first made as a hearty meal for Italian coal miners. Others say that it was originally made over charcoal grills, or that it was made with squid ink, giving it the color of coal. It has even been suggested that it was created by, or as a tribute to, the "charcoalmen", a secret society prominent in the unification of Italy. Also, the name may be from a Roman restaurant named Carbonara[12][13]
The dish is not present in Ada Boni's 1927 classic La Cucina Romana, and is unrecorded before the Second World War. It was first recorded after the war as a Roman dish, when many Italians were eating eggs and bacon supplied by American troops. [14]
Ingredients
spaghetti: 450g (1 pound)
pancetta: 225g (½ pound) – an Italian form of bacon
egg yolks: 5
Pecorino or Parmigiano-Reggiano cheese, grated: 360ml (1½ cups) – Substitutions Use equal amounts of Parmesan, Asiago or Spanish Manchego
olive oil, extra-virgin: 3-4 tablespoons
pepper, freshly ground: ½ tablespoon
salt
Utensils
large pot
large skillet
bowl
measuring cups and spoons
fork
Procedure
Dice the pancetta into small pieces (1 inch [2.5cm] will do).
Bring a big pot of water to a boil and add salt when it begins to simmer.
Cook the spaghetti until it is al dente and drain it, reserving ½ cup (118 ml) of water.
As spaghetti is cooking, heat the olive oil in a large skillet over a medium-high heat. When the oil is hot, add the pancetta and cook for about 10 minutes over a low flame until the pancetta has rendered most of its fat but is still chewy and barely browned.
In a bowl, slowly whisk about ½ cup of the pasta water into the egg yolks, using a fork. Add the Parmesan cheese and pepper. Mix with a fork.
Transfer the spaghetti immediately to the skillet with the pancetta. Toss it and turn off the heat. Add the egg mixture to the skillet with the pasta and toss all the ingredients to coat the pasta. Taste the pasta and add salt and black pepper, if necessary.
Beverages
Ideally this dish is served with a red wine (Merlot, Chianti, Montepulciano d'Abruzzo), allowed to decant for several hours, and served at 65°F (18°C).
References
Alberini, Massimo; Giorgio Mistretta (1984). Guida all'Italia gastronomica. Touring Club Italiano. p. 286.
Gossetti Della Salda, Anna (1965). Le ricette regionali italiane. Milan: Solares.
Accademia Italiana della Cucina, Ricettario nazionale delle cucine regionali italiane
Luigi Carnacina, Luigi Veronelli, La cucina rustica regionale (2. Italia Centrale), Rizzoli, 1977 republication of La Buona Vera Cucina Italiana, 1966.
Vincenzo Buonassisi, Il Nuovo Codice della Pasta, Rizzoli, 1985.
Herbst, Sharone Tyler; Ron Herbst (2007). "alla Carbonara". The New Food Lover's Companion, Fourth Edition. Barron's Educational Series. ISBN 0-7641-3577-5. http://www.answers.com/topic/alla-carbonara.
Labensky, Sarah R; Alan M. House (2003). On Cooking, Third Edition: Techniques from expert chefs. Pearson Education, Inc.. ISBN 0-1304-5241-6.
Wright, Jeni (2006, 2007). Italy's 500 Best-Ever Recipes. London: Hermes House, Anness Publishing. ISBN 0-681-46033-4.
"Fettucine Carbonara". Better Homes and Gardens. Yahoo!7 Food. http://au.food.yahoo.com/recipes/recipe/-/5348809/fettucine-carbonara/.
Carnacina, Luigi; Vincenzo Buonassisi (1975). Roma in Cucina. Milan: Giunti Martello. p. 91.
Perry, Neil; Earl Carter, Sue Fairlie-Cuninghame (2006). The Food I Love: Beautiful, Simple Food to Cook at Home. Simon and Schuster. p. 114. ISBN 9780743292450. http://books.google.com/books?id=f9–loJsVdUC&pg=PA114.
Mariani, Galina; Galina Mariani, Laura Tedeschi (2000). The Italian-American cookbook: a feast of food from a great American cooking tradition. Harvard Common. pp. 140-41. ISBN 9781558321663. http://books.google.com/books?id=Mz5tt-4yHIQC&pg=PA140.
Davidson, Alan (1999). Oxford Companion to Food. Oxford: Oxford UP. p. 740. ISBN 0-19-211579-0.
Retrieved from "http://en.wikibooks.org/w/index.php?title=Cookbook:Spaghetti_alla_Carbonara&oldid=2621179"