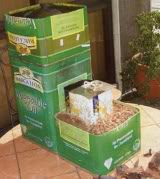 Buko chips stove, a rocket stove fed with dried green coco chips. The coco or buko chips stove was inspired by the rocket stove developed by the Aprovencho Institute. How to make a buko chips stove? It's simple. With the use of simple hand tools and empty used tin cans, you can now make your own buko chips. It has a vertical feeder that will allow the chips to be tossed easy thus eliminating the attention required while cooking.
Why Buko chips stove:
* Has a very strong fire with minimal smoke.
* A response to the fuel crisis of the urban families.
* Helps reduce deforestation
The Mechanisms of the Buko Chips Stove
(Design by Jed Guinto with reference to to the Rocket Stove of Aprovencho Institute)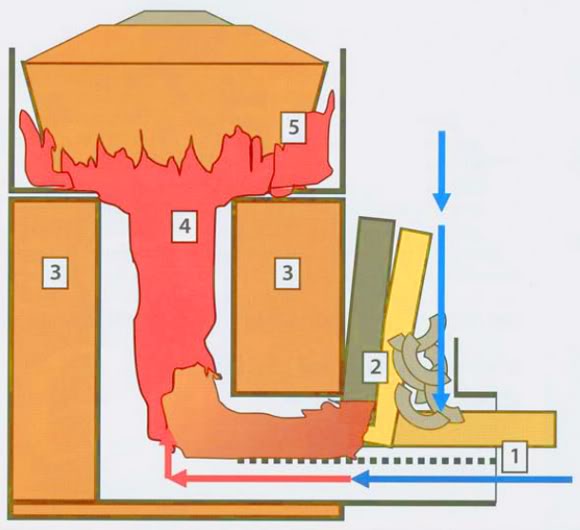 1. The cool air is pre-heated thus burns easy.
2. The vertical feeder allows the stove to use fuels of different shapes. Damp fuels may also be used.
3. The clay-biomass mix serves as insulators. Materials such as rice hull, coco chips, sawdust, cocopeat, chopped twigs may also be used.
4. Smoke and other pyrolized gases are burned in the burning chamber thus increasing efficiency and reducing emissions.
5. The heat contact to the cooking vessel is improved with the skirt.
For Inquiries, please contact:
Jed Guinto
c/o Philippine Rural Reconstruction Movement (PRRM)
56 Mother Ignacia St. corner Scout Lazcano St.
Quezon City, Philippines
Tel +632 372 4991
Mobile Phone: 0922 886 9831
Email: jed.building.bridges@gmail.com
Source: Organic Matters and Lifestyles, trc.dost.gov.ph
Do you like this money making business idea? then please consider subscribing to our RSS feed and have new articles sent directly to your inbox. (Once you entered your e-mail address, you need to login to your e-mail account and click the link to confirm your subscription).