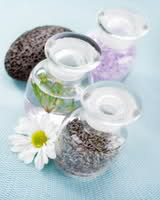 Easy To Make Home-Spa Gifts
by Marilee Tolen
The real meaning to holidays, the "giving of the self", shows up in the homemade gift.
Here are three easy-to-make but very lush Home-Spa items that you can place your own signature on as the gift giver and personalize for the gift recipient.
They are:
–Bath Jelly
–Soap Balls (lavender or rosemary)
–Cream Perfume
You can make these with your favorite essential oils and other easy-to-get ingredients.
——————-
Bath Jelly
You will need:
–One packet unflavored gelatin
–3/4 cup water
–1/2 cup bath gel base
–Your favorite essential oil
–Glass jar with lid (empty peanut butter jar) or other clear container
–Optional small plastic bath toy if for child
Directions:
–Empty the packet of gelatin into a mixing bowl. Set aside.
–Boil water
–Pour hot water into mixing bowl
–Mix with gelatin powder – allow to completely dissolve
–Very slowly stir in the bath gel base
–Add 6 to 8 drops of essential oil
–Mix all very gently and do not beat
–Pour into clear container
–Place small toy inside jar
–Refrigerate until it is set – approx 4 hours
–Place label on jar that has your designer name and directions on how to use which are:
Put 2 Tablespoons in palm – make loose fist and place under running bath water.
——————-
Soap Balls
You will need:
–2 bars unscented vegetable-based soap (or the equivalent in odds-and-ends)
–1/2 cup dried lavender blossoms or loose rosemary (fresh or dried)
–5 drops essential oil (lavender or rosemary)
–1/4 cup warm water
Directions:
–Grate soap (with cheese grater) into a large bowl
–Add the lavender blossoms or dried rosemary to the grated soap.
–Add essential oil to the soap mixture, combining thoroughly.
–Add the warm water and stir.
–Roll heaping tablespoons of the mix into balls.
–Place on a cookie sheet and allow to air-dry completely, which will take approximately 2 days.
——————-
Cream Perfume – Sacred Holiday Scent "Blend of the Three Kings"
You will need:
–2 tablespoons grated beeswax
–2 tablespoons sweet almond oil
–1 teaspoon total of essential oils
Directions:
–Melt beeswax in glass pan over boiling water or double boiler
–Add sweet almond oil and blend together thoroughly
–Allow the mixture to cool slightly before adding essential oil
–Fill small clean, dry glass jars with the solid perfume
Blend of the Three Kings
15 drops frankincense
6 drops myrrh
3 drops sandalwood
–If you want a firmer result add 1 tablespoon of distilled water.
Visit http://www.HomeSpaLady.com for simple tips on natural health and beauty that you can do at home. Subscribe to Home Spa Lady's free "Tips of the Week" newsletter delivered to you each and every Wednesday in your e-mailbox. Visit Home Spa Lady's blog to read tips right now!
Article Source: EzineArticles
Do you like this money making business idea? then please consider subscribing to our RSS feed and have new articles sent directly to your inbox. (Once you entered your e-mail address, you need to login to your e-mail account and click the link to confirm your subscription).