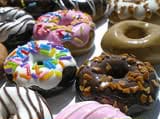 Donuts and a hot cup of coffee is one of my favorite past time snacks. If you love donuts, starting a donut shop business is a good idea to make money. Donuts are well loved by children, teenagers and young professionals. And having a good,tried and tested donut recipes at hand along with good location, marketing and promotional campaign, you can assure to make a very good living and run a successful donut business.
This Donut Recipe top list is a nice assortment of donuts that I've handpicked from around the net, each looks so tasty and yummy that I'm sure your customers will enjoy!
Crispy and Creamy Doughnuts
by Kelly
Ingredients:
(Yield 18 doughnuts)
2 (.25 ounce) envelopes active dry yeast
1/4 cup warm water (105 to 115 degrees)
1 1/2 cups lukewarm milk
1/2 cup white sugar
1 teaspoon salt
2 eggs
1/3 cup shortening
5 cups all-purpose flour
1 quart vegetable oil for frying
1/3 cup butter
2 cups confectioners' sugar
1 1/2 teaspoons vanilla
4 tablespoons hot water or as needed
Directions
1. Sprinkle the yeast over the warm water, and let stand for 5 minutes, or until foamy.
2. In a large bowl, mix together the yeast mixture, milk, sugar, salt, eggs, shortening, and 2 cups of the flour. Mix for a few minutes at low speed, or stirring with a wooden spoon. Beat in remaining flour 1/2 cup at a time, until the dough no longer sticks to the bowl. Knead for about 5 minutes, or until smooth and elastic. Place the dough into a greased bowl, and cover. Set in a warm place to rise until double. Dough is ready if you touch it, and the indention remains.
3. Turn the dough out onto a floured surface, and gently roll out to 1/2 inch thickness. Cut with a floured doughnut cutter. Let doughnuts sit out to rise again until double. Cover loosely with a cloth.
4. Melt butter in a saucepan over medium heat. Stir in confectioners' sugar and vanilla until smooth. Remove from heat, and stir in hot water one tablespoon at a time until the icing is somewhat thin, but not watery. Set aside.
5. Heat oil in a deep-fryer or large heavy skillet to 350 degrees F (175 degrees C). Slide doughnuts into the hot oil using a wide spatula. Turn doughnuts over as they rise to the surface. Fry doughnuts on each side until golden brown. Remove from hot oil, to drain on a wire rack. Dip doughnuts into the glaze while still hot, and set onto wire racks to drain off excess. Keep a cookie sheet or tray under racks for easier clean up. From Allrecipes
Yeast Risen Doughnuts
by CM
Scald 1 cup of milk and add:
1/4 cup sugar
1 tsp. salt
1/3 cup shortening (butter), softened
Cool to lukewarm. Dissolve 1 pkg. active dry yeast in 1/4 cup lukewarm water; stir and let sit for 10 minutes.
Combine the yeast mixture with the cooled milk mixture and add:
1 cup all purpose flour
2 eggs, lightly beaten
1 tsp. pure vanilla
Beat well; gradually add 2 1/2 cups flour, beating until smooth.
Cover bowl and let rise in a warm, draft-free place until doubled in size.
Roll dough out to a 1/2-inch thickness on a lightly floured work surface and cut using a doughnut cutter or two biscuit cutters dipped into flour before each cut. Let doughnuts rise for 30-60 minutes then fry in hot oil (365-375°F) until browned on both sides and cooked through. Remove from hot oil using a slotted spoon and drain on paper towels.
Dip in glaze while still warm (not hot). Drain on a wire rack with a cookie sheet below to catch drippings.
Glaze:
2 cups confectioners' sugar
1 tsp. pure vanilla
few drops milk
Add only enough milk to make glaze a good a good consistency for dipping the doughnuts. Add more sugar if glaze is too liquid, add more milk if glaze is too dry. Use a wooden spoon handle to hold the doughnuts while dipping. If desired, glazed can be drizzled over doughnut tops instead of dipping. From Cooks
Dunkin Donuts Plain Glazed and Chocolate-glazed Yeast Donuts
DONUTS
One 1/4-ounce package active dry yeast
2 tablespoons warm water (98 degrees)
3/4 cup warm milk (30 seconds in the microwave does the trick)
2 1/2 tablespoons margarine or butter
1 egg
1/3 cup granulated sugar
1 teaspoon salt
2 3/4 cups all-purpose flour
3 cups vegetable oil
GLAZE
5 1/3 tablespoons (1/3 cup) margarine or butter
2 cups powdered sugar
1/2 teaspoon vanilla extract
1/3 cup hot water
FOR CHOCOLATE GLAZE
1 cup semisweet chocolate chips
PROCEDURE
1. In a medium bowl, dissolve the yeast in the warm water.
2. Add the milk, margarine or butter, egg, sugar, and salt, and blend with an electric mixer until smooth.
3. Add half the flour and mix for 30 seconds.
4. Add the remaining flour and knead the dough with flour-dusted hands until smooth.
5. Cover the bowl of dough and leave it in a comfy, warm place until the dough doubles in size, about 1 hour. You can tell that the dough has risen enough when you poke it with your finger and the indentation stays.
6. Rollout the dough on a heavily floured surface until it's about 1/2 inch thick.
7. If you don't have a donut cutter, and don't intend to buy one, here's a way to punch out your dough: Empty a standard 15-ounce can of whatever you can find-vegetables, refried beans, even dog food. Be sure to wash out the can very well, and punch a hole in the opposite end so that the dough won't be held inside the can by a vacuum.
8. When you've punched out all the dough (you should have about a dozen unholed donuts), it's time for the holes. Find the cap to a bottle of lemon juice or Worcestershire sauce, or any other small cap with a diameter of about 1 1/4 inches. Use this to punch out holes in the center of each of your donuts.
9. Place the donuts on plates or cookie sheets, cover, and let stand in the same warm, comfy place until they nearly double in size. This will take 30 to 45 minutes.
10. Heat the vegetable oil in a large frying pan over medium heat. Bring the oil to about 350 degrees. It is easily tested with scrap dough left over from punching out the donuts. The dough should bubble rapidly.
11. Fry each donut for about 30 seconds per side, or until light golden brown. Cool 5 minutes on paper towels.
12. For either the plain or the chocolate glaze, combine the margarine or butter with the powdered sugar in a medium bowl and blend with an electric mixer.
13. Add the vanilla and hot water. Mix until smooth.
14. If you're making the chocolate glaze, melt the chocolate chips in a microwave-safe bowl in the microwave for 30 to 40 seconds. Stir, then microwave another 30 seconds and stir again until completely melted. Add to the plain glaze mixture. Blend until smooth.
15. When the donuts have cooled, dip each top surface into the glaze and then flip over and cool on a plate until the glaze firms up, about 15 minutes.
TIDBITS
You can also make "donut holes" as they do at Dunkin' Donuts by cooking and glazing the holes you've punched out the same way you prepared the donuts. From Recipelink
Krispy Kreme Doughnuts Copycat
by Roosie
Ingredients:
Yield: 24 doughnuts
Doughnuts
2 (1/4 ounce) packages yeast
1/4 cup water (105-115)
1 1/2 cups lukewarm milk (scalded, then cooled)
1/2 cup sugar
1 teaspoon salt
2 eggs
1/3 cup shortening
5 cups all-purpose flour
canola oil
Creamy Glaze
1/3 cup butter
2 cups powdered sugar
1 1/2 teaspoons vanilla
4 -6 tablespoons hot water
Chocolate frosting
1/3 cup butter
2 cups powdered sugar
1 1/2 teaspoons vanilla
4 -6 tablespoons hot water
4 ounces milk chocolate chips or 4 ounces semi-sweet chocolate chips
Directions:
1. Dissolve yeast in warm water in 2 1/2-quart bowl.
2. Add milk, sugar, salt, eggs, shortening and 2 cups flour.
3. Beat on low for 30 seconds, scraping bowl constantly.
4. Beat on medium speed for 2 minutes, scraping bowl occasionally.
5. Stir in remaining flour until smooth.
6. Cover and let rise until double, 50-60 minutes.
7. (Dough is ready when indentation remains when touched.) Turn dough onto floured surface; roll around lightly to coat with flour.
8. Gently roll dough 1/2-inch thick with floured rolling pin.
9. Cut with floured doughnut cutter.
10. Cover and let rise until double, 30-40 minutes.
11. Heat vegetable oil in deep fryer to 350°.
12. Slide doughnuts into hot oil with wide spatula.
13. Turn doughnuts as they rise to the surface.
14. Fry until golden brown, about 1 minute on each side.
15. Remove carefully from oil (do not prick surface); drain.
16. Dip the doughnuts into creamy glaze set on rack then when slightly cooled spread chocolate frosting on top.
17. Dip in sprinkles or other toppings after chocolate if desired.
18. Creamy Glaze: Heat butter until melted.
19. Remove from heat.
20. Stir in powdered sugar and vanilla until smooth.
21. Stir in water, 1 tablespoon at a time, until desired consistency.
22. Chocolate Frosting: Heat butter and chocolate over low heat until chocolate is melted. Remove from heat.
23. Stir in powdered sugar and vanilla until smooth.
24. Stir in water 1 tablespoon at a time, until desired consistency. From Food
Donut Muffins
by Jillk2000
Muffins:
1 3/4 cup flour
1 1/2 tsp baking powder
1/2 tsp salt
1/2 tsp nutmeg (1/4 tsp if using freshly grated)
1/3 cup canola oil
3/4 cup sugar
1 egg
3/4 cup milk – lowfat is fine
Toppings:
1/2 cup melted butter
1 tsp cinnamon
1/2 cup sugar
OR/AND
1/2 cup confectioners sugar
2 tsp milk
1/4 tsp vanilla bean paste (or extract)
How to make it
1. In a bowl combine the flour, baking powder, salt, nutmeg and cinnamon.
2. In a second bowl, combine the oil, sugar, egg and milk.
3. Add the liquid ingredients to the dry and mix only to combine.
4. Pour into greased muffin tins and bake at 350′ for 12-15 minutes (20-25 if making large ones)
5. While muffins bake, prepare topping of choice.
For Cinnamon Sugar Topping:
1. Mix together the sugar and cinnamon.
2. Turn the muffins out immediately and while hot, dip the tops in the melted butter and then in the cinnamon sugar.
For Glaze:
Combine confectioners sugar, vanilla, and milk and mix well. When muffins are cool, cover muffin tops with glaze. From Grouprecipes
Chocolate Cake Doughnuts
in Diana's Recipe Book
Ingredients
2 1/2 cups all-purpose flour
1 cup unsweetened Dutch-process cocoa
2 teaspoons baking powder
1/2 teaspoon salt
4 large eggs
1 1/2 cups granulated sugar
1/3 cup buttermilk
3 tablespoons butter, melted
6 to 8 cups vegetable oil for frying
Mocha glaze, (optional) recipe follows
Instructions:
1. In a bowl, mix flour, cocoa, baking powder, and salt. In a small bowl, whisk eggs, sugar, buttermilk, and melted butter to blend. Stir into dry ingredients until well blended. Chill until cold, at least 1 hour or up to 3 hours.
2. Scrape dough onto a generously floured surface. With floured hands, pat dough out to about 1/2 inch thick. With a 3-inch doughnut cutter, cut out doughnuts. Pat together scraps of dough and cut again. (Alternately, shape dough into ropes about 5 inches long and 1/2 inch thick; join rope ends to form doughnuts.) Place doughnuts on a well-floured baking sheet.
3. Meanwhile, fill an electric deep-fryer to the fill line or pour about 4 inches of oil into a 5- to 6-quart pan; heat to 375°F (190 C) (see Fry Right). Place one doughnut at a time onto a wide spatula and gently slide into oil, frying up to three at a time. Cook, turning once, until puffy and cooked through, 3 to 4 minutes total (to check timing, cut first one to test). With a slotted spoon, transfer doughnuts to paper towels to drain. Repeat to fry remaining doughnuts.
4. When cool enough to handle, dip the top half of each doughnut in warm mocha glaze and place on a plate. Let stand until glaze is set, about 5 minutes.
Makes about 16 (3-inch) doughnuts.
Mocha Glaze
In a heatproof bowl, combine 6 ounces chopped semisweet chocolate, 1/2 cup whipping cream, 1 tablespoon butter, 2 teaspoons corn syrup, and 1 teaspoon instant espresso powder. Bring a few inches of water to a boil in a pan; remove from heat. Place bowl over water and let stand, stirring occasionally, until smooth, about 10 minutes. From Dianasdesserts.
You can make good profits and run a hit donut shop business by targeting the right customers and selling your donuts at the right places.
Do you like this business idea? content">then please consider subscribing to our PINOY BISNES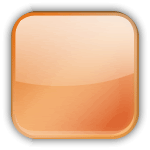 RSS feed. You can also subscribe by email and have new articles sent directly to your inbox. (Once you entered your e-mail address, you need to login to your e-mail account and click the link to confirm your subscription).