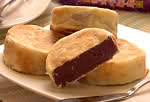 Hopia is a popular Filipino bean filled pastry originally introduced by Fujianese immigrants in urban centres of the Philippines around the start of the American civil occupation. It is a widely-available inexpensive treat and a favoured gift for friends and relatives.
The most popular flaky hopia is Hopiang mungo and as its name implies, is filled with sweet split mung bean paste. Hopiang baboy is filled with a bread crumb paste studded with candied winter melon, flavoured with green onions and enriched with candied pork backfat which originally gave it its name. Hopiang ube is filled with Ube, the purple yam paste, that become a clear favorite among Filipinos necessitating its availability the whole year round.
Hopiang Munggo Recipe1
>> Filling:
1 8-ounce package dried yellow mung beans (canned red or black beans can be substituted)
1/2 cup sugar, more or less, to taste
First dough:
1 cup Gold Medal all-purpose flour
1/3 cup vegetable oil
Second dough:
2 cups Gold Medal all-purpose flour
3 tablespoons sugar
1/2 cup vegetable oil
1/2 cup water
Glaze:
1 egg, beaten
Hopia Procedure
To make filling: Soak beans in water overnight. The next day, drain water, cover beans with fresh water and bring to a boil. When beans start to soften, reduce heat and scoop out most of the water above the beans with a spoon. Add sugar. (To keep filling from being too sweet, add a portion of the sugar, then remove a spoonful of beans, cool and taste. Add more sugar if necessary). Continue cooking beans over low heat, stirring often to prevent burning, until beans soften and form a paste. Remove from heat; cool.
To make first dough: Mix flour and oil together. Set aside.
To make second dough: Combine flour and sugar. In a measuring cup, combine oil and water; pour into dry ingredients. Mix with a fork, then knead well, until dough is smooth and changes from white to ivory in color. Divide dough in half. Roll out one portion into a square, about 12 inches. Do not flour your work surface; the oil in the dough will keep it from sticking. Dough should be very thin, less than 1/8 inch, and very even. This thinness is more important that the exact shape or size of the rolled-out dough.
Crumble half of the first dough, spreading it evenly over the rolled out second dough. Roll up tightly, like a jellyroll, into a cylinder. Roll cylinder back and forth under your palms, stretching it to 16-inch in length, about 1 inch in diameter. Cut in half; wrap in clean towel and chill in refrigerator about 10 minutes, to absorb excess oil (do not refrigerate overnight; dough will harden). Repeat process with the remaining halves of the two doughs.
Preheat oven to 375 degrees.
Remove one chilled cylinder of dough from refrigerator. Roll back and forth under your palms, stretching cylinder to 12-inch length, about 3/4 inches in diameter. Cut in half. Cut each half into 6 pieces (or 8 for smaller pastries).
Roll each piece into a rectangle. Dough should be very thin (may use a plastic tumbler instead of a rolling pin). Place a heaping tablespoon of filling in center. Gather edges of dough over filling and pinch together in the center. Place pinched side down; pat into a circle and flatten slightly.
Repeat this procedure for all the dough in the refrigerator. Place hopia on an ungreased cookie sheet or on a sheet of foil. Bake 15 to 20 minutes, until bottoms are brown (tops of hopia will still be pale). Remove from oven; brush each hopia with beaten egg. Set oven to broil; return hopia to oven until nicely brown, about 2 minutes. Watch carefully to prevent burning. Makes about 32 hopia.
Hopiang Ube
Hopiang Ube or Hopia Ube is actually consists of a sweet ube puree or halayang ube enveloped in a thin, flaky, pie crust like the hopia dough recipe above. Just follow the above procedure and instead of mung bean or munggo, use halayang ube as a filling.
Hopia Dice2
Dough:
3 cups All Purpose Flour
1/4 cup White Sugar
1/2 cup Vegetable Oil
3/4 cup Water
1/2 Cup Margarine, non-hydrogenated
1 T Vanilla
golden yellow food color
*Combine all ingredients. Knead to form a dough.
Equally divide the dough into 64 pieces .
If you prefer, larger dice; just divide the dough into 32 pieces.
Filling:
1 1/2 cup Brown Sugar
1 cup All Purpose Flour
1/2 t Salt
1 1/3 cup Sweet Potato, mashed
1/2 cup Water
1/2 cup Evaporated Milk
3/4 cup Condensed Milk
1 1/3 cup Coconut Milk
1/2 cup Margarine, non-hydrogenated
1 t Pure Vanilla Extract
Procedure:
1. Steam sweet potato until cooked. Remove the skin and then mash.
2. In a blender or food processor, combine all ingredients and mix until all dry ingredients are dissolved
3. In a heavy saucepan,cook over low to medium fire. Stir continuously until mixture coats the spoon.
TO ASSEMBLE
1. Flatten each dough and form into a circle. Place the prepared filling at the center and then gather the edges to seal. Place filled dough on a tray with the sealed part underneath.
2. Preheat the griddle for a few minutes. Place the prepared HOPIA on the griddle. Using 2 flat wooden spoons, constantly press and turn the sides to form a dice.
3. Continue grilling until all sides are golden brown.
Hopiang Baboy3
Water Dough Crust:
3 cups all purpose flour
1/3 cup sugar
¼ cup Pork lard, refrigerated
½ cup water
1 tsp food color either red or yellow
Blend flour and sugar and cut in lard. Add water gradually and the food color. Form into a dough, like ball and refrigerate for one hour.
Oil Dough Crust
– 2 cups flour ( can use third class)
– 1 cup refrigerated pork lard
– ½ tsp fool color, either red or yellow
Blend flour and pork lard. Add the food color and mix until smooth. Refrigerate for one hour. Divide the oil crust and water crust into 24 parts. Wrap oil crust inside water dough. Roll to strips and rewind. Press flat with rolling pin and fill with:
Filling:
1 ½ cups sugar
½ tsp vinegar
2 cups pork fat diced
2 cups kundol
½ cup vegetable oil
1 cup third class flour
Marinate pork fat in sugar. Mix fat, sugared melon or kundol, oil and boil over slow fire until thick. Add flour when the filling is almost cooked. Fill the crust and press flat. Brush top with egg wash and bake in pre-heated oven at 400 deg F for 20 minutes.
Sources: en.wikipedia.org
1starbulletin.com
2mrsrustysdelight.multiply.com
3tinafranc.multiply.com
Photo: engbeetin.com
Do you like this Money making business ideas? then please consider subscribing to our RSS feed and have new business ideas sent directly to your inbox.