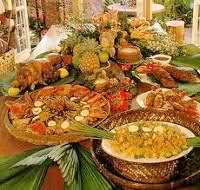 Christmas in the Philippines is not complete without one of these Filipino Christmas recipes served on their tables. Below are some of the best Philippine Christmas food recipes that you can find in many pinoy households.
Bibingka
Ingredients
* 5.5 Cups rice (or 1 box of rice flour)
* 1 12-oz can coconut milk (divided into 1 cup and ¼ cup)
* 1 pound dark brown sugar
* Banana leaves

Directions
* Preheat electric oven to 350 degrees F.
* Cook on the stove top or in a rice cooker.
* In a saucepan, combine the coconut milk and 1 ¼ cups of the brown sugar. Stir.
* Cook over medium heat, stirring constantly, until thickened (15- 20 minutes).
* Wilt the banana leaves over low heat on an electric stove and use them to line a 13" by 9" baking pan.
* Put rice into a large bowl with 1 cup coconut milk and the rest of the brown sugar, stirring well.
* Place rice mixture into the pan and top with 1/2 cup coconut milk.
* Bake 20 minutes, then broil 5 minutes.
* Cut into squares and serve.
KARE-KARE (Tripe with Peanut Butter)
Ingredients
* 1 Pound beef tripe
* 3 medium sized eggplants, cut in 1-inch cubes
* 1 bunch of green beans, cut into 1-inch sections
* 1 can of banana flower 1 Cup peanut butter
* 1 medium sized onion, sliced 5 cloves garlic, crushed
* 2 Tbsp vegetable oil
Directions
* Boil beef tripe in salted water for 2 hours until tender.
* Drain and cut into 2-inch slices.
* In a wok with oil, saute garlic, and onion, and vegetables for 12 minutes.
* Add peanut butter; stir and cook 10 minutes.
* Add in the tripe into the vegetable mix and simmer for 10 minutes.
* Serve with hot rice and fish sauce.
EMBUTIDO (MEAT ROLLS)
Ingredients:
* 4 kilo ground pork
* 4 pieces onions, minced
* 6 tablespoons soy sauce
* 4 cups of bread crumbs
* 1/4 kilo raisins
* 5 pieces red bell pepper, chopped
* 2 boxes of cheese, finely grated
* 1 bottle pickle relish
* 2 tablespoons rock salt
* 1 medium can of pineapple juice
* 6 pieces eggs
* 2 tall cans of sausage, chopped
* 1/4 kilo green peas
* 3 pieces carrots, chopped
* 2 tablespoons grounded black pepper
Cooking Instructions:
Mix all the ingredients in a bowl. Blend them well. Then roll in aluminum foil. Steam the rolls once. Then fry the rolls until they turn into golden brown. Best served with tomato or banana ketchup as a dip.
Lechon Kawali
Ingredients:
* 1 kilo pork belly (liempo)
* 4 cups of water
* 2 tablespoons of rock salt
* 1 teaspoon of monosodium glutamate
Cooking Instructions:
1. Boil pork belly in water with salt and monosodium glutamate until the meat becomes tender (you will know that it is already tender when the skin of the meat can be pinched easily). Remove from the stove and drain the water. Let the meat cool and air-dry.
2. Deep fry the meat in a deep wok or saucepan until the meat turns into golden brown and tiny blisters appear on the skin.
3. Chop the meat into serving pieces and serve it with lechon sarsa (sauce), ketchup or vinegar dip. Can also be served as pulutan during drinking sessions.
Lumpia
Ingredients (Filling)
* 1/4 kg ground pork
* 1/8 kg shrimp, chopped
* 1/4 cup finely chopped carrot
* 1/4 cup of finely chopped celery
* 1/4 cup of finely chopped parsley
* 1 garlic clove, minced
* 1 egg, slightly beaten
* 3 tablespoons chopped white onions
* 1 tablespoon soy sauce
* 1 teaspoon sugar
* 1/2 teaspoon salt
* 1 pinch pepper
Lumpia Sauce (Sweet and Sour)
Ingredients
* 1 teaspoon cornstarch
* 2/3 cup water
* 1/4 cup sugar
* 1/4 cup apple cider vinegar
* 2 tablespoons fish sauce
Cooking Instructions
* Combine all ingredients for lumpia (spring roll) filling.
* Wrap in lumpia wrapper in long thin shape (approx 1 table spoon per sheet of wrapper).
* Deep fry in hot oil until golden brown.
* Drain excess oil.
* Cut into shorter lengths before serving.
* Prepare Sweet and Sour Sauce:.
* Combine all ingredients in a sauce pan, whisk until sugar and corn starch are dissolved, boil over high heat and reduce to preferred thickness.
* Serve with lumpia.
Pork Sisig
Ingredients:
* 1 1/2 kilo pork head
* 1/4 cup grilled liver, diced
* 2 small onions, minced
* 2 pieces red pepper, minced
* 1 head garlic, minced
* 6 pieces hot chili pepper, minced
* 2 tablespoons oil
* 1 cup vinegar
* 1 1/2 tablespoons liquid seasoning
* 1 teaspoon black pepper
* 1 teaspoon brown sugar
* 1 cup beef broth
Procedure:
* Grill pork head to remove hair.
* Boil the pork head until it is tender enough to chop.
* Take out all the meat and dice.
* In a pan, heat oil and sauté garlic, onion, red pepper, pork meat and liver.
* Pour in liquid seasoning, black pepper and brown sugar.
* Pour in beef broth and heat until meat is tender.
* Add in chili pepper before serving.
Filipino Style Spaghetti
Ingredients
* 1 lb spaghetti noodles
* 1/2 lb ground pork and ground beef
* 5 hot dogs thinly sliced
* 1 carrot, minced
* 1 green pepper, minced
* 1 onion, minced
* 1 bulb garlic, minced
* 1/2 cup cheddar cheese, grated
* 1 jar of spaghetti sauce
* salt and pepper
* banana ketchup to taste
Procedure:
1. Cook spaghetti according to directions
2. In pan cook pork and beef. Remove from pan.
3. Saute garlic and onions. Add hot dog, beef, and pork. Cook for 10 minutes on medium heat.
4. Add salt, pepper, and banana ketchup.
5. Add spaghetti sauce and carrots. Bring to a boil.
6. Add green peppers, cheese and mix.
7. Pour sauce on noodles.
Christmas Ham
Ingredients:
* 1 ham
* 1/2 cup honey
* 1/2 cup butter
* 30 whole cloves
Procedure:
1. Place ham in a roasting pan on a sheet of aluminum foil.
2. Melt butter and mix with honey. Spread some of the liquid mixture on the ham (this is known as 'basting').
3. Press the 30 whole cloves in to the ham at different spots. This will give the ham a nice seasoned flavor.
4. Bake for three hours. Baste with the butter and honey mixture every 30 minutes for a deliciously moist, flavorful ham.
Chicken Macaroni Salad
Ingredients
* 1 box macaroni noodles
* 2-3 big chicken breast
* mayonnaise
* 1 can pineapple chunks or tidbits
* 1 onion
* 1/2 cup sweet pickle relish
* 1 cup shredded cheddar cheese
* 1/2 cup raisins
* 2 to 3 medium sized carrots(optional)
* salt
* pepper
How to make it
* Boil chicken breast in water with salt and pepper until it's tender. Drain chicken and shred it in 1 inch length.
* Peal skin and boil carrots in water for 15-20 minutes or until cooked. Drain carrots and let it cool. (OPTIONAL)
* Cook macaroni noodles according to package cooking instructions. Make sure it's el dente. Drain and cool.
* Drain pineapple chunks or tidbits.
* Finely chop onions
* Combine the macaroni, shredded chicken, pineapple, sweet pickle relish, raisins, shredded cheese, carrots, and slowly add the mayonnaise while mixing all ingredients. (you can put more or less mayo in your salad, all up to you)
* Add salt and pepper to taste.
* Refrigerate, then serve.
Maja Blanca
Ingredients:
* 2 liters of coconut milk
* 240 grams of white sugar
* 400 grams of corn kernels
* 150ml of condensed milk
* 370ml evaporated milk
* 200 grams of corn starch
Cooking Instructions:
* In a pot, add 1.25 liters of coconut milk, white sugar, condensed milk, evaporated milk, corn kernels.
* Stir mixture and bring to a boil
* Prepare the thickener by mixing the corn starch and 750ml of coconut milk together
* Once boiling, add the thickener to the mixture
* Continue stirring until mixed together,
* Transfer to a holding tray
* Flatten out the mixture by shaking the tray and level with a spatula or knife
* Let it cool at room temperature
* Cut out of tray
* Add Latik garnish: Latik is made by curdling and browning coconut cream
* Serve and enjoy
Leche Flan
Ingredients:
* 1 can (390g) evaporated milk
* 1 can (390g) condensed milk
* 10 egg yolks
* 1 teaspoon of vanilla extract or lemon essence
Leche Flan Caramel Recipe:
* 1 cup sugar
* 3/4 cup water
Cooking Instructions:
* In a saucepan, mix the sugar & water. Bring to a boil for a few minutes until the sugar caramelize.
* Pour the caramelized sugar into aluminum moulds – you can use any shape: oval, round or square.
* Spread the caramel on the bottom of the moulds.
* Mix well the evaporated milk, condensed milk, egg yolks and vanilla by hand or blender.
* Gently pour the mixture on top of the caramel on the aluminum moulds. Fill the moulds to about 1 to 1 1/4 inch thick.
* Cover moulds individually with aluminum foil.
* Steam for about 45 minutes OR
* Bake for about 45 minutes. Before baking the Leche Flan, place the moulds on a larger baking pan half filled with very hot water. Pre-heat oven to about 370 degrees before baking.
* Let cool then refrigerate.
* Run a thin knife around the edges of the mould to loosen the Leche Flan. Place a platter on top of the mould and quickly turn upside down to position the golden brown caramel on top.
Do you like this money making business idea? RSS feed and have new articles sent directly to your inbox.