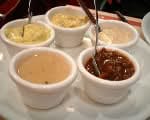 Lechon, lumpia, fried chicken, siomai, buttered foods, and salads are no good without sauces. Imagine eating a fried chicken without a gravy or siomai without a chili sauce. For me, it's not complete. It is the sauce that makes the food deliciously flavorful and tasty. It enhances and bring out its flavor. Making sauce for your favorite finger food is not hard as you might be thinking. Armed with basic knowledge in cooking and a simple recipe on hand, you can now make your own homemade sauce and dressing recipes.
But wait, If you're looking for lechon sauce recipe, sweet and sour sauce recipe, sweet and chili sauce recipe, siomai chili sauce recipe, salad dressings and marinades look no further. Below are some of our compiled recipes for you to try.
LECHON SAUCE
Ingredients:
1 ¼ cup pig liver paste (use a food processor to liquefy slices of liver)
2/ 3 cup bread crumbs
3/4 cup apple cider vinegar or white vinegar
2 ½ cups water
2/3 cups brown sugar
2 tablespoons garlic, minced
½ cup onion, minced
2 tablespoons bacon fat or cooking oil
Salt and pepper to taste
Procedure:
1. Heat a pan and put-in the bacon fat or cooking oil.
2. When the oil is hot enough, sauté the garlic and onions until the texture becomes soft.
3. Put-in the liver paste and cook for about 5 minutes in medium heat while stirring.
4. Add the vinegar and bring to a boil. Stir for a minute.
5. Pour-in water and bring to a boil.
6. Stir-in the brown sugar and cook for 2 minutes.
7. Add the bread crumbs and cook for another 2 minutes while stirring constantly.
8. Add salt and pepper to taste.
9. Turn off the heat and allow the sauce to cool down.
10. Place the sauce in a blender then blend for a minute.
11. Transfer the sauce in a serving bowl.
12. Serve along with Lechon. Recipe found at panlasangpinoy.com
SIOMAI CHILI SAUCE
* 1/8 kilo Chillies (Siling Labuyo)
* 3 tablespoons cooking oil
* 2 cloves garlic, peeled and minced
* dried shrimp or meat finely chopped or grind (Adds more flavor but optional)
Siomai Chilli Sauce Cooking Instruction:
– Combine chopped chillies, dried shrimp or meat and minced garlic then simmer for around 20 minutes or till most of the water has evaporated. Add oil, simmer and stir well.
SWEET AND SOUR SAUCE
2 tbsp. cornstarch
1/2 c. sugar
1/4 c. white vinegar
1/4 c. pineapple juice
2 tsp. soy sauce
1/4 c. water
Combine ingredients in a small saucepan and bring to a boil. Simmer gently 5 minutes, remove from heat. Serve immediately or store in refrigerator and serve cold.
SWEET AND HOT CHILI SAUCE
5 tbsp. white vinegar
3 tsp. red chili flakes
8 cloves garlic
Pinch of salt
2 fresh red chili peppers, seeded and sliced
1 c. whole canned tomatoes (with juice)
12 oz. Red Plum jam
9 oz. pineapple juice
4 tbsp. apple juice concentrate
Place the first 7 ingredients in a food processor or blender and blend to an even consistency. This will take several minutes and require stopping occasionally to scrape down the sides.
Place the remaining ingredients in a saucepan over medium heat. Pour the blended ingredients in the saucepan. While stirring, let this mixture come to a boil. Reduce heat to simmer and cook for 20 more minutes.
Store in air-tight, sterilized jars. It will keep for at least 2 months, refrigerated.
Yield: 3 1/2 cups.
TERIYAKI MARINATING SAUCE
1 c. soy sauce
1 c. pineapple juice
1 tbsp. sugar
1 tsp. ginger
1 clove garlic, crushed
2 tbsp. salad oil
Combine all ingredients. Marinate meat for as long as possible. Overnight is best. For special taste, add 1 can crushed pineapple. Charcoal meat.
CAESAR SALAD DRESSING
1 cup mayonnaise
1 tbsp lemon juice
1 tsp Worcestershire
1 clove of garlic (minced)
1/4 tsp salt
1/8 tsp pepper
1/2 c Parmesean cheese
1 tbsp of milk or half and half
Mix all ingredients together and shake or whisk until well blended.
KFC Chicken Gravy
Ingredients
1 cup cold water
1/4 cup cornstarch
1 (10 ounce) can chicken broth
2 chicken bouillon cubes
2 (10 ounce) cans franco american beef gravy
1 pinch ground sage
Directions
1. In a blender combine the cold water and cornstarch.
2. Blend until very smooth.
3. In a large saucepan over medium high heat combine the remaining ingredients and the cornstarch mixture.
4. Whisk until thick, clear and hot.
5. Serve.
SPICY FISH SAUCE
Ingredients:
2 cloves garlic, chopped
1 hot chili pepper, chopped
¼ cup fish sauce (made as described above or bottled)
¼ cup vinegar
2 tablespoons lime juice
2 tablespoons sugar
¼ cup water
Smash the garlic and chili pepper finely in a mortar and pestle. Add the fish sauce, lime juice, vinegar, water and sugar. Stir well, making sure the ingredients are well blended.
Sources: cooks.com, panlasangpinoy.com, life123.com
Image: madeincantal.com
Do you like this Money making business ideas? content">then please consider subscribing to our PINOY BISNES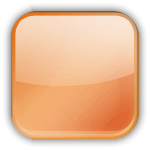 RSS feed. You can also subscribe by email and have new business ideas sent directly to your inbox. (Once you entered your e-mail address, you need to login to your e-mail account and click the link to confirm your subscription).