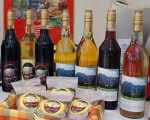 When we think of wine, we typically think of grapes. But don't you know that you can make wine out of locally found fruits? Since the development of home wine making as a hobby, it has become very easy for the individual home wine maker to make wines from affordable fresh fruits like mango, passion fruit, bignay, tamarind and a lot more.
Fruit wine making is no more difficult than making wines from fresh grapes. The basic process is the same, and consideration is given to the same aspects as when preparing grape juice for home winemaking.
Some of the locally produced wines include "basi" (sugarcane wine), "laksoy" (nipa wine), "tapuy" (rice wine) and "tuba" (coco wine).
Meanwhile, sources of tropical fruit wines include atis (sugar apple/sweetsop, Anonasquamosa Linn.), bignay (Antidesma bunius Linn.), dalandan (orange, Citrus lanatus), duhat (Philippine plum, Syzygium cumini L. skeels), guyabano (soursop, Anona muricata), kalumpit (Terminalia edulis Linn.), lipote (Syzygium polycephaloides), mangga (mango, Mangifera sp.), mangosteen (Garcinia mangostana Linn.), passion fruit (Passiflora foetida), pinya (pineapple, Ananas comosus Linn.), saging (banana, Musa sp.), and sampalok (tamarind, Tamarindus indica Linn.).
This project will show how to make Tamarind fruit wine.
Cash outlay on equipment: P47,300
Production cost including packaging and labor: P4,345
Current price of fruit wines in the market: P400 to P600 per 800ml bottle
Profit: 100% to 150%
INGREDIENTS
48 kg Tamarind Stock
150 kg water
36.8 white sugar
EQUIPMENT AND TOOLS
Fermentor, P12,000
Refractometer, P9,000
Cooking thermometer, P300
pH meter, P3,000
Alcohol tester (ebullio meter), P16,000
20 Bottles, P22/pc
20pcs Cork, P6
Corker, P5,000
20 pcs Label, P4.50/pc
Hot air gun, P2,500
20pcs Shrink cap, P5/pc
Basins
Casserole
Fermenting containers
Heavy duty stove, P5,000
PROCEDURE
STEP 1. Prepare the Tamarind Stock. Because the tamarind bears fruit only once a year, it is best to make batches of Tamarind Stock that is good for a whole year of wine production.
To make the stock, peel off the shell of the fruit. Mix each kilo of pulp with 5kg of rock salt. Pack and put in a cold dry storage.
STEP 2. Prepare the Wine Starter. Make it two to three days prior to wine production. The starter is where the yeasts are being cultivated.
a. Mix 3kg tamarind stock with 5kg water.
b. Extract tamarind juice thrice using a net and cheesecloth to remove the seeds and the pulp, respectively, until the extract becomes clear.
c. Add 5kg water to the extract.
d. Pasteurize and add 2.2kg of white sugar.
e. Add yeast that's 0.02 percent of the total weight.
f. Cover and set aside for two to four days to cultivate enough yeast.
This would yield 10kg starter, which is enough to ferment 200L of wine.
STEP 3. Make the Tamarind Wine
a. Mix 9kg of tamarind stock in 15kg water. Remove the seeds using a strainer.
b. Use cheesecloth to remove the pulp from the tamarind juice. Then, extract again the juice using the cheesecloth this time to make it much clearer.
c. Test the sugar content using a refractometer. Do this by putting several drops of tamarind extract into the opening. The equipment should have a reading between 20* to 27* brix. The sugar content of each fruit varies so for this test it's better to consult an expert such as a food technologist. Or, attend a technical seminar on using such manufacturing equipment.
d. Pasteurize the tamarind extract by heating it for 10 minutes. Then add 6.9kg white sugar.
e. Strain the tamarind mixture to remove impurities and add another 15kg water. Let it cool and pour into the fermentor. Repeat the same procedure with the rest of the tamarind stock until the fermentor is almost filled with tamarind mixture.
f. Once the fermentor is 3/4 filled, add the starter and check the pH and sugar content. The pH level should be anywhere below 7. On the other hand, sugar content should be around 20* to 27* brix for tamarind, but this can also vary depending on the ripeness of the fruit and the kind of fruit you used. Remember not to pour in the starter while the tamarind is still hot because it will kill the yeast.
g. Seal the fermentor but open the air passage located on the front top. This will supply the air needed for fermentation and help increase yeast production.
h. After two days, check the alcohol content of the tamarind wine using an alcohol tester. To do this, pour in 50ml wine into the vapor, fill the condenser with water, put the thermometer in the vapor opening and then light up the alcohol lamp. The alcohol content should be around 10% to 12%. Let it ferment further. You'll notice a bubble formation as the wine ferments, which usually lasts for a month or two depending on the raw materials used.
i. You can further ferment the wine in the fermentor, in the barrel or in the packaging bottles. This may last another week or two. It's ideal to ferment it in barrels so you can easily check its quality and taste.
j. See if the wine has stopped bubbling. If it has, then the wine is ready for packaging.
STEP 4. Taste the wine if it passes your standard, then, transfer the wine into the bottles.
a. Cork the wine using the corker. Seal it with a blow dryer set on hot, then attach the label. But you could still age it depending on your preference.
Yield: approx. 160 liters (or 20 bottles with 800ml each)
Sources: eckraus.com, entrepreneur.com.ph, bar.gov.ph
Photo: bar.gov.ph
Do you like this Money making business ideas? then please consider subscribing to our RSS feed and have new business ideas sent directly to your inbox. (Once you entered your e-mail address, you need to login to your e-mail account and click the link to confirm your subscription).