Lechon Manok (Roasted Chicken) is a favorite dish of Filipinos at home. Lechon manok is deliciously tasty, very affordable and available all year round. Roasted chicken is a universally accepted dish that is enjoyed by all cultures.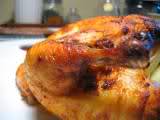 Lechon manok should have a golden brown color or caramelized. BF Blend (Binder Filler Blend) should be incorporated in the marinade to maintain the juiciness of the meat. Cooking in a rotisserie is one way of maintaining juiciness in lechon manok. Ideal weight for raw material of lechon manok is 1.0 – 1.1 kilograms. Lechon manok is an ideal business that only requires a minimum investment.
Here are some Lechon Manok Recipes and Gravy (sarsa) for you to try.
Lechon Manok Recipe 1
Meat material
Chicken, dressed 1.0 – 1.2 kgs.
Ingredients
Chicken marinade 100 gms. (Good for 10 pcs. chicken 10 T)
Gravy (Sarsa)
3 pieces Chicken liver
2 cups Chicken stock
2 tablespoons butter
1/4 cup milk evaporated
1 teaspoon salt
1 tablespoon cornstarch
1 teaspoon pepper, white
(Dissolve in 1/4 cup water)
Procedure:
1. Select good quality raw materials (1.0 – 1.2 kgs.)
2. Wash chicken very well specially the inner portion and drain for 2 minutes.,
3. Measure 50 gms. (5 tablespoons) of chicken marinade. Divide into 2 portions:
– 30 gms. (3 tablespoons) for the inner portion of the chicken
– 20 gms. (2 tablespoons) for the outside portion of the chicken
4. Dissolve 3 tablespoons in 1/4 cup water and pour into the chicken and rub very well. Allocate 2 T for the outside portion of the chicken.
5. Put into a clean white plastic bag and tie the upper end tightly
6. Put in the middle portion of the refrigerator for 8-10 hours, for the marinade to be absorbed by the chicken. If for commercial purpose, four (4) hours is enough for marination at room temperature.
7. Tie wings at the side with a piece of string so with the legs. Brush with margarine and wrap in aluminum foil.
8. Put in turbo at 325°F for 1 hour or bake at 325°F for 1 hour.
9. Unwrap and continue baking or in the turbo until golden brown. Baste occasionally with gravy.
FOR THE GRAVY:
a. Boil liver in 2 cups water until tender. Chop the liver. Set aside.
b. Heat butter in a pan, blend in cornstarch and dissolve in water.
c. Add chopped liver and milk. Season with salt and pepper. Cook until thick.
ADDITIONAL TIP:
If stuffing is needed, the following ingredients are recommended :
1/2 cup bacon and ham (chopped in small pieces)
1/4 cup evaporated milk
1/4 cup chopped onions
3/4 teaspoon refined salt
2 pieces (torn into pcs.) Breasts sliced
1/4 teaspoon white pepper

Lechon Manok Recipe 2
Ingredients:
1 whole chicken
3 tablespoons of brown or white sugar
1 cup soy sauce
1 head garlic, minced
1 onion,chopped
ginger root
3 tablespoons of calamansi juice or lemon juice
1/2 cup of sprite, 7up
2 cups of tanglad (lemon grass) for stuffing
1 teaspoon ground black pepper
2 tbsp oil
salt
Directions:
1. Marinate the whole chicken in soy sauce, calamansi juice, minced garlic, chopped onions, ginger, soda, sugar and pepper. Let stand marinate in the refrigerator for 1 hr.
2. Preheat oven to 325 degrees.
3. Stuff the chicken cavity with tanglad (lemon grass). Add the substitute herbs if there's no tanglad available.
4. Rub salt and oil all over chicken.
5. Dump the whole marinate mix inside the chicken.
6. Cook chicken for 1hr & 20mins or until golden brown.

Lechon Manok Recipe 3
Ingredients:
2 large whole chicken
Marinade:
½-cup honey
½-cup patis
3 tablespoons liquid seasoning
4 tablespoons calamansi juice
1 tablespoon salt
1 tablespoon ground black pepper
Sauce:
½ kilo pork liver (cooked and finely minced)
1 large onion (finely minced)
2 tablespoons finely minced toasted garlic
2-cups brown sugar
¼-cup salt
1 tablespoon ground black pepper
1 cup white vinegar
2½ – cups stock or water
2-cups bread crumbs
Procedure:
1. Marinate chicken over night.
2. Pre-heat oven to 300oF.
3. Cook chicken for 30 minutes and increase temperature to 350oF.
4. Cook until chicken when pierced with a fork no longer oozes out blood.
5. In a sauce pot, mix all sauce ingredients well with a wire whisk.
6. Bring it up to a boil whisking to smoothen texture.
7. Serve chicken with sauce.

Lechon Manok Gravy (Sarsa)
Ingredients:
1/2 kg of chicken liver pounded
1 onion sliced
3 cloves of garlic pounded
3 tablespoons of soy sauce
3 tablespoons of sugar
1/4 cup of vinegar
some cooking oil
2 cups of chicken broth
3 tablespoons of cornstarch
Procedure:
Step1. In a casserole start by warming up the oil. Put the garlic and onion. Sauté them until they become translucent.
Step2. Add your pounded chicken liver and continue mixing. Put some salt and pepper . Pour your chicken broth and let it simmer gently for about thirty minutes. Add the soy sauce and sugar. Continue mixing. Pour the vinegar and taste if it needs more sugar or salt.
Step3. Then get a ladle of this broth and dissolve the cornstarch before adding it up in your sauce or sarsa. Mix well to avoid having lumpy part.
Step4. Taste and turn off the fire. If the sauce is too runny add more cornstarch but be sure to dissolve it first on some liquid before adding. The sauce will thicken more if it stays longer on the stove. This sauce is an all around sauce you can use for lechon, fried pork or chicken or even fried fishes.
Sources: agribusinessweek.com, jennlord.com, filipinofoodstore.com, .kusinaatbp.com
Photo: filipinasoul.com
Do you like this money making business idea? then please consider subscribing to our RSS feed and have new articles sent directly to your inbox.