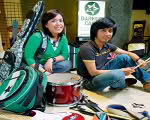 Starting a business of your own doesn't necessarily need a big capital. One can start a business in as little as 1k up to millions of pesos. With this tight budget, you can use a small room in your house or a virtual space like the Internet, yet you can make big profit and have an opportunity to grow your business without spending much money on renting an office and store space. You will also want to look into getting some money management software as you get started with your new business.
Yes, there are businesses you can start on very limited capital. One can start a home-service spa, bottled-food business, dress and bag-making, food cart businesses and many others.
Below are examples of successful businesses that started with a very limited capital.
Business and Ideas
1. Gourmet Delicacy – Connie's kitchen gourmet delicacy products. Husband and wife Manolet and Connie Gonzalez started to make homemade bottled tuyo and daing in bigger quantities when their friends and their balikbayan visitors got to try the delicacy and delighted by its taste. Connie recalls spending no more than P5,000 for the ingredients of her bottled products, which she prepared right in her own kitchen. The couple initially sold them to close friends and started selling their products in bazaars, and before long, they got invitations from deli owners to supply their stores with the products.
CONNIE'S KITCHEN
94 9th St., Rolling Hills, New Manila, Quezon City
Telephones: (02) 721-5691;
(02) 415-4992
2. Fruit Juice Business – Mapagmahal Foods Fruit Concentrate and Juice Business. Fernando Esguerra of Las Piñas City invested P8,000 in a small-scale business making juice concentrate from calamansi (Philippine lemon). He and his wife Irma would buy calamansi from the Divisoria Market in Manila, squeeze the juice manually from the fruit, bottle the juice manually, and simply label the bottles with computer printouts. Through this painstaking process, they would be able to produce 15 to 25 boxes of the product daily. They would then sell their output to relatives, neighbors, friends, and churchgoers at the Fatima Church in Las Piñas.
The transition of Mapagmahal Foods from a backyard industry into a significant domestic and export player got started in 2002 when the Esguerra couple learned about the technology-assistance program of the Department of Science and Technology (DOST) for small and medium-scale enterprises (SMEs). Aside from lending their company a lemon-juice extractor to boost its production, the DOST's Industrial Technology Development Institute (ITDI) helped the Esguerra couple improve their production processes and systems. This enabled the company to improve the shelf life of its fruit juice concentrate from just 90 days to one year, expand its fruit juice product lines, and increase its total monthly juice production from 8,000 to 21,660 bottles.
MAPAGMAHAL FOODS
306 Real St. (Alabang-Zapote Road),
Brgy. Talon Uno, Las Piñas City
Telephone: (02) 875-3377; 871-6970
Website: www.goodsense-juices.com
3. Gift-Wrapping – Chiqui Barretto got started with her first Wrap It Up! gift-wrapping shop in Calamba, Laguna, in 2000 by simply spending on transportation to Divisoria to get her initial supplies.
She went into the gift-wrapping business without really intending to. She had a desktop printing shop at Waltermart in Calamba, Laguna, a franchised business called Personalized Greeting that she has been running since 1998. Her shop is right beside the Abenson appliance store, and it just so happened that customers buying appliances for gift-giving got into the habit of buying rolled gift-wrapping paper from Barretto's shop.
In time the Abenson customers started asking Barretto to gift-wrap their appliances as well. Although it was not her shop's line of business, Barretto would agree to personally wrap the appliances so as not to disappoint the people asking for the service. The volume of the gift-wrapping orders then grew to a point that Barretto decided to make gift-wrapping a regular business.
WRAP IT UP!
Branches: SM Malls and Waltermart Calamba, Sta. Rosa, Makati, and North EDSA
E-mail: mail@wrapitup.com.ph
Website: www.wrapitup.com.ph
4. Thai Massage – Preeyada Saengpradab and her husband Roland Saenz de Tejada opened Preeyada's Real Thai Massage in 2008 in Bacoor, Cavite, with only two dozens of towels they had purchased from Divisoria.
Preeyada and her husband Roland, who are used to getting a massage every week, got into the Thai massage business because they could not get the real Thai massage from the local parlors.
Not having enough capital to put up a massage parlor, though, she started with a home spa/massage service in 2008. She would call potential clients using her personal mobile phone, and her husband Roland would provide her with flyers to be distributed to the nearby villages. She has since trained six people as therapists to help her handle her growing clientele.
PREEYADA'S REAL THAI MASSAGE
3F Greenboro Bldg., Verdana Village Center, Daanghari Road, Bacoor, Cavite
Telephones: (02) 482-1118; (046) 517-0131
E-mail: preeyada.massage@yahoo.com
Website: preeyadathaimassage.multiply.com
5. Catering & Videoke – Mary Maranan and husband Aristeo put up only P450 in 1980 to start a small restaurant, Mary's Eatery, in San Fernando, La Union.
They saw a captive market of jeepney drivers from a nearby terminal and put up their eatery beside it. This was how they got Mary's Eatery started, and the business did well during its first year. It served the usual carinderia fare in the morning, and beer and grilled street foods like "adidas" (chicken feet) in the evening.
R&M CANTEEN, CATERING & VIDEOKE
68 Governor Luna St., San Fernando City, La Union;
Telephone: (072) 700-5513
6. Meat Processing – Ruby Sauza-Limbaña and sister Roselita Sauza invested only P200 in 1983 to start Rosa Foods, their Kalibo, Aklan-based meat processing business. The Sauza sisters knew how to make longanisa, so the sisters decided to use P200 of Roselita's money to buy 5 kg of meat and the needed spices. They then started making longanisa and Ruby sold it to the various government offices in town.
Sauza sisters recovered their initial investment in Rosa Foods in less than a month. They were able to increase weekly production from 5 kg to 10 kg, then to 15kg and on to 20 kg. Later, the Sauza sisters chipped in money to buy a meat grinder. This enabled them to increase their daily production to 100 kg by the end of their first year in the business.
ROSA FOODS INC.
Linabwan Norte, Kalibo, Aklan
Telefax: (036) 262-4736
E-mail: rosafoods96@yahoo.com.ph
7. Bags and Cases – Darkuscase founders and artists Ace del Mundo and Lui Cornelio initially invested P15,000 of their own money in the business, they bought bag-making materials and second-hand equipment to get started. It also sells guitar and camera straps; guitar picks; pedal cases; messenger, belt and travel bags; and so-called flag bags (messenger bags with flaps decorated boldly with a country's flag).
DARKUSCASE
Mobile: 0928-5043355; 0916-5562593
E-mail: darkuscase@gmail.com
Website: www.darkuscase.com
8. T-shirts – Spoofs Limited Inc., maker of the highly popular t-shirts with tongue-in-cheek and in-your-face lines. Charlie Dobles and Drew Marcelo together with four other classmates, the two raised P18,000 to jumpstart a business with real-world potential. Spoofs Limited idea came up as part of the requirements of their Ateneo de Manila class in entrepreneurial management.
SPOOFS LIMITED INC.
16 Evangelista St., Santolan, Pasig City
Telephone: (02) 682-3490
Website: www.thetshirtproject.ph
9. Specialty Sauces – Tina Vitas, owner of the Sarsarap line of bottled Filipino-style food sauces, started Sarsarap in April 2008 on a budget of about P20,000 of her personal money. The Vitas family has a restaurant called Mama V in Malate, Manila, and her mother, Tita, would make special sauces for the dishes served at the restaurant. Among these sauces were chili cheese, sweet mustard, chili vinegar, and siling labuyo (hot chili). Vitas saw the potential of those sauces for reaching a larger market if sold on their own. She then started to develop her mother's sauces, testing the market for them by at first joining small bazaars and later the big food expositions.
SARSARAP
Made by Mama V Restaurant Inc.
G/F Providence Tower, Leon Guinto St. cor. Estrada St., Malate, Manila
Telephone: (02) 812 5001
E-mail: tinavitas@yahoo.com
Website: www.providencetowermanila.com/index.php?pg=sarsarap
10. Beauty Salon – Joby Linsangan-Moreno of Orange Blush Salon went into the salon business with just P30,000. She had bought her first salon from a friend who couldn't sustain its operational costs, so she admits that she did not know much about the business at the start. She compensated for this by taking a crash course in cosmetology and by attending seminars to learn all she could about how to run a salon. Linsangan-Moreno has since grown her salon to seven branches.
ORANGE BLUSH SALON
Sotto Bldg., del Pilar St., Cabanatuan City
Telephone: (044) 464-4114
E-mail: jobylinsangan@yahoo.com
11. Creative Designs -Oliver Rempillo, with only about P30,000 in initial capital, decided to start a business along the same lines as his job of designing and organizing booths for exhibitions with CITEM (Center for International Trade Expositions and Missions), an agency under the Department of Trade and Industry.
EN THEOS CREATIVE
4 Calla Lily St., Vergonville Subd., Las Piñas City
Fax: (02) 874-3864
Mobile: 0917-8212543
E-mail: entheoscreative@yahoo.com
12. Footwear – Corazon Coligado of Ai-She Footwear put up the business with an initial capital of P50,000 from her husband's previous earnings overseas. They were able to recover their initial investment in Ai-She Footwear as early as by its sixth month in business.
Since then, the company has been making abaca-lined shoes and slippers, distributing them to department stores in Manila and to retail outlets in Southern Luzon.
AI-SHE FOOTWEAR
1184 Masulong St.
Liliw, Laguna
Telephone: (049) 563-3647
E-mail: babes_coligado@yahoo.com
13. Organic Produce – Mara Pardo de Tavera established one of Asia's first organic markets with around P50,000 in initial capital. All that she wanted at first was an organic market where she could source food for her family's needs, but once she got her organic market started, it soon evolved into a personal advocacy for getting the public to know the benefits of going organic.
MARA'S ORGANIC MARKET
10-B Lapanday Center, 2263 Pasong Tamo Extension, Makati City
Telephone: (02) 729-4082
E-mail: morganic@pldtdsl.net
14. Pharmacy – Carlos Granados, the love between him and his pharmacist wife provided the inspiration for putting up their own pharmacy, Farmacia Divina Gracia, in San Fernando City in 1990. He then borrowed P80,000 from his parents for capital and bought the small drug store of his mother-in-law, renaming it after his wife Divina Gracia (now deceased).
FARMACIA DIVINA GRACIA
Osias St., San Fernando City Shopping Mall
(Old Supermarket), San Fernando City, La Union
Telephone: (072) 888-3848
15. Travel Agency – Pamela Alfaro put up Ashta Holidays Travel & Tours, using P100,000 of her own savings as initial capital. To keep costs down, she put up her business office in her own condominium and used free booking software.
She initially worked with the Department of Tourism to become familiar with the tourism business, and later took a job in the United Kingdom as a liaison officer of the Birmingham City Council's change management group. In 2006, she returned to the Philippines and trained herself in how to use travel-booking software and in the legal requirements of the business.
ASHTA HOLIDAYS TRAVEL & TOURS
Telephone: (02) 384-4808
E-mail: ashtaholidays@gmail.com; ashtaholidays@yahoo.com
Source and Photo: entrepreneur.com.ph
Do you like this Money Making Business Idea? then please consider subscribing to our RSS feed and have new articles sent directly to your inbox. (Once you entered your e-mail address, you need to login to your e-mail account and click the link to confirm your subscription).