3D printers are revolutionary. The invention of 3D printing has changed our perceptions of manufacturing and designing. It has opened up many new avenues of opportunities for everyone who loves to try something new. If you do the survey, you will realize that this innovation has created many needs that give rise to a plethora of new business models. Starting from purchasing the printer and making unique designs to selling your 3D prints to earn profits, you can quickly make money with 3D printers.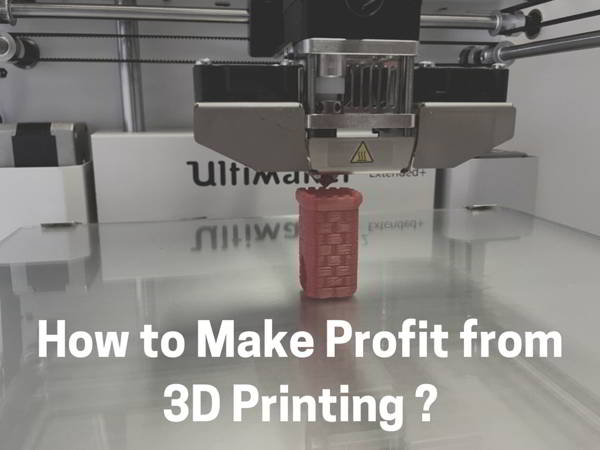 What I am talking about here is how to make money with 3D printing. It could be the next big thing if you adopt this technology early and start experimenting with it. However, it is vital to create your own eCommerce business by deciding one or more niche things to print and sell. If you don't want to settle with the commodities, then you can also try some consultancy or service-based businesses.
How to Make Profit From 3D Printing in 2020
This article is going to cover a few profit-making ideas that can help you to develop 3D printing business opportunities. Know how to start a 3D printing business from home according to my personal experience. Even if you don't follow the exact same thought, then also these ideas can spark your imagination to make and sell with a 3D printer. Let's start.
1. Nail Extensions
It is said that great nail arts don't happen by chance. It requires efforts and a lot of imagination. Nowadays, people and especially the ladies, love to play with fake nail extensions. There is a whole new world when it comes to nail products. Surprisingly, 3D printers can be used to create beautiful nail extensions at a lower cost and high resell value. These extensions are small, quick, and very cheap to produce. Also, fake nail extensions require little storage space and are highly customizable. If you want to earn the maximum profit with the minimum risk, then this 3D printing idea can fulfill the different wants of consumers and help you to have a high-profit margin.
2. Fashion Accessories
3D printers can be used to create fashionable products such as rings, earrings, necklaces, pendants, phone cases, and lots more. Manufacturing ornaments from 3D printing is easy and fast. As the rings or hoops are small and lightweight to produce, you can try making them at home even if you are a newbie. All of these fashion accessories made by 3D printing have a high resale value as a form of jewelry. If we talk about rings, rings can be worn by both men and women as stylish items. However, it is essential to take care of the materials you use to make such ornaments because of potential skin sensitivity.
3. Household Items
Everyday household items such as cups or vases have a vast market. These types of products are common and have mass-market appeal. With the help of 3D printers, you can make many quirky or sober designs. They are easy to create and look fantastic. Some experts believe that these products may not get the best selling price, but people love to invest in them. Printing cups or vases can be revolutionary. Even if your customer has a particular taste or design in mind, you can try to create that with the 3D printing without the steep price tag. However, you have to make adjustments to the design of the 3D printed vase items depending on the size of the printer.
4. Product Mockup
You can use 3D printers to make money and earn profit by helping other designers and SMEs. Product mockups are a must for design professionals and students. This target audience might be so busy due to their hectic schedule that they can't spare the time to create an actual prototype. A 3D printer can solve this problem, and you can become their savior by investing in such printers. Bring creative creations to life and sell at a good price. This business model can create magic if you use proper techniques and the best technologies. In-depth knowledge of design, coding, and technical skill is required to take on this 3D printing endeavor. Also, do not compromise with the material as mockups should look perfect.
5. Slippers
Yes!!! You read it right. You can make slippers with the help of 3D printers. Sandals or slippers are an easy wearable product that can be created by printing. Slippers can help you to get a high price being a customizable product. Also, you can change the designs from time to time and follow the current trends. One of the major positive points of 3D printed slippers is that you can make prototypes for professionals at a lower cost. However, you have to take extra care of the materials you use to make this product as it is directly connected to the skin. Your customers should not get adverse effects from wearing such slippers or shoes.
Other Ideas and Services
Apart from these items mentioned above, you can also make sellable 3D printing items such as nerf gun accessories, architects' models, party props, robotics kits, laptop cases, fetus figurines, drones, and what not!!! Not only the products, but you can also make profits by selling your print-friendly designs. If you love to work with students, then you can start a course of teaching 3D printing to youngsters and earn money.
The Bottom Line
Once you invest in an excellent 3D printer, your mind will automatically start thinking about various ideas and services. When you don't have time to use it, you can also lease your 3D printer to other people or open a printing service center. In short, making money from 3D printing technology is a reality and very, very interesting. Don't have second thoughts if you have this beauty around you and start creating magic!