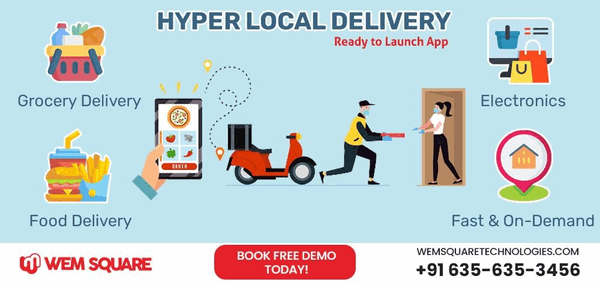 Hyperlocal Delivery Business Model
Hyperlocal is a small community or geographical area. Hyperlocal Delivery refers to delivering the product in 30 minutes or a maximum of 1 hour. Hyperlocal deliveries for food delivery services, grocery delivery services, daily essential delivery services, and medicine delivery services.
Hyperlocal Delivery System
A hyperlocal delivery system is a method of delivering goods directly from a seller to the customer. Hyperlocal delivery refers to providing services and orders in the local area. Hyperlocal delivery systems involve delivery guys to pick up products from a seller and deliver directly to the customer's doorstep.
An E-commerce Hyperlocal Delivery System work
An E-commerce hyperlocal delivery works as an online demand business. Hyperlocal delivery of groceries, food, daily use products, clothes, furniture, and taxi-booking has accelerated with the introduction of multiple online grocery stores, e-commerce platforms, and other delivery-based start-ups that have partnerships with the local stores or area stores and supermarkets.
In this pandemic, people know about e-commerce and hyperlocal delivery models. Hyperlocal marketplace delivery system delivers all over the world anywhere.
It's the era of instant, in India who wants things delivered at their doorsteps at the tap of a button. A hyperlocal delivery system association is one that is in the business of supporting other businesses.
Hyperlocal has been capable of delivering within a matter of hours from local stores. When you start your business online then you make your own marketplace.
The future of the hyperlocal delivery model is shimmering and active. This COVID-19 pandemic time 2021, retail businesses adopting hyperlocal delivery models to increase seals.
By 2021, the hyperlocal marketplace will expand more and more in the upcoming time it will be more demanding. Hyperlocal delivery helps to build businesses that serve the varied communities of the country.
The hyperlocal business model provides a help desk, multiple deliveries, multiple pickups, and subscriptions.
How do I start a hyperlocal logistics business?
Logistics businesses regard hyperlocal on-demand deliveries as a beneficial business. Here are the steps you should follow to build an on-demand hyperlocal logistics business.
Select your industry based on the product and services you want to sell online. For your profitable business, select the right audience and target market.
Recognize your target audience and devise a strategy to market your service.
Register your business with a local delivery partner or any hyperlocal system.
Arrange your revenue flows based on commission from merchant partners and delivery charges from customers.
The hyperlocal delivery model is used for clothes, food, medicines, groceries, furniture, daily used products, and taxi booking.
FAQ:
1.What does hyperlocal mean?
Hyperlocal related or focused on the smallest local community as a place. The Hyperlocal delivery program is aimed at education around a specific community focused on people's social problems.
Aside from our hyperlocal delivery, you can deliver output like food, groceries, medicines, and other necessary items within a cluster.
2. What does hyperlocal mean and how is it dissimilar from a regular courier company?
Hyperlocal delivery refers to delivering goods directly from a seller to a customer. Hyperlocal is different from local courier services. Hyperlocal companies are restricted to an express geographic region and mostly some specific pin codes only.
In regular courier services, parcels come to the hub. Consideration of the parcel happens and then it's connected to the final location for delivery. In hyperlocal, parcels don't need to go to any hub and are connected to the final destination of the hub.
3. How do I target Hyperlocal with Google AdWords?
Hyperlocal targeting is a method to reach an audience in a very special geographic area. Targeting a precise market doesn't mean that you must eliminate people who don't meet your precise criteria. Target an area based on cluster.
4.  What is the hyper-local delivery model?
The hyperlocal delivery model is also known as a business model. The hyperlocal delivery business model connects offline business owners to customers via a digital platform. In this COVID pandemic, zero contact delivery is the safest and best way to deliver food.
When you place your order, the hyperlocal delivery model and system start working on your order. After ordering you can track your order. They will notify and update you about your order until your order is received.
5. What are some Hyperlocal startups in India right now, irrespective of the funding and valuation they have come up with?
Hyperlocal is phenomenal for the time factor. Just the thought of receiving consumable goods at my house within 30 minutes or 1 hour is wonderful. You can pretty much get pharmaceuticals, furniture, and other movable goods to be delivered to someone's place.
For instance, Shiprocket Local promised timely deliveries within a radius of 8 km at a starting rate of ₹79 without any limitation on the volumetric weight of the labor. And materially since we are under lockdown right now, one can only get necessary delivered to someone else's place.
6. Is hyperlocal delivery faster than a general courier service?
Hyperlocal delivery is faster than a general courier delivery. Hyperlocal deliveries are known for 30 minutes or 1-hour deliveries. We are remarking on all kinds of startups coming up with hyperlocal delivery services, for example, Swiggy, Dunzo, Shiprocket, Zomato, Amazon, etc.
Since there is a limited distance dimension for every delivery task, it becomes easier and faster for the delivery executive to enable the shipping of products to the doorstep of the customer within an hour.
Especially during these COVID-19 times, when people can't go out and buy imported goods for themselves. They can get everything delivered to their homes with the help of hyperlocal delivery models and services.
7. What does hyperlocal mean?
Hyperlocal became the trend of the year 2020, especially after the pandemic COVID-19 virus hit the world. Hyperlocal means are limited to a special geographical area. Your nearby stores like grocery stores, chemist shops, vegetable vendors are all part of the hyperlocal delivery model and services.
8. What is the difference between local and hyperlocal?
The difference between local and hyperlocal is that local is coming from or in a close-by location, while hyperlocal is related to a very small area. The hyperlocal delivery model and services have been used to describe mobile location-targeted publishing, marketing, and services. It distinguishes it from traditional local marketing, which was oriented towards a town, city, or region.
Conclusion:
In short, Hyperlocal Delivery System is a method of delivering goods directly from a seller to the customer's doorstep. Now this day the Hyperlocal System is going to be a large and most usable service.
You can conveniently move your business offline to the online platform and get more sales every day.
WEMSQUARE TECHNOLOGIES has ready-to-go solutions available customizable solutions our expert team has vast experience in developing hyper-local delivery systems.
Capable of developing your Hyperlocal online delivery system. Here we can help you to deliver web and mobile apps and online and offline support. Admin, User, and Vendor app for your business.
Buy Hyperlocal Delivery System contact us: connect@wemsquaretechnologies.com