Engaging with celebrities is no more a herculean task. With advancements in technology, one can hear birthday shout-outs from Lance Armstrong or even New Year wishes from Snoop Dog. The 'famous' or 'elite' wall between celebrities and followers is gradually blurring. This thin-layered bridge between celebrities and followers can be converted into a lucrative business opportunity. How exactly can one do that?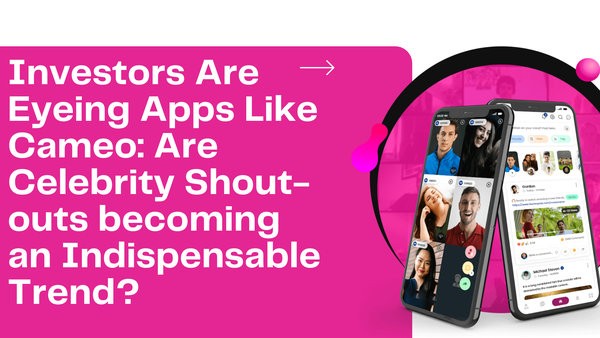 Well, apps like Cameo, CelebVM, etc., are based on this idea and have gained a massive response among the audience. All these apps do is connect followers with their favorite celebrities. While followers pay a fixed fee for a shout-out or conversation, celebrities earn income by reaching out to their fan-base. This win-win scenario propels a trend among the audience, and entrepreneurs can play the role of middle-men to yield consistent income.
Will this premium celebrity video messaging app trend eventually subside or grow further in numbers? Well, with investors eyeing it as a new playground, the market is poised for exponential growth in the upcoming years. In this blog, let's look at why launching a Cameo clone can be beneficial and profitable in every aspect.
Cameo – What's the buzz?
Cameo is an online platform that enables users to engage with their favorite celebrities. Launched in 2017, Cameo currently houses 18,000 celebrities and roughly around 300,000 videos. Ever since its inception, Cameo has been on the investors' radars, and Kleiner Perkins led its $50 million Series B funding. In total, Cameo has raised $65 million up-to-date in funding.
One of Cameo's notable aspects is that celebrities can demand their own prices when it comes to shout-outs. There's a contrast difference in prices depending on the stars' popularity, ranging between $25 – $2500 per shout-out.
Cameo's primary revenue source comes from its commissions. The platform deducts 25% of the users' payments like commissions, yielding a substantial income in no time.
Cameo has become a major 'crowd-puller' as it houses a wide range of celebrities and provides a seamless interface to engage with them.
The Idea can be beneficial and remunerative
There are compelling reasons why a mere idea of shout-out videos can turn into an everlasting trend.
From a celebrity perspective, they get to earn income by connecting with their followers. In this fast-paced world, connecting with followers is becoming increasingly difficult. Satisfying followers by providing birthday wishes, personalized messages, etc., can help them build a loyal user base as well. What's more beneficial for stars when they can earn income and build a loyal fan base concurrently?
From the follower viewpoint, one desires to communicate with their favorite personalities by some sort. Paying a meager fee isn't difficult for followers as they get a personalized conversation or shout-video in return. In a world where social media presence is considered influential among Gen – Zers, show businesses like Cameo will continue to thrive.
Finally, at the end of the day, the platform owner is successful if he/she manages to keep the business afloat and captivate the audience. As long as followers get to engage with celebrities, the Cameo Clone platform owner has access to unrestricted revenue, building a significant brand value and market share substantially.
Attractive features are fundamental
Developing an app like Cameo is no easy feat. One has to meticulously come up with ideas, stack features that can entice the audience, and have an efficient payment gateway. Features have the capability of creating a visual appeal among the audience. Some of the ultra-modern features worth-considering in the celebrity video-sharing app include,
One-on-one video streaming: In addition to shout-out videos, introducing one-on-one video personalized sessions can lead to better engagement rates.
Discover: Users can access videos of fellow users with celebrities, enabling them to reach out to the celebrities if they're happy with the shout-out videos.
Location-based filters: Followers can reach out to celebrities in and around their locality, leading to better language preferences.
In-app chat/call: Besides shout-out videos, incorporating a chat/call feature can lead to better satisfaction rates among followers and celebrities.
Live video streaming: Enable celebrities to reach out to a wide audience via live streams, propelling their popularity in no time.
Manage profile: This feature provides professionals a place to showcase their talent and restrict their visibility to the public/followers.
Revenue from numerous sources
An entrepreneur's end-game always depends on revenue. Gaining consistent income is crucial to stay ahead of rivals in this competitive market space. With an app like Cameo, one can earn revenue from a variety of sources, including
Commissions: The platform bridges the gap between celebrities and followers. As a result, for every payment made by followers for shout-outs to the celebrities, the platform owner deducts a percentage as paid commissions.
In-app purchases: This revenue model is similar to that of the freemium one. Users giving up a fee to unlock chat/call options to interact with celebrities is an example of in-app purchases. This adds to your income tally as well.
In-app advertisements: By displaying third-party ad banners, one can levy ad charges based on views, clicks, impressions, etc.
Conclusion
According to the market forecast, the trend for celebrity shout-outs will continue to grow in the upcoming years. With both celebrities and followers depending on the online medium, an entrepreneur needn't have second thoughts to establish a presence in this sector. Capitalize on the demanding situation by rolling out a Cameo clone that is feature-packed, robust, and remunerative!