When you launch a mobile app you want to make sure it claims its spot on the market. Whether your app is e-commerce, food delivery, fitness, or any other type of app, it's still going to have strong competition. Your job is to try and stand shoulder to shoulder with some of your biggest competitors and use all your skills to compete with them. Engaging content is one of the tools that can help you achieve this goal.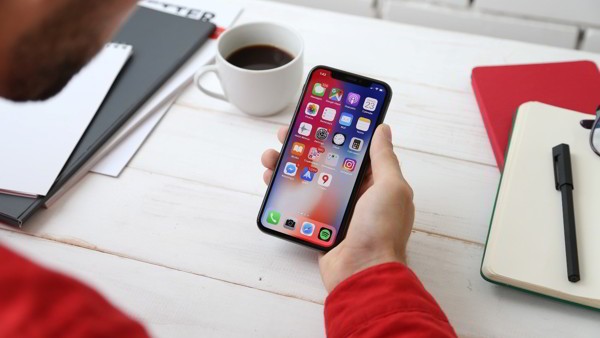 Creating engaging content for your mobile app requires strategizing and planning. We've put together a guide to help you create your content marketing strategy and raise the bar for your mobile app advertising.
Let's break it down together.
1. Know Your Audience
Let's start from scratch.
In order for you to create and publish engaging content for your mobile app, you need to define who you're aiming with it. Without learning about your target audience, you'll be shooting in the dark.
So, step one, or even step zero, is to understand who your audience is and clearly define them by:
age
sex
location
social status
online behavior
Gather as much information as possible and create a prototype. Once you understand who your audience is, you'll be able to focus all your content marketing efforts into that profile.
This will make the strategy more precise, productive, and engaging.
2. Enhance App Store Visibility
Content marketing is about making your app stand out and attract as many new users as possible. The way you present your app in the app store plays a key role in its ranking in-store search results.
To make your app rank higher in Google Play & App Store, you should focus on the following elements:
app description
The description of your app needs to be written concisely, precisely, and to the point. Make sure it tells the users about the problems the app can solve and the main services it offers.
When writing use the right keywords to rank higher for specific searches.
screenshots
You need to add screenshots that show your app's interface, main features, and options.
Apart from this, make sure your app icon is in accordance with the app purpose and is self-explicatory to a certain degree.
By writing a professional, detailed yet useful app description, supported by proper screenshots, you'll make it easy for the users to understand the core of the app.
3. Rely Heavily on Videos
The visual aspect of your mobile app's content is important as it will enhance your content writing endeavors.
A study by Animoto discovered that 80% of millennials consider video content when researching a purchase decision. In addition, 76% of millennials follow brands on YouTube.
You should, therefore, rely heavily on creating engaging video content for your mobile app.
Here's what your videos can cover:
"how-to" videos explaining the app's main features, options, and things you can use it for
the benefits of using the app
announcements in the form of trailer videos
influencer interviews
introducing the team of experts who created the app
educational content that the app users might be interested in
promo content with CTAs at the end
You should create a YouTube channel and post videos on your IGTV to ensure it reaches a large number of viewers.
Then, track the numbers and see what type of videos work best for your audience. What is it that they watch, share, comment or like the most?
Learn from the experience and focus on creating more videos that convert.
4. Start Blogging
Blogging is another important link in the chain of content marketing. Some might even say that it's the most important one.
And, according to statistics, 77% of internet users read blogs.
The truth is, a blog can help you rank higher in Google search results and get more people to become loyal users of your app. How? Let's break it down:
Write on relevant topics
Your blog should cover topics that your app users are interested in reading about.
For example, the calorie tracking app My Fitness Pal runs a blog that covers topics such as "10 Low-Sugar Snacks", "10-Minute At-Home Workout", or "Essential Guide to My Fitness Pal".
provide answers and solutions
Share relevant and reliable information with the people using your app, or those interested in your niche.
Flo, the period tracking app, uses its blog to teach women about contraception, personal hygiene, ovulation, feminine products, and other similar topics.
Your blog can be the source of information, news, and entertainment that your current and potential app users will gladly turn to. In case you need help with writing, check out academic writing platforms which are keen on providing essay writing help online. Such writing tools may foster your blog content creation significantly. Luckily, there are plenty of cheap writing services online to choose from, so writing a relevant content won't cost you a fortune.
5. Use Social Media
Did you know that there are more than 3.8 billion social media users worldwide? The number is enough for you to understand and embrace the importance of being present on social media.
Consider creating profiles on the leading social media platforms that your target audience prefers using. Whether it's Facebook, Instagram, Twitter, or some other platform, make sure that you use it to connect with your audience.
So, how can you use social media to create engaging content for your mobile app? Here' what we suggest:
show satisfied users
If you take a look at LinkedIn's Instagram page, you'll discover that they've lately been dedicating their entire profile to sharing stories about the satisfied users who've advanced in their careers using their app.

promote blog posts
A single captivating social media image can draw the attention of your users. Use the caption to invite them to read about a trending topic on your blog, and include a link.

publish weekly announcements
Shazam uses Instagram to announce their Artist of the Week and invite their followers to check out their music on the app.

communicate with your users
Social media is great for establishing direct communication with your app's users. You can answer their questions in DM or write your comments, and show how much you appreciate them.

Netflix is a great example of using social media to engage with followers. They recently asked their Instagram followers to leave a comment with a single emoji they use most often, and Netflix suggested which show to watch based on that.
Another way to engage your users is to ask them questions and do little surveys on social media. You can create an Instagram Story survey and ask them about an opinion, their desires and preferences.
Finally, let's not forget targeted social media advertising that can be super-precise and help you get more followers and, as a result, more users.
Make sure that everything you publish is proofread and accurate. Use Grammarly if you need help with editing.
When people search for things online, they like to see what other people have to say about a certain brand. People prefer reading a recommendation of a real-life customer and learn from their experience.
This is why you should start using user-generated content (UGC).
85% of users say UGC is more influential in their decisions than brand-generated photos or videos. Therefore, UGC should be a part of your overall content marketing strategy.
You can use it in numerous ways:
reviews & ratings
Your rating in the app store is important. Pay attention to what users are saying. If they have a complaint, try attending to it. If they leave a positive comment, thank them.

images
Social media is a great place for inviting people to create UGC. You can ask them to use a certain hashtag or tag you in their photos. Then you can repost their photos, just like Airbnb does with their users' favorite accommodations and locations.
Show your potential users what your active users have to say and how they feel about using your app. This will be the additional encouragement they need to start using your app.
7. Collect Feedback
Finally, you should always aim at getting direct feedback from your users. This is a great way to learn how they feel, what they need, and what segments of your app need improvement.
We suggest you rely on:
in-app feedback
Create a segment within your app that allows users to write you a short text message. Once you review their message, send them an answer via the app or write directly to their mail.
Make sure to treat their feedback as valuable data and use it to improve your content and your services.
Asking for feedback is also possible through social media and directly on your website. If you ask the right questions, you'll be able to learn more about how your users feel.
Final Thoughts
Content marketing is a strong advertising tool that can potentially skyrocket the success of your mobile app. However, you have to ensure you're doing it properly and your content is highly engaging.
Use the advice provided above to improve your current content marketing strategy or create a new one from scratch.