Social media is such a part of our lives now that it is unimaginable to see the internet without it. Through social media, the demand for internet surged in the last decade. Regular consumers became digital advocates, wanting to be connected anywhere, anytime. Social media is also one of the driving forces behind the exponential growth of mobile phone sales. Since we are social by nature, social media apps are probably one of the most enjoyed innovations of the digital era.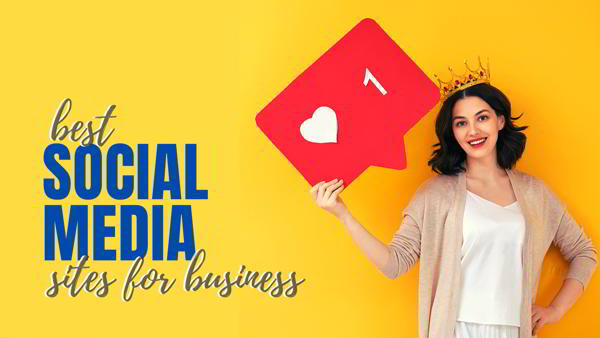 Who's Who in Social Media?
There are 3.81 billion monthly active users (MAU) on social media, of which. 3.76 billion access social media through mobile phones.
Among all social media apps, Facebook is the most popular social network with 2.5 billion MAU, followed by YouTube with 2 billion MAU.

It is for this reason that 91% of retail brands us at least two social media platforms and 81% of SMEs, or small to medium enterprises, use social media to promote their businesses as well.
To no surprise, social selling and social media marketing have become the newest boon in eCommerce. Brands focus on platforms that hit their target demographics the most.
For instance, Facebook has more female users around the ages of 18 to 49 years old. Those who are below that age range can be found more in Instagram, Snapchat, and the newest social media phenomenon, TikTok.
Most students are on Instagram as well, while most yuppies, or young professionals, still frequent Facebook more. Those 65 years old and above have also discovered the wonders of Facebook. If I were the advertiser, targeting both youth and young adults, I would build my brand in these two social media sites. My Instagram posts will look young, bold, and fresh on IG, while I need to cater to a more general audience on Facebook. If I leverage these two platforms well, I will be able to connect well with my target demographic and yield more conversions.
So, what social media platform suits your brand and your business? Check out our list below.
Social Media Apps that are Great for Your Business
Facebook
Facebook tops this list because it has the highest number of users. You can easily target your demographic by gender, age, location, work, and interests on the app. Other factors include purchase history or behaviour, even relationship status. Facebook has gotten in trouble because others perceive the invasiveness of its data gathering. They have adjusted their protocols on data privacy to address this. However, the tenacity and ingenuity to gather and optimise data are because of Facebook ads are doing very well.
Brands and businesses like Facebook because they can target the exact audience for their ads and maximise every investment. Targeted ads on Facebook are producing conversions and more engagements for brands. But again, Facebook has breached the trust of its millions of users many times.

Recently, Facebook allowed 3rd parties to gain access over the personal data of 87 million users. Many users have campaigned for its shutdown, while others have transferred to other platforms. Facebook also faced multiple lawsuits, paid for damages, and have been at the centre of heated discussions as they have, yet again, pushed the boundaries on data privacy protection.
Nevertheless, this did not dampen Facebook's popularity. They are still the most downloaded social media app among users and the most sought-after among marketers.
TikTok
Video content is more compelling than text or image content. People love consuming video because they can get more information faster than usual. Even something as corporate as a resume is now getting upgraded to video resumes that get people hired much quicker.
It is the fuel behind the success of TikTok. It is a video-content sharing site of short-form videos that are meant to carry humour and great enjoyment, all packed in less than a minute.
TikTok became more popular, even becoming a phenomenon in the first quarter of the year, as stringent quarantine measures grounded everyone at home. TikTok went beyond a platform just for teens and younger millennials. It is now an 800-million-strong social media platform, with downloads reaching 115 million in March 2020 alone.
So far, it is the leading social media platform, and brands have flocked to TikTok to establish brand territory in the hopes of also going viral through the app.
Businesses need to take advantage of TikTok's popularity and take time to build their brand through the app.

First, familiarise yourself with how the app works. It is not like Facebook or Instagram at all. It is a video content-sharing app that thrives on User-Generated Content (UGC). Master how to make contents engage with the audience, and what social media etiquettes are practised by the community.
Then you can discover trending challenges you can take on and create engaging and fun content for it.
The key is to make fun or funny videos that can generate buzz in the community. Originality is also key to being viral. The more unique your version of a challenge or trend is, the better people will remember you.
Post content consistently and engage with your audience well. You can try collaborating with other users and influencers on trending challenges. You can start your challenges and encourage user-generated content (UGC). For example, if you are a make-up line, ask users to send express their identity and personal style through your brand.
Brands can also advertise on TikTok now. It can be through Infeed Native Content, Hashtag Challenge, Branded Lenses, and even Brand Takeover.
Infeed Native Content is like Instagram's story ads, which also supports download of apps and backlinking of websites.
Hashtag Challenges are promotions that can help your go viral through hashtags and generate more engagement.
Branded Lenses is like Snapchat's 2D and 3D glasses for faces and photos, but this time, for viewing videos on TikTok.
Brand Takeovers allows brands to take over TikTok for a day. You can make images, GIFs, videos, and hashtag challenges. You can easily embed backlinks to your videos as well, that leads people to a specific landing page on your site.
TikTok can help you establish better brand positioning, engagements, and conversions. You need to optimise this platform while it is hot to promote your brand and target your preferred demographic.
You can easily download this app from Appstore, Google Play, and even Microsoft Windows 10. To use TikTok on Windows 10, you will need to run it on an Android emulator that allows Android apps to run on Windows 10. But even without an emulator, you can go to the Microsoft store, search for "TikTok," click install, and start enjoying the app on your Microsoft device as well.
YouTube is the most popular social media platform for video content. Early this year, amid the global pandemic, YouTube's revenues reached $4.04 billion. Its most popular YouTube channels already increased to over 100 million daily active users (DAU).
Since it is owned by Google, YouTube has a unique advantage among other apps of having access to Google's advertising platform. Brands who advertise on YouTube can use this to optimise the ads and campaigns they run on YouTube.
Just like Google's SERP, or Search Engine Results Page, YouTube's SERP also relies on keywords and key phrases from different channels. If brands want their video content to rank on YouTube, they need to optimise keywords whenever they release content.
Establishing your brand on YouTube is a strategic marketing strategy because it is the second most popular social media platform next to Facebook. Since there is a growing demand for video contents, businesses see all the more the importance of video content in SEO.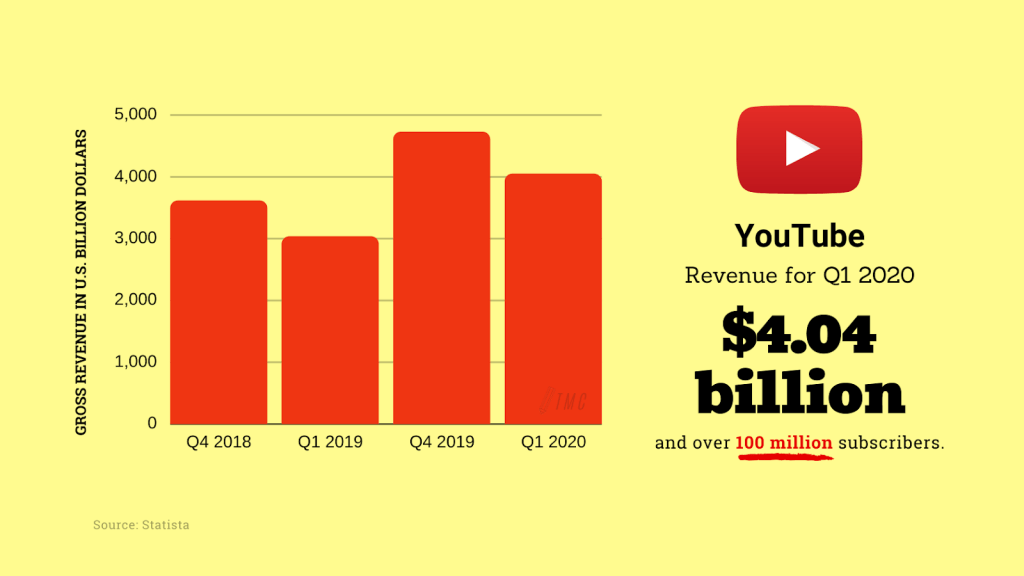 Instagram
Instagram and Facebook now share the same owners, and currently has 1 billion daily active users.
Instagram was an overnight success when it started in 2010. In just a couple of months, it gained a million followers. The app, its interface and user engagement was a breath of fresh air when it came unto the social media scene. It started as a photo-sharing platform. It set the trend for multiple filters and high-quality, creative images generated by users themselves.
Now, it integrates videos in its platform through its "stories" feature and IGTV. Because of this, it became a more powerful lead generation and conversion tool.
Because Instagram is now a part of Facebook, it is easier to run ads on both platforms through Creator Studio. Businesses can now sync their campaigns much faster on both platforms, monitor campaign progress, and see metrics all in one place.
Pinterest
Pinterest took the concept of a bulletin board and transformed it as an online platform.
In a regular bulletin board, you pin pictures and items that interest you, or you want to be reminded of. Pinning something on the board means it is a priority or it needs immediate attention. It can also mean you want to get back on this item in the future.
As a virtual bulletin board, Pinterest lets you "pin," the things you love. You can pin images, short videos, GIFs, and links to websites. It allows users to explore, gather, and share information and ideas from different areas of interest.
Infographics and how-to-videos are in demand on Pinterest. It is why the interest in Pinterest increased during quarantine early of 2020. It received 32 million new users, which brings the total of its subscribers to 367 million monthly active users (MAU).
In its letter to its shareholders, Pinterest shares that their users were looking for "…practical solutions on how to educate and entertain their kids, how to clean during quarantine, what food to put in the pantry and how to make masks."
Interestingly, Pinterest also notes that people started to engage in "future-oriented interests such as vacation and event planning."
Maximise your Pinterest account by sharing or pinning what is currently relevant.
Twitter
Twitter is best if your target market is mostly teens and younger millennials. It is the same demographic that loves Instagram and Snapchat. In the Twitter-verse, brands aim for those coveted retweets that sometimes spread like wildfire.
Going viral or trending translates to more engagements or interactions with your target market. The greater the interactions, the higher your conversions rates go.
Twitter allows only 150 characters, so brands need to be creative how they can compel their audience, with just a few words, to click-through links or posts you tweet.
Use URL shorteners like Bit.ly or TinyUrl to post URLs at the least possible number of characters. Learn how to add an intriguing or exciting header or titles that contain your main keyword.
Share news, blogs, and GIFs on Twitter, and do not forget your hashtags. Hashtags help your post become discoverable.
Twitter is also well-known for its feed of real-time updates. This blow-by-blow account is live-tweeting, that sometimes even "breaks the internet" if it suddenly goes viral.
Twitter presently has 330 million monthly active users and 145 million daily active users, 63% of which are between 35 and 65. So, if your target market is around that age range, you need to produce content for Twitter as well. And if Facebook is dominated by female users, Twitter's demographic is 66% male. Knowing that determines the kind of content you will release on Twitter. You may have to tweak some features, if needed, between your images, for instance, for different social media platforms.
It is worth building your brand in this social media platform, especially for those demographics mentioned, because 40% of its users indicate they were driven to purchase after seeing something on Twitter.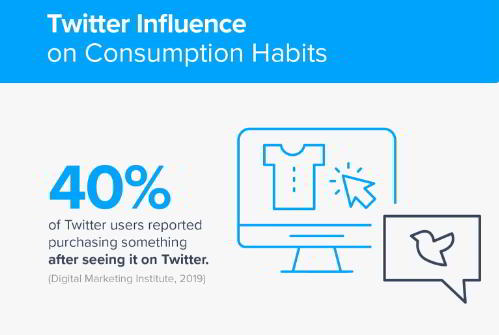 Snapchat
Snapchat is a one-of-a-kind platform that allows you to send either a photo or video Snapchat directly to another user or their Snapchat Story. Direct messages can only be viewed once, while a Snapchat Story is visible for 24 hours.
It may not be worth it for some who have an older market to target. Still, if you are aiming to reach Generation Z and younger millennials, Snapchat can be an effective social media platform for your business for you! Business can create custom or branded geotags to promote events or locations.
Snapchat has gets 10 million daily video views and offers advertising options where you pay for a linkable Snapchat in its Discovery section.
Their most recent campaigns and products were shown in the Snap Partner Summit 2020. Snapchat's Chief Executive Officer showed user-generated content from all over, showing how they dealt with the recent pandemic, racism, and freedom of expression. They continue to provide timely, accurate content, even in the global crisis. Snapchat continues to provide entertainment, but at the same time, is releasing new products to support users and cater to the most pressing needs they go through.
They announced the "Mind Yourself" campaign, aimed to provide professional resources for users dealing with mental and emotional stress.
LinkedIn
If your brand targets consumers based on job titles, or if you follow a B2B model, building your brand in LinkedIn will be useful for you.
LinkedIn has a growing number of users, now at 575+ million users, 260 million of which are monthly active users.
Most of its users are professionals and experts in different fields.

For example, the B2B software company, Softvire, has included LinkedIn as one of the social media platforms it consistently shares blog posts, images, and promotions in. The primary reason is the demographic of its clientele are corporate accounts or enterprises and wholesale retailers of the most prominent security software, IT software solutions, even design and productivity software.

If a company as such targets Snapchat or TikTok as a social media platform for marketing, then their digital marketing efforts will not take flight. But because it is optimising brand promotion where its market is at, primarily Facebook, Twitter, Instagram, and LinkedIn, then it sees conversions from these platforms regularly.
Regarding modern technology and social media in our daily lives, notes: "The most remarkable change is in how we communicate with each other, and one of technology's greatest boon, social media, has undoubtedly overtaken traditional methods of communication. It provides a plethora of platforms where people can connect with great convenience, making the world within reach at the tip of one's finger. It revolutionised our world by opening wide avenues, even for ordinary people to get information quickly and share their content on a global scale."
True to that fact, social media now penetrates 49% and more of the 7.75 billion global population. If you do not leverage social media for your business, the opportunity would be a complete waste.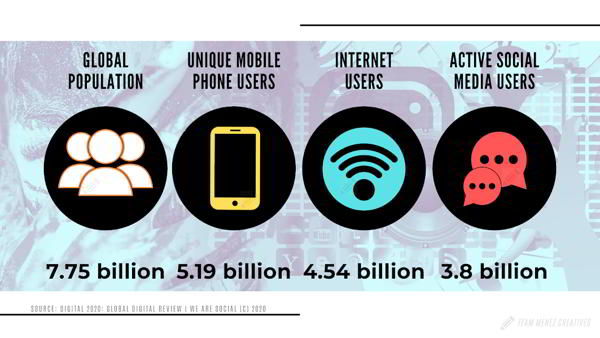 Conclusion: Choose the Best Social Media Sites to Boost Your Business
Businesses need to have at least two active social media accounts. You can go for Facebook, Instagram, or maybe Facebook and YouTube if you share videos heavily. As you get the grip of doing social media marketing, you can add other social media platforms as well.
Open the accounts on all projected social media sites you are targeting. Reserve the name of your brand early on and simply activate them when needed. Once you are confident you or your team can diligently create content and engage with your consumers regularly.
Set your goals, get your social media marketing plan in place. Start your social media campaigns with confidence to boost your brand and your business.
AUTHOR'S BIO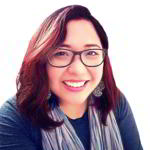 Mayleen Meñez worked for seven years in TV and Radio production, and also as a Graphic Artist/Editor. Finding her true passion, she devoted 15 years in NGO and community development work, where she experienced being a coordinator and teacher, travelling both in the Philippines and countries in Asia. She homeschools her three kids and reinvents Filipino dishes in her spare time. Writing has always been a hobby and pursuit, and she recently added content writing with Softvire Australia and Softvire New Zealand up her sleeve, while preparing for her next adventure in the nations.