Having a career in digital marketing has progressed over the years and likely in the years to come. Many opportunities are awaiting digital marketing professionals as technology continues to evolve. But what makes being a digital marketer, a good career option is that even though you don't have any previous digital marketing background, you can still be successful. What is essential is that you have the curiosity to learn and a willingness to be refined with the craft.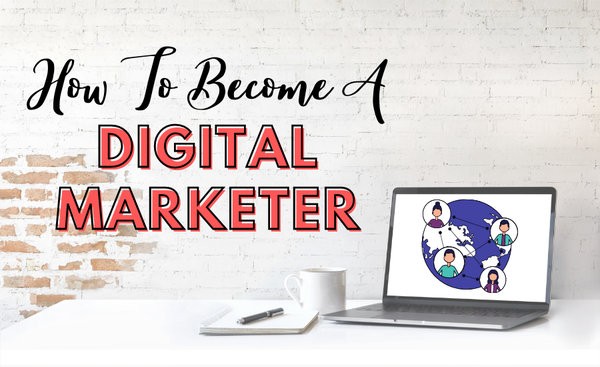 Many people are now working and shopping online. It is safe to say that going digital should be one of the central core of any marketing department's priorities. It can be a great tool to maintain relevance in any consumers' minds and create a sustainable brand. Thus, being a digital marketer is a relevant job opportunity in this modern era.
Why Become A Seasoned Digital Marketer?
Demand for digital marketers keeps growing regularly. However, the number of practicing the profession is not in line with the need for digital marketers. That is why being a digital marketer is a top career option for you. Those who want to be part of this career niche will find many open possibilities available for them like being an expert in growing views for YouTube videos.
The digital marketing profession has progressed over the years and is expected to continue in the years to come. There will always be a lot of possible job opportunities in the market. As people and businesses move online and rely on the internet, being a digital marketer can be amongst the best career opportunities have.
How Do You Become A Digital Marketer?
1. Decide Which Marketing Expert You Want To Become
Digital marketing is a massive concept. While it is valuable to be an all-around digital marketer, you have to approach it gradually as a new practitioner. If you've been a professional digital marketer for some time now, it may be time for you to level up your skills and work on your specialization.
You must have a clear idea of the path you have to take to become an expert in digital marketing. You can choose some of the available career tracks like a seasoned social media marketing specialist, search engine optimization specialist, or a Pay-Per-Click (PPC) expert.
2. Learn From The Experts
As a digital marketer that is just starting with your career, it is vital to understand the digital marketing world from career experts. Key-thought leaders in the digital marketing industry have numerous experiences that have honed their skills over the years. Many of them have already encountered different challenges in the industry that gave them additional knowledge.
Since many of these key-opinion figures are digital marketers themselves, they have a clear idea of making their insightful posts easier to reach on search engines and through social media channels. They also share insights on different social media platforms, search engines, and other online marketing strategies. They're continually searching for the latest trends and techniques, so following them can give you the chance to hear first about these advances.
3. Grab Free Courses On Digital Marketing
One of the many benefits presented by technology and the internet is the availability of free online courses. These days, you can always find classes that you can take to help with your digital marketing skills.
Learning from free courses will help you flourish in your preferred profession. If you are still uncertain about the career path you want to pursue, online classes are a perfect way to learn since you are in charge of how you train and may not entail any monetary commitments.
4. Enroll in Paid Courses
When you have finally decided on the track you want to take; you can find many learning opportunities online. It has given way to online education that has encouraged people to engage in learning. Even though they stay in remote villages globally, as long as there is an internet service, they can still participate in online classes.
Enlisting in online classes is cost-effective and one of the easiest ways to improve your expertise. Online digital marketing programs are accessible to anyone because of the internet these days. These courses can also be the first step in being a seasoned digital marketer. If you've been immersed in the industry for some time now, attending online classes will develop your abilities.
5. Establish A Good Network
You will not be a strong and effective digital marketer if you do not have any established network. As a digital marketer, a big part of what you're doing is building online communities. Whether it's about your brand or a multinational company, an engaged community will help make or break your digital marketing career.
Whether online or offline, a responsive digital marketing network will help you understand the value of what you do and how it blends into the 'big picture' of your target market.
6. Take A Digital Marketing Internship
Having an internship position in any niche or industry is essential in building a foundation for your skill and expertise. An internship is often challenging, but when the right team of professional marketers surrounds you, you will benefit from the failures and achievements that have been encountered over the years. Not only can an internship help you broaden your digital marketing knowledge and experience, but it can help you decide what you value in your chosen job environment.
While you should take the time to study and experience facets of digital marketing for yourself, an internship can place you face-to-face with the real-world obstacles that digital marketers need to tackle. An internship can also introduce the mechanisms that can help you turn to be the esteemed marketing person you ought to become.
7. Keep Updated On The Latest Trends
If you have somehow marked your name in the digital marketing world, you need to keep tabs on the latest trends. The online world is moving in a fast lane, and you need to stay updated in making sure that your strategies will always remain relevant.
You need to be in the loop on the latest information and buzz in the digital marketing world. Follow major digital marketing profiles as well as influential people who can contribute to the latest trends.
Technology has made it incredibly easy to have access to all the latest digital marketing information. Blogs, articles, and podcasts can be found online to help you fill with knowledge. It is also essential that you keep tabs on websites that have useful data to generate learnings.
Final Thoughts
You cannot be an effective and successful digital marketing overnight. You need to hone your craft and expertise so you can excel in your chosen career. While you can learn things yourself, you need to know what the industry experts are doing and stay on track with the latest buzz. No matter your background, as long as you are willing to be trained and learn, the future is bright for you to become the best digital marketer.
MARICAR MORGA
Maricar worked as a marketing professional for almost a decade and handled concerts, events and community service-related activities. Leaving her corporate job for good to pursue her dreams, she has now ventured in the path of content writing and currently writes for <a href="https://www.softvire.com.au/adobe/">Softvire Australia</a> and <a href="https://www.softvire.co.nz/adobe/">Softvire New Zealand</a>. A Harry Potter fan, she loves to watch animated series and movies during her spare time.