Mobile Apps have played an essential role during the coronavirus pandemic that has shaped 2020. Here are an overview of statistics of 2020 of popular app category:
Not only this, if we speak about the gaming app, over 1 billion mobile games downloaded per week in Q2 2020 as per App Annie.
To align with these apps' success, or you want to make the most out of your already launched app, you need to check out the following powerful ways to increase user engagement and app's retention rate.
Let's get started with #1.
1. Easier Onboarding
To keep your users engaged, it's all-essential to implement a lean and optimized onboarding process—all you need to focus on is communicating value and limiting the non-essentials information. Since too much information can cause a barrier to user retention; therefore, make your app accessible and easy to use.
A recent study by Localytics suggested that one in every four users give up using the mobile app after downloading it. Thus, to promote your app's border usage more than once, a mobile app engagement strategy and easier onboarding are crucial.
A complex onboarding process can be caused by:
Long forms
Complexity
Too much content to go through, such as tutorials
Asking for unnecessary information or feedback
Cross-selling other apps
The robust onboarding helps applications lessen the overall churn and boost engagement, simplifying the learning process for your users. We've compiled some useful ways to streamline the onboarding process –
You can offer features to educate users throughout the onboarding experience to introduce the app's functionality. But make sure that you don't overload users.
All you need to lessen the number of steps to create an account or sign up just like multiple registration options i.e. login with Facebook or Google.
You can also apply the strategy of teaching through actions to reveal the primary gestures in the app experience.
For example, Calm, the award-winning app for meditation and sleep. It was recognized as the #1 iPhone app of the Year 2017. This meditation app has helped millions of users reduce stress, anxiety and enhance sleep quality through patterns.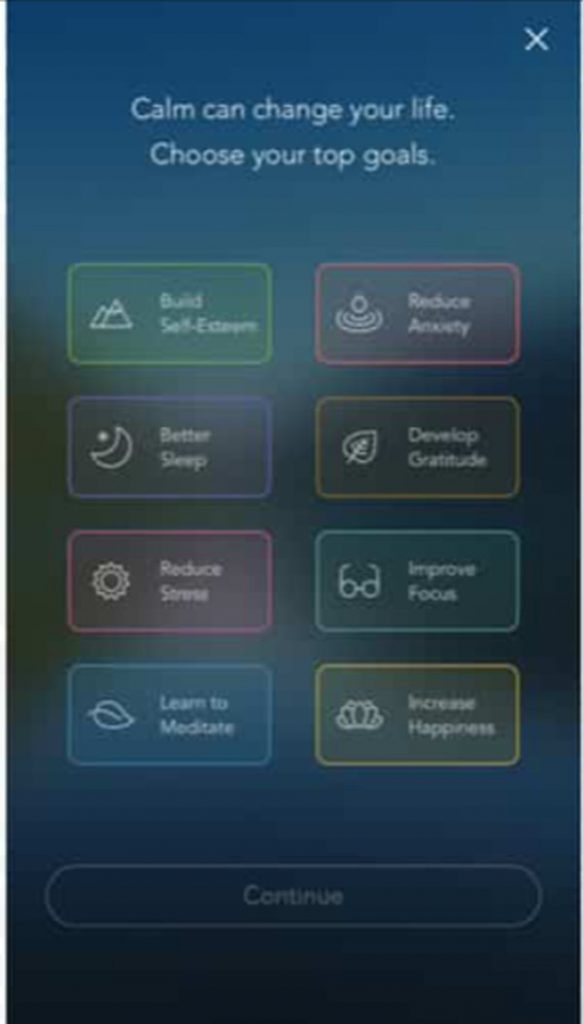 The best thing about the Calm app's onboarding process is that rather than expecting the standard "sign up/login" screen, it displays that asks users to choose their top goals. In short, Calm gives an overview of its offerings such as "Reduce Anxiety" to "Increase Happiness." Users can choose several options for what they want to do.
It enables users to select what they are looking for, such as these kinds of inputs are called declared data.
A great strategy that you can pick is that it explains why we, as users, choose Calm among millions of apps across App Stores.
2. Apply Appropriate Push Notifications
There are several push notifications that users go through daily that they become white noise. When this marketing strategy is done right, Push Notifications can be a great tool to help get the attention of a user and bring them back to the application.
According to the Study, when push notifications are done correctly, they can increase retention rates by 50%-150%. In a nutshell, if you provide to the point information with your user base about something in the app, then it can create value. When you apply this strategy correctly, it helps create a call-to-action that encourages the click back in, engaging, and seeing what it is all about. Check out some best practices to apply push notifications to the app:
Don't use push notifications as "Newsletter" style communication. Instead, use notifications in a personal way from the user to the user.
Send push notifications timely. Don't just send notifications for the sake of just sending one.
Create a call-to-action in each notification. It increases the odds of sending users to the app to take appropriate actions.
Try to craft personalized notifications. One-size-does are not fit at all. Offer users the ability to set notification preferences within their accounts.
For example, Amazon, the eCommerce app, spices up otherwise ordinary shipping notifications. Amazon is treading carefully to avoid losing its chance to send push notifications by giving a pinch of customization. Amazon's best strategy is not to lose an opportunity of sending future notifications. Thus, it works by sending notifications at a particular time or action-based criteria to be met before sending this push. For example, users must keep the app installed for a week, or user must have previously written at least one review.
3. Focus on Personalization Content
Personalization is a critical part of app engagement strategy. But let's be familiar with the term "personalization". It's the process of aligning the user experience with the users' needs and preferences. According to a survey, "Over 70% of users expect a personalized experience from the businesses they interact with." This survey also states that users expect different levels of personalization at different stages.
For example, a gaming app, which requires users to understand how to earn the coins to play levels, it's easier to direct users to a page that states the same.
Moreover, push notifications are a great way to illustrate this. It also generates long term engagement notifications, which must offer personalized content.
4. Improve Features & Security Constantly
It's also important to consider your customers' changing requirements. The mobile apps that offer unique features, benefits, or functionality are more likely to keep.
For example, WhatsApp was initially an affordable and straightforward texting tool. Currently, it embraces numerous features like group chat, rooms, video calls, sharing current locations, etc. If WhatsApp had not taken advantage of front-facing smartphone cameras, then it would remain a texting app. The best thing about WhatsApp is that it's based on new software and hardware capabilities and the users' needs and pain points.
5. Offer Incentive Programs
The best way to keep your users engaged and return to your app is to offer some time-sensitive incentives. It works best if you incentivize users' daily visits, for example, offering a reward for the first seven days when the user returns to the app. Incentives can work over long periods if the user internalizes the incentive.
Rewards and incentives are always desirable by app users. Once the app is downloaded, the set of features ensure that users become increasingly engaged and loyal.
By applying the incentive program, users can benefit from using the by:
Special member events
Rewards & benefits such as free refills on brewed coffee and free drinks on member's birthdays.
App integration with other platforms such as Spotify to discover music playing in the store.
Ability to send other members and friends gift cards through the app.
Ease of payment through mobile app
The Bottom Line
If users forget the apps installed on their phones, you need to correct something with your application to keep them engaged. It does not mean your product or application is not good enough. It does only mean you're not doing enough to get the users engaged. We hope that the tips mentioned above will help you to fix it. Moreover, if you'll need professional assistance regarding this, you can contact a leading mobile app development company in Atlanta.
Many approaches and tools are also available if you want to increase the mobile app's retention rate and engagement. Follow these tips to get a head start on.