Cafés are very popular with first-time business owners because they are relatively simple to set up, the profit margins are wide, and the expenses are straightforward too. For all of these reasons, they make for an excellent first foray into the world of customer service. Yet, one downside to owning a café is that most tend to start off small and grow very quickly.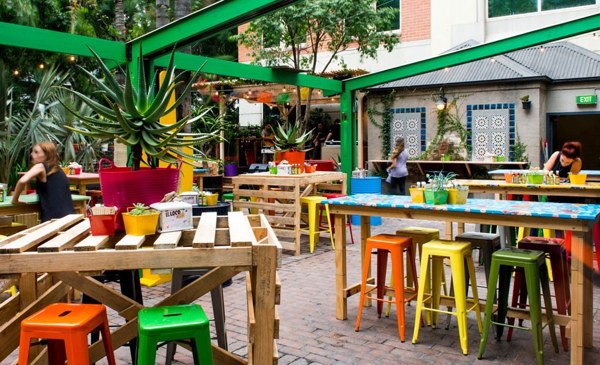 Image Source: http://concreteplayground.com/sydney/food-drink/food-2/the-ten-best-outdoor-restaurants-in-sydney/
This means that owners almost always need to invest in extra space at some point. And, even if your café is making a lot of money, this might not be an easy task. You could be short on interior space, for example, and have no possibility of extending the building. It is a quite common dilemma for small businesses in the middle of busy towns and cities.
The good news, however, is that there are some simple and cost-effective ways to increase your café capacity and welcome more customers inside.
Invest in High-Quality Outdoor Blinds
If you're in desperate need of extra space, don't ignore the secret weapon that could solve all of your problems – the outside of the property. Click here to find out how you can turn a car park, backyard, or even a sidewalk into a comfortable, covered seating area with All Weather Blinds. Australia is the ideal place for spending time outside, so give your customers the opportunity to do so in a weatherproof shelter.
Get Creative with Your Furniture
To run a successful café, you need to strike the right balance between function and form. So, it isn't a good idea to try and squeeze chairs and tables into tight spots if it is going to impair the look and function of the space. However, what you can do is think creatively about your furniture choices. There are stackable chairs, long wooden benches that can be pushed up against the wall, tall thin breakfast stools, and lots more. The possibilities are endless, so take the time to consider your options.
Switch up Tired, Old Layouts
These days, customers are quite fond of less formal establishments. They don't mind if they're not sat at a traditional chair and table, on the same level and at the same angle as every other. So, you can afford to experiment with different layouts. One way to boost capacity with minimal effort is to install countertop tables along the walls of your café. If you add rows of tall, thin stools, you've effectively doubled the number of people that you can serve at any one time.
Be Smart with Your Décor Choices
This final trick won't literally increase your capacity, but it is worth a try because it is a highly successful way of making a room look bigger. To create the illusion of space, paint in light tones like white, grey, pale blue, and yellow. Steer clear of black, dark blue, and dark grey shades unless you are adding them in small splashes. Also, placing mirrors around a small space will make it feel larger as well.
Why Outdoor Café Blinds Should Be Your Next Investment
Stylish, robust café blinds are a worthwhile investment because they can significantly increase the capacity of a premises in the space of less than an hour. They are extremely easy to install and they can be used on a long-term basis. They are, essentially, semi-permanent coverings that will withstand the elements no matter what the weather brings. They are available in a wide range of different colours and designs, so you can even pick one that matches your existing décor.