Manila played host to the first ever Bootstrap Manila 2016, A Startup and Innovation Conference, held last October 22, 2016 at Green Sun Hotel, Makati.  Organized by two of the country's leading coworking spaces and incubator/accelerator hubs – Impact Hub Manila and Launchgarage, the one-day conference boasted an exciting lineup of speakers from the ecosystems of Berlin, Bangalore, Jakarta, and Manila.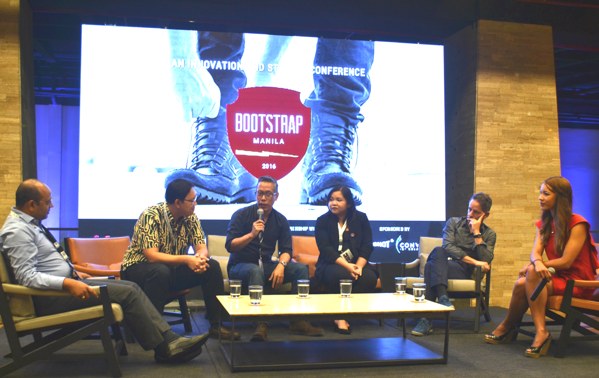 ROADSHOW FOR AN INTERCONNECTED INTERNATIONAL ECOSYSTEM
Bootstrap Manila is part of the StartHubs AsiaBerlin Roadshow that runs from October 18-27, 2016, with Bangalore as the first stop, followed by Manila, then Jakarta.  StartHubs AsiaBerlin is a project within the Asia-Pacific Weeks 2016 initiated by the Berlin Ministry of Economic Affairs in collaboration with the Deutsche Gesellschaft für Internationale Zusammenarbeit (GIZ) GmbH.  It seeks to shed light on the four important startup hubs and build an open platform for interconnectivity, networking, direct communication and cooperation, and collaboration among the partner cities.  It is funded by the German Federal Ministry for Economic Cooperation and Development (BMZ).
Delegates kicked off the Manila leg of the roadshow with a tour of the world-class MANILA FAME, Design and Lifestyle Event, at the World Trade Center, and an al fresco dinner at Nayong Pilipino's Orchidarium at Rizal Park, Manila on October 21.  Both activities were hosted by the Department of Trade and Industry's (DTI) Slingshot Philippines, a program that aims to nurture and grow the local ecosystem through capacity building, funding, and policy support for startups.  In his welcome remarks, Senen Perlada, DTI's Export Marketing Bureau Director, recognized the importance of startups saying, "Creativity and innovation are the currency of today."
STRENGTHS AND OPPORTUNITIES OF EACH CITY
Impact Hub Manila's Co-Founder LizAn Kuster and Launchgarage's Jay Fajardo formally opened the whole day conference on October 22.  Fresh from the Bangalore leg of the roadshow, Fajardo gave the audience an overview of what to expect during the day-long event, while Kuster delivered an insightful introduction on what it means to bootstrap as an entrepreneur.  "Bootstrapping is more than just building your solutions without external fundings, it means growing your enterprise with people and connections. Thus StartHubs AsiaBerlin is extremly valuable for our ecosystem," Kuster states.
Rainer Seider, Head of the International Unit for Cooperation of the Berlin Ministry for Economic Affairs, gave the keynote address.  He described Berlin's diverse and vibrant ecosystem, and outlined the goals and plans of StartHubs AsiaBerlin  to create a "single intercontinental startup ecosystem through structured channels, such as a online platform which will launch soon and everyone can join" despite each city's different intricacies.
Seider was joined by other members of the keynote panel – Deepash Agarwal of MoveInSync from Bangalore; Fajar Anujerah from Bali Recycling; Ces Rondario, Impact Hub Manila Co-Founder; and Jay Fajardo.  Moderated by Kuster, the panelists shared the characteristics, strengths, challenges, and opportunities of their respective ecosystems.
Agarwal shared Bangalore's mutually beneficial partnership and coordination with the government, thanks to the latter's recognition of the success and contribution of the BPO/IT industry.  Bangalore is considered India's tech capital, and enjoyed the most startup funding in 2014.
Jakarta, Indonesia's largest city, on the other hand, enjoys a fast growing economy that affords plenty of opportunities for new enterprises and entrepreneurs.  Anujerah revealed how the megacity is quickly becoming home to a number of tech startups and attracting more Indonesian investors.
On the Philippine startup community, Rondario described it as a "good base for social entrepreneurship."  Fajardo, on the other hand, recognized the exemplary skill of Filipino engineers, but acknowledged the need to improve the quality of local mid- to high-level management talent familiar with the workings of the startup scene.
INNOVATORS AND DISRUPTORS SHAPING UP THE ECOSYSTEMS
Bootstrap Manila 2016 was marked by highly interesting and informative talks by movers and shakers from each ecosystem.
Following the keynote panel was Geraldine de Bastion, Founder of Global Innovation Gathering (GIG), a network of grassroots innovators, social entrepreneurs, founders, makers, and hackers.  Speaking about Innovation in the Global South, she showed examples of innovative and creative ideas and solutions from GIG's network.
Yathan Blumenthal, Founder and Accelerator Chief of Hardware Co., gave a talk on Accelerating Business, Methodologies, and Co-Working, based on first-hand credible experience and the successful Berlin-based co-working hub, Betahaus.
The afternoon session continued with talks from Filipino speakers starting off with Luis Buenaventura of Bloom Solutions and a cryptocurrency and fintech expert, who spoke about blockchains and how the Philippines is starting to use it in OFW remittances.
Also on the lineup was Paula Schwarz, Founder of Startupboat, who gave a personal account of how her growing up years in a Greek island contributed to her work with migrant refugees landing in their shores.  Startupboat leads a program for workplace and community integration for refugees.
The final speakers for the day were leading Filipino entrepreneurs and innovators – self-confessed "entreprenerd" Ibba Rasul-Bernardo, who showed the audience how DSCVR, an app that creates 360 VR stories work; and Manny Ayala, Managing Director of Endeavor Philippines, a global non-profit, who gave an information-laden and inspiring talk about high impact entrepreneurship.
Chosen fellows of the recently-awarded Impact Hub Fellowship on Sustainable Energy Solutions, done in partnership with the World Wildlife Fund (WWF) – Philippines and Peace and Equity Foundation, and supported by the Asian Development Bank – Cleverheat, HiGi, and Solar Sari-Sari Store, were also given the chance to the present their winning ideas to the international delegation.
The conference ended on a high note, and a "groufie" with Seider extending an invitation to the next AsiaPacific Weeks in 2017 and the succeeding roadshow among the four ecosystems.
StartHubs network partners are in Jakarta: PLUS – platform usaha sosial; and Bangalore: AHK Indo German.
Bootstrap Manila 2016 is supported by Slingshot Philippines, Converge Pure Fiber Internet, Proudcloud, Nayong Pilipino, UHop, and Signature Ads.