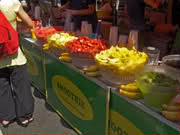 Thinking of starting your own refreshment, popsicle and fruit smoothie business this summer to earn some extra money? Here are some refreshing recipes for businesses you can set up and run over the summer months.
Guyabano Chiller
Ingredients
1 fully ripe guyabano (Soursop)
1 cup sugar
1/2 cup calamansi juice
3 quarts water
Procedure:
Peel the guyabano and mash the soft pulp in one quart of water. Strain the pulp and seed and add the remaining water to the strained juice. Add calamansi juice to the mixture and sweeten to taste. Serve with ice cubes.

Gulaman in Coconut Milk
Boil agar-agar (gulaman) in enough water after washing off all particles of dust. Strain well when gulaman has dissolved in boiling water and set aside to cool and set.
Pass gulaman chunks through papaya grater or chop into small cubes. Serve in glasses filled with iced coconut milk with sugar to taste.

Iced Melon
Use one half cup grated melon to a cup of water and one fourth cup syrup. Add milk and ice cubes before serving.

Banana Shake
Ingredients
1/3 cup lemon juice
1 banana, mashed
1/2 cup evaporated milk
1 quart orange ice
1 pint cold water
1 orange, sliced
Procedure:
– Combine lemon juice, banana and sugar. Chill
– Stir in evaporated milk
– Add orange ice and water, mix well, and serve at once.

Halo-Halo
Ingredients:
– Sweetened red beans
– Sweetened garbanzos
– Sweetened saba banana
– Sweetened kamote
– Sweetened jackfruit
– Sweetened kaong
– Cooked sago
– Pinipig
– Macapuno
– Shaved/Crushed ice
– Ice cream
– Ube haleya
– Leche flan
– Milk
– White sugar
Procedure:
– Half-fill a tall glass with your choice of sweets. Fill with shaved/crushed ice. Top with ice cream, ube haleya or leche flan. Serve with milk and sugar.

Cool Snacks for a Hot Summer
by Deborah Shelton
Mouse Popsicles
It's not what you're thinking! The name refers to the size of the popsicle-not the contents. Wash a bowl of seedless grapes, and then set the grapes in the freezer for about an hour. Poke colored toothpicks into the grapes to serve.
Juice Pops
Summer isn't complete without homemade juice popsicles. Simply fill a popsicle mold or an ice tray with your favorite fruit juice. Cover the ice tray with clear plastic wrap and poke a toothpick through the plastic into each square. Place the tray into the freezer until the popsicles are frozen solid.
Frozen Monkey Treats
Here is a healthy snack that your kids will go bananas for! Peel a banana and cut it in half. Insert popsicle sticks into the cut ends. Dip the bananas into yogurt or melted chocolate, and then roll the bananas in chopped nuts, crushed cereal, or coconut shavings. Place the bananas on a small waxed paper-lined baking sheet and set the sheet into the freezer for an hour or so. Fun to make and even more fun to eat!
Fruit Fizzy
Don't plan your summer party without this refreshing drink. Pour one can of Sprite (it doesn't have caffeine) into a blender, along with small ice cubes. Add several large strawberries, a handful of blueberries, or other favorite fruit to the mix. Blend the mixture until it has the texture of a slush. Pour into a glass and garnish with a cherry on top.

Fruit Smoothie
By Wendy Kennedy
2 cups orange juice
1/3 cup strawberry yogurt
2 medium bananas, cut up
1/2 cup blueberries.
Put all ingredients in a blender, blend & enjoy!
Try different kinds of juice, yogurt & fruit. If you use frozen fruit it will be colder (we freeze bananas to use) or you can add an ice cube or 2 (some people prefer it a little thinned down). It's delicious & good for you.
Photo: michaelspornanimation.com
Do you like this business ideas? content"> then please consider subscribing to our PINOY BISNES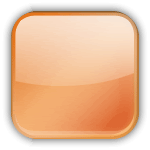 RSS feed. You can also subscribe by email and have new articles sent directly to your inbox. (Once you entered your e-mail address, you need to login to your e-mail account and click the link to confirm your subscription).