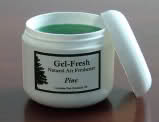 With all of the holidays, birthdays, anniversaries, weddings and other special occasions that occur in the course of a year, it seems there is always a need for a good gift idea.
These naturally scented gel air fresheners are great for the home, the car, the office, or anywhere else you desire. They make great inexpensive gifts that you can share with anyone and can also be a great business opportunity.
Instructions:
1. Dissolve two envelopes (2 Tbsp.) of unflavored gelatin in 1/2 cup of boiling water (this may take up to 5 minutes).
2. Add 1/2 cup of ice-cold water to the gelatin mixture.
3. Add 10-15 drops of the essential oil or blend of your choice.
4. Add 3-5 drops of food coloring (if desired).
5. Stir in 1Tbsp. of salt, or 10-15 drops of a natural grain alcohol if desired (the salt or alcohol helps inhibit mold from growing on the gel).
6. Pour the gel mixture into 2 oz. salve containers, 1/3 oz. lip gloss containers, or used baby food jars.
7. Close the containers or jars, and allow to cool overnight (do not place in the fridge, or your food will absorb the scent.
8. Decorate the containers or jars as desired.
9. To use these gel air fresheners, open the container, place on a warm stove-top (not the burner) while cooking, or simply place the open container on the counter or a shelf inside your home, or in a cup-holder inside your car.
Extra Ideas:
1. Try creating layered gels by filling a jar 1/2 way with one color of gel, allowing that to cool for a couple of hours, then pouring another color of gel on top of that.
For great blends that you can use to create gel air fresheners, see the book 500 Formulas for Aromatherapy, by Carol Schiller & David Schiller.
Source and Photo: abundanthealth4u.com
Do you like this Money Making Business Idea? then please consider subscribing to our Pinoy Bisnes RSS feed. You can also subscribe by email and have new articles sent directly to your inbox. (Once you entered your e-mail address, you need to login to your e-mail account and click the link to confirm your subscription).